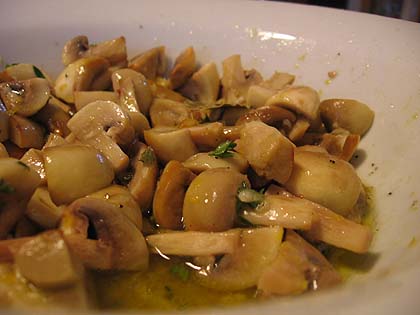 So, starting back slowly, I am. This is a salad / side type item we had last week when it was fairly warm out. Not any longer. Rainy and cold now. Anyway, the recipe is originally from Tyler Florence and I really loved the lemony-garlicky flavor. Make some for yourself and see. Oh! I was just thinking, some crumbled feta on this right before serving would probably be amazing.
Very easy and tastes great. I'm sure we'll have this many more times this Spring and Summer. Oh, I used button mushrooms but I bet this would be awesome with cremini. I also liked the fact that the mushrooms were cooked a bit before marinating them.
Marinated Mushrooms
1/4 cup extra-virgin olive oil (divided)
1 pound cremini or button mushrooms, cleaned and quartered
1 lemon, zested and juiced
2 garlic cloves, minced
1 small bunch fresh thyme
1 bay leaf
Kosher salt and freshly ground black pepper
pinch red pepper flakes
Add 2 tbsp olive oil to a large skillet over medium heat. Add the mushrooms and bay leaf and cook for about 3 minutes.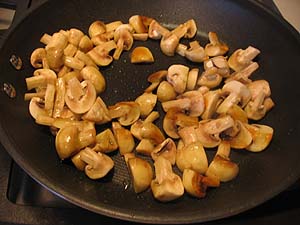 Remove from the heat and stir in the lemon zest and juice, garlic, red pepper flakes and thyme. Pour the remaining olive oil in with the mushrooms and season the mixture with salt and pepper.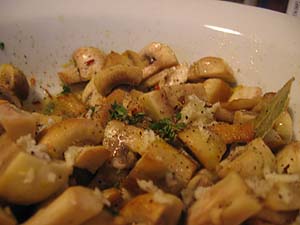 Let cool and serve at room temperature or refrigerate for a few hours and serve cool. I broght mine to room temp and then stored in the fridge for about 2 hours and that seemed to work quite well.
***
The rest of the week there'll be a post about our wonderful and delicious Easter Brunch at Heceta Head Lighthouse, a chicken-fauxmale casserole and more. Possibly a new broccoli soup and a spinach salad with grilled shrimp and a Meyer lemon vinaigrette. Whoo!