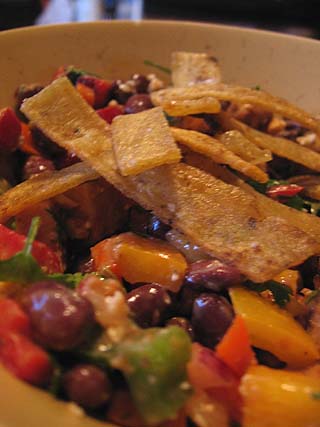 I just made this to bring to a potluck at work and I think I'm in love with it. jwa and I had some for dinner tonight (I made extra) and it was so good. I highly recommend it. I've adapted it from Bon Appétit magazine, by adding the cheese, cilantro and tortilla strips. Oh and a little hot sauce.
Funny story — when I read through the recipe I could have sworn it said "figs", to which I thought, oh! awesome, I have just about that many in a bag at home!. Then, when I got ready to make the salad, I reread the recipe and realized it said "dates". Oops. Well, I used the dried figs anyway and I think they worked just fine. Dates (or figs) and honey may sound weird in a dressing for black beans, but it all comes together very well. I did find that I really did like it with a few dashes of the green Tabasco sauce, though.
The salad would probably also be very good with a diced avocado added to the mix — this was jwa's suggestion. I think it's a pretty good one.
Black Bean Salad with Bell Peppers and Tortilla Strips
Serves 6-8
Vinaigrette
1/2 cup water
16 dates (about 4 ounces), pitted, chopped — or, you know, figs'll work too
1/2 cup fresh lime juice (3-4 limes, depending on how much juice you get from each one)
6 tbsp extra-virgin olive oil
2 tbsp dried oregano
4 tsp honey
4 tsp ground cumin
1 tsp ground coriander
dash or two of hot sauce (I used jalapeno Tabasco)
salt & pepper
Salad
4 15-ounce cans black beans, rinsed, drained
1 chopped red bell pepper
1 chopped yellow or orange bell pepper (I used a little of both kinds)
1 chopped green bell pepper
1/2 cup chopped red onion
1/2 cup chopped fresh cilantro
1/2 cup crumbled Cotija cheese (you could substitute cubed cheddar or crumbled feta)
3 corn tortillas, halved , then cut into strips
1/3 cup canola oil
salt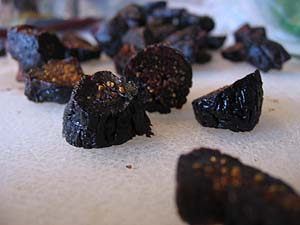 Boil water and dates in heavy small saucepan for 2 minutes. Remove from heat; cover and let stand 1 hour to soften.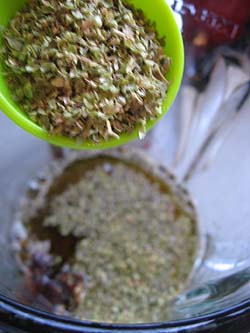 Transfer date mixture to blender. Add lime juice, oil, oregano, honey, cumin and coriander. Then purée. The mixture will be nice and thick. Season to taste with salt and pepper. (This can be made 1 day ahead. Cover and refrigerate. Let stand 1 hour at room temperature before using.)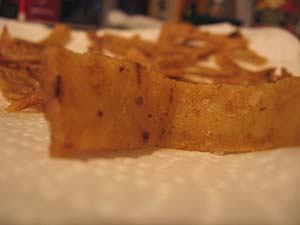 Heat oil in a large skillet and fry the tortilla strips (in batches if necessary), until crisp. Salt and let cool on paper towels.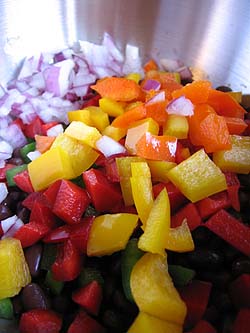 Combine beans, bell peppers, onion, cheese and cilantro in large bowl. Toss with enough vinaigrette to coat nicely. Taste and season with salt and pepper if needed. Top with tortilla strips.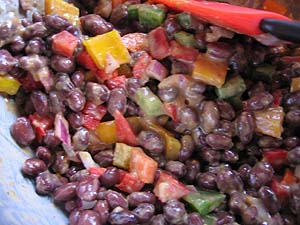 And look — your compost pile will be happy too!