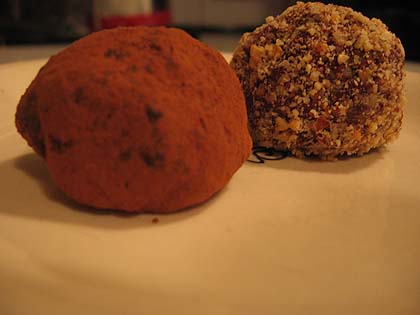 This month's Sugar High Friday is hosted by Chocolate in Context and the theme is — wait for it — chocolate. But, ha, not just any chocolate, raw chocolate — "an unrefined cacao product, such as cacao beans, cacao nibs, cocoa butter, or cocoa powder." After some thought, I chose nibs, as I thought they would be easy to find. However, the store I was completely sure would have nibs (Pasta Works) did not. So sad. And I didn't really feel like trudging over to Zupan's searching for nibs.
*Sigh*
I was nibless.
But, I did have a box of cocoa powder in the cabinet. So, that's what I used. I also utilized some crushed almonds as a coating. About half in the powder and half in the almonds. Everyone's happy. Especially me because these are delicious.
The flavor is smooth, rich and cool. And oh so good. Definitely use Meyer lemons. All tarty sweet, no bitterness. The combination with the dark chocolate and hint of thyme flavor is out of this world. I upped the lemon juice content on advice from the Epicurious reviews and decreased the cream. I found the ganache smooth and very easy to work with. This is the first time I've ever made truffles and I have to say, I can't wait to make some more!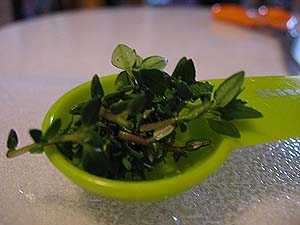 Meyer Lemon & Thyme Truffles
Adapted from Bon Appétit magazine.
1 cup heavy whipping cream
9 ounces high–quality bittersweet chocolate chopped
1 1/2 tsp fresh thyme leaves
3 tbsp fresh Meyer lemon juice (this will be about 1 lemon)
1 tsp Meyer lemon peel zest (yellow part only)
cocoa nibs (broken up into small pieces or cocoa powder or chopped almonds (or a combination)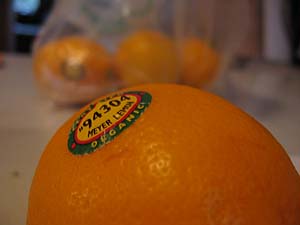 Bring the cream and thyme to simmer in heavy small saucepan.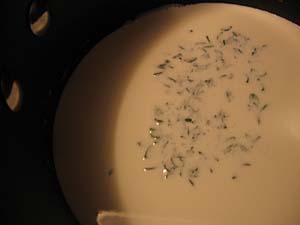 Let sit for 15 minutes, then bring back to barely simmering, remove from heat and strain the hot cream over the chocolate pieces.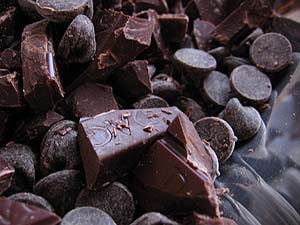 My extremely "foodie" mix of Trader Joe's bittersweet chips and pieces of Dagoba 50-something% chocolate
Add the zest and juice and stir until all the chocolate is melted.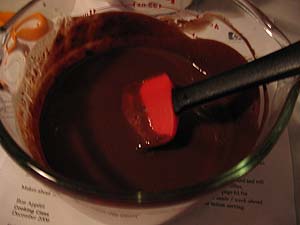 Refrigerate for at least 3 hours, until ganache is firm enough to work with. Use a small ice cream scoop (you can also use a tablespoon or two spoons, and shape little balls of chocolate.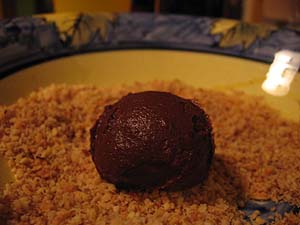 Roll the truffles in the broken nibs, crushed almonds or cocoa powder. Try to touch the truffles as little as possible, trying to use mostly just your fingers (your fingers are cooler than your palm). Place on a parchment lined sheet to store.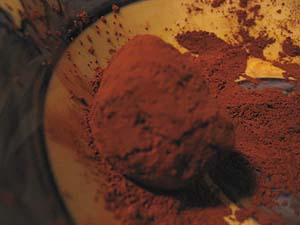 I found it helpful to do half, then stick the ganache back in the fridge for about 15 minutes.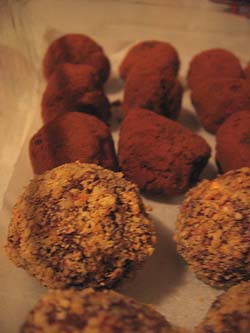 Store the truffles in the fridge, on parchment paper, in a covered container. To serve, let sit at room temperature for a little bit before eating. Or not. Seriously, these are really good no matter what, I'm sure.
Thanks again to Chocolate in Context and The Domestic Goddess, the originator of the SHF event. Now, what to do with those extra lemons, as I bought three at the store. Hmmm, I think there will be a Meyer Lemon Drop with my name on it tonight after work!