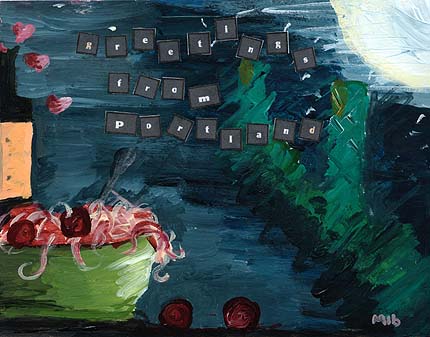 Edited to add, yay! It got there to Andrew at Spittoon Extra. It's really cool to think that my art project from the basement last weekend is now in England!
I recently registered for What's for Lunch Honey's Blogger Postcards Around the World event. So fun. Buy or make a postcard for your secret postcard buddy, mail it off and receive another postcard from your own food blogging sender. I've received my recipient (not telling yet!), made my postcard this weekend, and it's all ready to go in the mail Monday. Going to the post office and everything.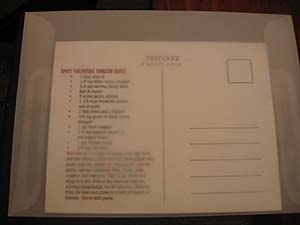 The one thing is as it's a whole lot of acrylic paint and ink jet ink, I've decided to put the postcard in a vellum envelope, lest the receiver open their mailbox to a gloopy, wet mess if the postcard gets rained or snowed on en route.
I think I'm still honoring the spirit of the postcard as you can see the postcard clearly through the envelope, this way, it should just get there all intact. And cost a bit more in postage but no big deal.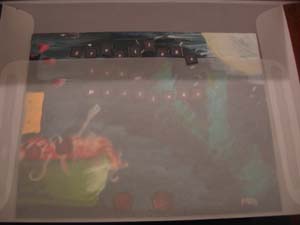 The green smudgy thing is sort of the Hawthorne Bridge — eh, it's expressionist!
The recipe on the back is for a quick pasta sauce that I make occasionally — it's especially good with gnocchi. It's also nice as you can add to it — feta, meatballs, sausage, more veggies, whatever you are in the mood for.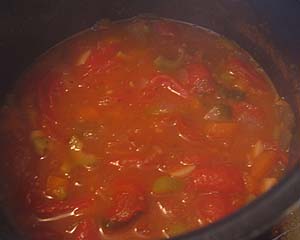 Spicy Valentine Tomato Sauce
1 tbsp olive oil
1/3 cup white onion, chopped
1/4 cup carrots, finely diced
Salt & pepper
3 cloves garlic, minced
1 1/2 cups tomatoes, seeded and chopped
1 tbsp fresh basil, chopped
1/4 cup green or black olives, chopped
1 tsp fresh oregano
1/4 tsp cayenne pepper or red pepper flakes
1 cup chicken stock
1/4 cup red wine
Heat the oil in a large saucepan over high heat. Add the onions, a little salt and black pepper and sauté until the onions are translucent. Add the garlic, carrots, tomatoes, wine, olives, basil, oregano, and cayenne. Stir in the stock and bring to a boil. Reduce the heat and simmer, stirring occasionally, for 20 minutes.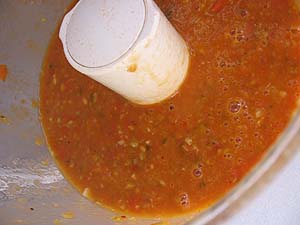 Remove from the heat and purée in a food processor or blender. Serve with pasta.
Thanks again to What's for Lunch Honey for arranging this whole valentine postcard exchange. I hope my postcard gets to where it's going safely and I'm also really looking forward to my postcard! Who will it be from??? Where will it be from???
Updated to add that my postcard is officially on its way! I even guessed correctly at the postage needed. Gave it to the mail man and everything. It should be there in about a week.
Stay tuned…