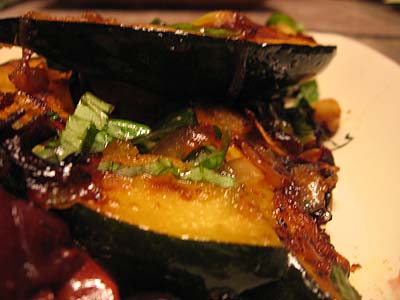 Yep, it's another Friday so it's time for another Super Food. This recipe is for a side dish, so I figured it was okay to only incorporate one super food in this one. Pumpkin. I love the pumpkin. I made this, however, with an acorn squash. Either will work and either are good for you.
This turned out very well and looked beautiful on the plate. It'd make a great side for almost anything — we had it with some rosemary pork tenderloin. Recipe is based on one from Mario Batali, aka: Comic Book Guy.
Sweet and Sour Pumpkin: Zucca Gialla in Agrodolce
1 pound sugar pumpkin or acorn squash
1/2 small white onion, sliced
4 tbsp extra-virgin olive oil
Salt and freshly ground black pepper
pinch of red pepper flakes
2 cloves garlic, finely chopped
3 tbsp honey
3 tbsp red wine vinegar
1 bunch fresh chopped basil
1 tbsp fresh chopped mint
Leave the rinds on and remove seeds from the squash. Cut the flesh lengthwise into wedges, each about the length of your hand from fingertip to wrist. In a medium saucepan, heat the olive oil over medium heat. Add the pumpkin wedges and onion. Season with salt, pepper and red pepper flakes — just a few.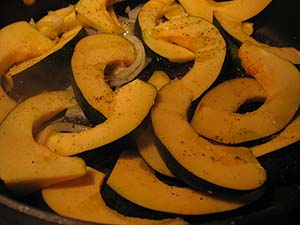 Cook until soft and deep golden brown, 7 to 8 minutes. Don't toss the wedges roughly. Drizzle first the honey and then the red wine vinegar over the pumpkin pieces and cook until they reduce to a glaze, turning the pumpkin pieces as needed. Add half the basil and mint at the last second. Transfer pumpkin wedges to a platter and drizzle pan juices on top. Serve hot with the remaining basil and mint as a garnish on top.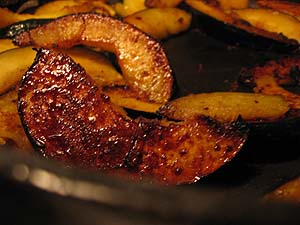 Next week: an art project, pasta, another Super Foods Friday and more!