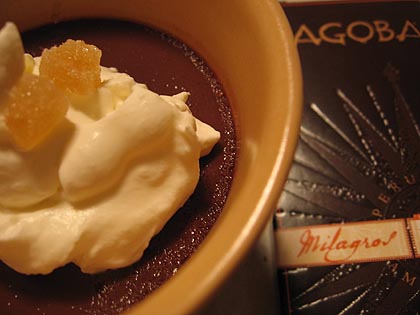 Actually, a better name would have been, "Sugar High I'm an Idiot Day." I thought it was due on the 26th, (Friday) but entries were due yesterday.
*sigh*
I need to read directions better. Regardless, food bloggers everywhere (with good reading comprehension skills) have posted their recipes and they have been rounded up here. Please give it a read and feel the chocolate love!
What I chose to make was a recipe from the current Eating Well Magazine — Chai Chocolate Pots de Creme, using Dagoba organic chocolate from Ashland, Oregon. The type I used was Milagros 68% – Peru – Single Origin — two bars, $8.00 total at a store by my house. Well worth it, in my opinion. And actually, it was jwa's $8 as he paid for the chocolate and a bag of rigatoni at Pasta Works last weekend.
A quick note on chocolates — if it doesn't specifically say 68% cacao or some higher percentage like that right on the package, it's most likely under 65%, so you'd use more chocolate and less sugar as noted below in the recipe.
Chai Chocolate Pots de Creme
It says this makes eight pots de creme but I say six — I guess it depends on the size of your ramekins.
2/3 cup whipping cream
4 cardamom pods, crushed
7 whole cloves
4 slices fresh ginger
4 ounces bittersweet chocolate (if your chocolate is under 65% cacao, use 4.5 ounces instead), shaved, chips or other small pieces
1 1/2 cups fat free milk (or 2%)
1/4 cup sugar (again, if using less than 65%, use 3 tbsp sugar instead)
1 large egg
3 large egg yolks
1 tsp vanilla extract
Garnish: Whipped cream
Garnish: Crystallized ginger
Preheat oven to 325 degrees. Place ramekins in a baking dish — if there's a lot of extra room, place the ramekins on top of a tea towel or a few paper towels to keep the ramekins from moving around.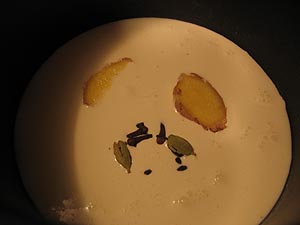 Heat the cream, cardamom, cloves and ginger in a small pot. Bring to a boil, remove from heat and let sit 10 minutes. Return to the heat and briefly bring back to a boil.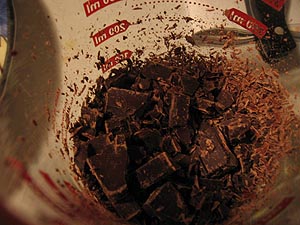 Place the chocolate in a large measuring cup and pour the hot cream through a strainer and down over the chocolate. Press down on the spices to extract as much of the cream as possible. Let the cream/chocolate mixture sit for three minutes. Don't stir.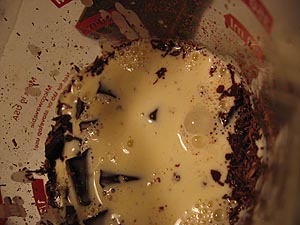 After the inactive three minutes, stir away until the chocolate melts and it is all smooth and you just want to slurp it up with a straw. If it's not melted completely, pop it in the microwave for about 15 seconds.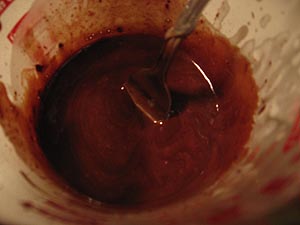 In the pot you used to boil the cream, add the milk and sugar and bring to a simmer. Stir until the sugar dissolves. Slowly pour about 2/3 of the hot milk into the chocolate while stirring.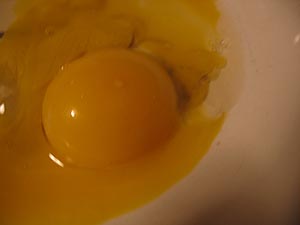 In another bowl, whisk the egg, yolks and vanilla in a small bowl. Slowly, while whisking, pour the remaining 1/3 hot milk into the egg/milk mixture. Strain that into the chocolate mixture and mix it all to combine.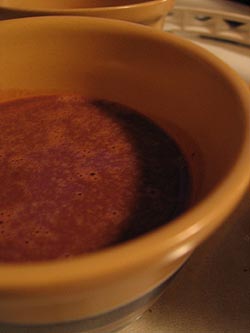 Evenly divide the custard among the ramekins. Place the baking dish on a low oven rack and slowly pour hot water into the baking dish so that it comes up about 3/4 inch up the sides of the ramekins. Bake until the tops of the custards are barely set — about 16-20 minutes.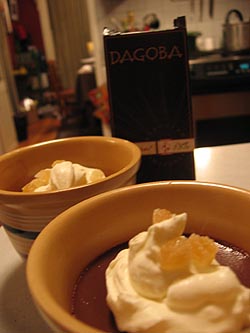 Let cool for about 1 hour and then refrigerate for about three hours until well chilled. Or, enjoy them at room temperature — that's what we did. Couldn't wait for refrigerator time. So good.
Garnish with whipped cream and sliced crystallized ginger.