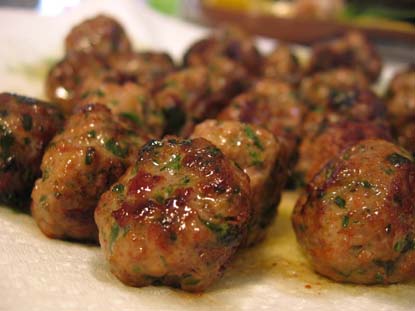 Yeah, I know, I typically have a title picture of the finished meal but I couldn't resist this one — my little lamb meatballs. They were so photogenic and pretty. The recipe is from Mediterranean The Beautiful Cookbook. You know, one of those huge, over-sized books with all the pictures that make you want to take a vacation to all the locales photographed within the pages. I came across it at the Borders in Beaverton on clearance for…I think it was under $10. I couldn't pass that up.
While paging through the book, this recipe was one of the first that really caught my eye. This soup combines the meatballs, yogurt, egg yolk, mint, onion, garlic and noodles — some of my favorite things. In addition, I added some spinach to the meatballs and some bell pepper and tomato to the soup. I also used more noodle-product than the original recipe called for because, well, I like the noodle-product (gemelli, to be exact).
The soup goes great with some grilled flat bread or toasted baguette slices and a nice side of mixed olives.
Tutmac Corbasi: Yogurt Soup with Lamb Meatballs & Noodles
Meatballs:
1/2 lb ground lamb
1 tsp salt
1/2 cup defrosted spinach, drained of excess water and chopped (after you drain it, you'll have less — probably more like a 1/4 cup — trying to remember this morning exactly how much spinach I used and I believe this was more like it)
1/2 tsp freshly ground pepper
1/4 tsp paprika (I used smoked paprika)
2 tbsp olive oil
Soup:
3 cups plain yogurt (I used 1 cup regular yogurt and 2 cups low fat yogurt)
2 egg yolks
2 tbsp AP flour
2 cups lamb or chicken stock or water
3 cloves garlic, minced
1 cup dried egg noodles or ziti, casarecci, or gemelli pasta
1 tsp salt
1/2 tsp freshly ground pepper
pinch of cayenne pepper
1 tbsp olive oil
1 onion, diced
1 yellow bell pepper, diced
1 small tomato, diced
2 tbsp dried mint, crumbled
Start by making the meatballs. In a bowl, combine the meat, salt, pepper, paprika and drained spinach. Mix well. Form into tiny meatballs, about 1/2 inch in diameter.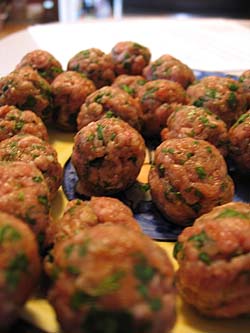 In a frying pan over medium heat, warm the oil. Add the meatballs and fry, turning, until lightly browned on all sides, about 3-4 minutes. Set aside on a paper towel lined plate when done cooking. These will smell really good. Do your best to only try two to three meatballs while they are sitting to the side. They will call to you but be strong — remember, you need them for the soup.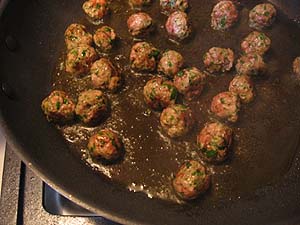 In a bowl, whisk together the yogurt, egg yolks and flour until well blended. Place in a heavy-bottomed saucepan and bring slowly to a simmer. Add the stock or water and the garlic and bring to a boil. Add the noodles and reduce the heat. Simmer 10-12 minutes, until noodles are tender. Add the salt, pepper, and cayenne pepper.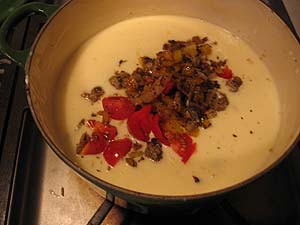 While the soup is simmering, add the remaining tablespoon of olive oil to a small pan. Add the onion, bell pepper and dried mint. Cook until the vegetables are tender, about 8-10 minutes. Add the diced tomato to the pan, as well as the meatballs. Toss to combine.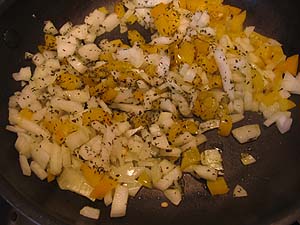 Add the vegetables and meatballs to the sauce. Stir and let everything combine and come to temperature. Taste and adjust salt and pepper. Serve right away with the bread of your choice.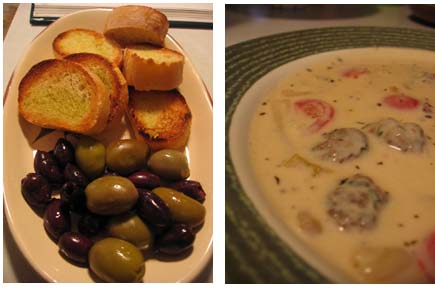 Whatever happened to IMBB? The last one I saw was the soy one (which kind of fizzled out during the recap). Does IMBB go on Summer vacation or is it broken? Anyone know?