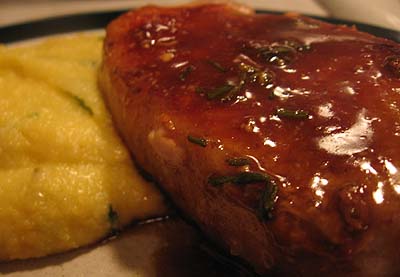 The sauce on this was amazing and so very simple. I'm still kind of learning my way around the pork chops and the pork loin roasts and all of that but the other white meat is getting more familiar to me. I found this recipe on Food Network and in their meal grouping, it was served with a Pumpkin Polenta. That recipe called for plain canned pumpkin which didn't seem very appetizing to me (I know! I love pumpkin but…). Recently, though, I saw Giada (lbh) make an herbed polenta that looked pretty tasty. I made something along those lines to go with this dish and it turned out really good!
Pork Chops with Maple-Balsamic Sauce
4 (5-ounce) boneless center-cut pork loin chops
Kosher salt and freshly ground black pepper
1 tbsp olive oil
2 tbsp balsamic vinegar
2 tsp Dijon mustard
1/4 cup pure maple syrup
1/4 cup chicken broth
1 tsp fresh, chopped rosemary
Heat a large skillet over medium-high heat. Pat the pork chops with a paper towel to remove excess moisture. Season them liberally with salt and pepper.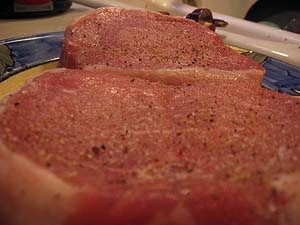 Add the oil to the pan and heat until shimmering. Lay the chops in the pan and cook until lightly browned on the first side, about 4 minutes. Turn the chops over and cook until the second side is browned and the chops are cooked through, about 3 minutes more. The internal temperature should be around 160 degrees. Transfer pork chops to a platter and cover with foil. Wow, I'm shocked I don't have more picture of the pork — oops!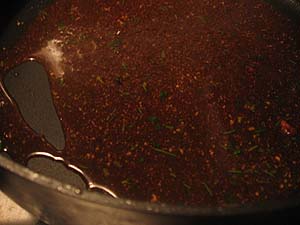 Add the balsamic to the pan and return it to the heat. Use a wooden spoon to scrape up any brown bits that cling to the pan. Stir in the mustard, maple syrup, and chicken broth, along with any juices from the pork chops that have accumulated on the platter. Cook over high heat until the mixture is syrupy, about 5 minutes. Add the rosemary and season with salt and pepper to taste.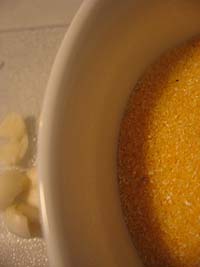 Creamy Herbed Polenta
1 cup polenta (or course ground corn meal)
3 cups chicken broth
1/2 cup milk
3 cloves garlic, minced
salt & pepper
1 tbsp fresh thyme, chopped
1 tbsp fresh parsley, chopped
1 tsp fresh rosemary, chopped
1/4 cup Parmesan cheese
Heat the broth, milk and minced garlic, bring to a boil. Whisk in polenta and reduce heat to low. Stir frequently, as it cooks, about 35-40 minutes. If it gets too thick, you can whisk in more broth.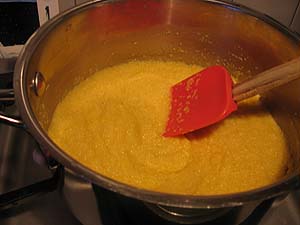 I found myself doing that and it turned out just fine. When the polenta is cooked and creamy, add the herbs and Parmesan.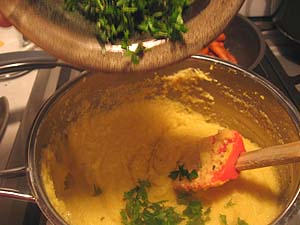 Stir to combine and serve hot with the pork chops, drizzled with the maple-balsamic sauce.
For extra-crazy-tastiness, caramelize some onions in a little olive oil and serve on top of the pork chops. It's fabulous!