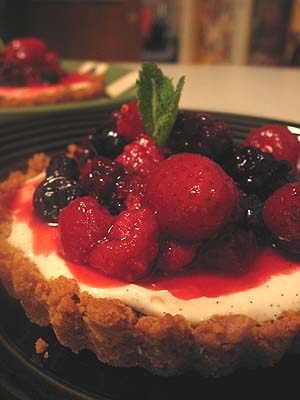 I decided to just go ahead and post this tonight, as I will be out of town on Friday. It's a posting-palooza, I tell you!
Thanks to Lick the Spoon for coming up with a fun, creative theme for this month's Sugar High Friday. Yay for alcohol! This was a very simple yet delicious recipe — I think it's a keeper. I especially loved the visible vanilla seeds in the cream cheese filling. I made this version with frozen berries from Trader Joe's, but I imagine that this will be even better in the sumer with fresh fruit.
The original recipe called for plain vodka but I had vanilla on hand, so I used that and cut down a bit on the vanilla extract. If using plain vodka, add 1 tsp vanilla extract to the gelatin mixture. This recipe can also be doubled easily, to make eight little tartlets.
Originally from Epicurious — Bon Appétit Magazine, specifically.
Vanilla Vodka Cheesecake Tartlets with Berries
1 1/4 cups graham cracker crumbs
1/4 cup (packed) dark brown sugar
1/4 cup unsalted butter, melted
7 tsp vanilla vodka
2 tsp teaspoons vanilla extract
1/4 tsp unflavored gelatin
1 8-ounce packages cream cheese, room temperature
1/3 cup plus 1 tbsp sugar
1 vanilla bean, split lengthwise
3 tbsp half and half
3 cups mixed berries (such as raspberries, blueberries and halved strawberries)
Crust
Preheat oven to 350 degrees. Mix the first three ingredients in large bowl until evenly moistened. Divide mixture among four 4 1/2 x 3/4-inch tartlet pans with removable bottoms; press the crumb mixture over bottoms and up sides.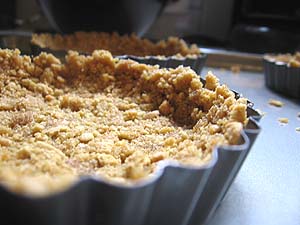 Bake until light brown, about 12 minutes. Cool crusts completely in pans on a rack.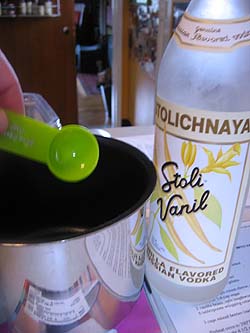 Filling
Mix 4 teaspoons vanilla vodka and 1 teaspoon vanilla extract in small saucepan; sprinkle gelatin over. Let stand 10 minutes. Stir over very low heat just until dissolved. Cool to barely lukewarm.
Combine cream cheese and 1/3 cup sugar in a mixing bowl. Combine on medium speed.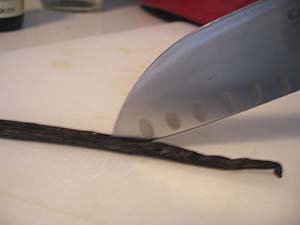 Slice vanilla bean in half and use the knife to scrape the seeds from bean. Add seeds into the cream cheese mixture and mix.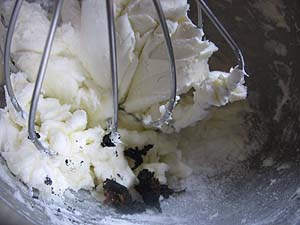 Beat in half and half, then gelatin mixture. Divide filling among cooled crusts.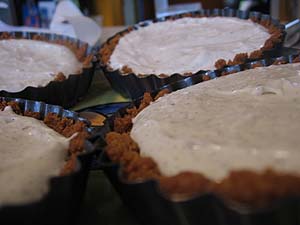 Cover tartlets lightly with parchment paper and chill three hours or overnight. Remove the ring from each tart. This is easy to do by placing the tart on a can or something smaller than the ring opening. Then, pull the ring down gently.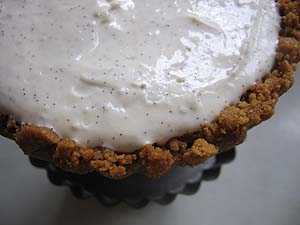 Berries
Gently stir the berries, 3 teaspoons vanilla vodka, 1 teaspoon vanilla extract and 1 tablespoon sugar in bowl. Let stand 15 minutes.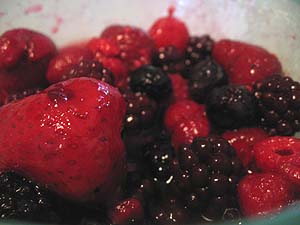 Top tartlets with berry mixture and serve with an optional garnish of fresh mint leaves.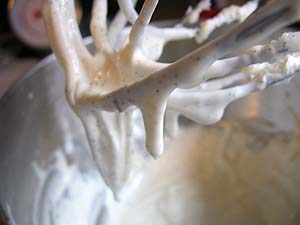 Arty shot of cream cheese filling after mixing.
New post hopefully up next Monday. Tuesday if I'm too tired after the drive back. Have a nice week, everyone!
Tagged with: shf18 & sugar high friday