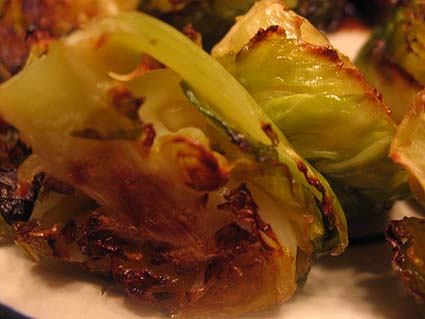 I tried brussel sprouts for the first time last Fall or there about. I never knew what to make of them before but jwa said they were good. I belived him. Then I found a recipe that called for braising the sprouts with butter, stock and garlic.
Hey! I like butter, stock and garlic! I decided to give it a whirl. Since then, braised brussel sprouts have become a much requested vegetable around here. We like those so much that I decided to try making them another way.
This recipe is from Ina Garten, the Barefoot Contessa. I was watching that Chefography program on Food Network a while ago and was surprised to learn that Ina used to be a White House budget analyst. But, then she moved to the Hampton's and became fabulous.
Anyway, here is the recipe, from The Barefoot Contessa Cookbook.
Roasted Brussel Sprouts:
1 1/2 pounds brussel sprouts
3 tbsp extra-virgin olive oil
3/4 tsp kosher salt
1/2 tsp freshly ground black pepper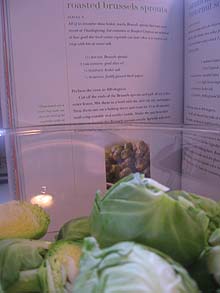 Preheat oven to 400 degrees.
Cut the ends off the sprouts and peel away any top yellow leaves. If your sprouts all look tight and green, just attend to the ends. If your sprouts are freakishly large, like the ones I got at New Seasons last weekend, cut them in half. Seriously, these things were the size of baseballs.
Mix the sprouts in a bowl with the olive oil, salt and pepper. Turn out on a baking sheet and roast for 35-40 minutes, until crisp on the outside and tender on the inside. Now, if you have large sprouts cut in half, they will most likely be a little crispy on one side and tender on the other. They are still very good this way but, if left whole, I bet the whole crispy outside vs. tender inside thing is more impressive. Shake the pan from time to time, to brown the sprouts evenly. Since they were cut in half, I actually just flipped mine over halfway through the cooking time.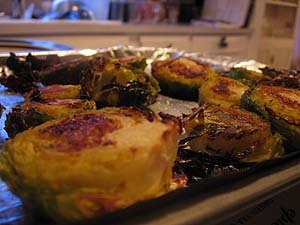 Sprinkle with more salt, if desired, and serve hot. Realize that brussel sprouts are awesome.