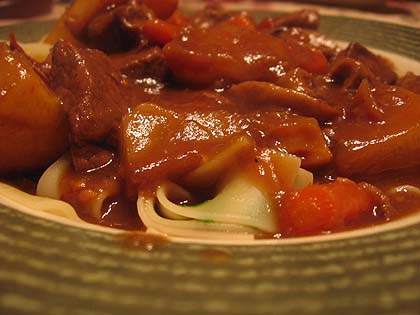 It was the day before Saint Patrick's Day and I was hunting for a good recipe to make for dinner. Something timely. Something festive. Something with beer! I'd never made lamb stew before but I wanted to try it. I came across this recipe at the Food Network site and it looked very interesting, as I love roasted vegetables. Oh and Guinness? Well, okay then!
For this recipe lamb shoulder is the best. When I went to Zupan's, they didn't have any of this. The meat guy said that lamb leg meat would work for a stew and, while I browsed the aisles looking at the tasty things, he cut a pound of it up into 1-inch cubes for me. I have no idea if he was actually knowledgeable about what a good substitution for the lamb shoulder would be but I believed him. So, I guess, try to find lamb shoulder and if that fails, ask the person behind the meat counter what to use instead.
I halved the recipe, so as listed below it will feed 3-4 people. Double it up for double the servings.
Lamb Stew with Guinness & Roasted Vegetables
2 tbsp olive oil
1 pound lamb shoulder, cut into 1 1/2 inch pieces (or lamb leg meat)
Salt
2 leeks, cleaned and sliced
8-10 button mushrooms, sliced
1/4 cup flour
4 tbsp unsalted butter
3/4 cup Guinness stout
1.5 cups beef stock
2 tomatoes, seeded and diced
1 large parsnip, peeled and cut into 2-inch pieces (about 1/2 lb)
2 carrots, peeled and cut into 2-inch pieces (about a 1/2 lb)
1 large russet potato, peeled and cut into 2-inch pieces (about 1 lb)
6 cloves garlic, peeled
2 sprigs of fresh rosemary, plus 2 tsp chopped
1/2 cup peas, (fresh or frozen)
Preheat the oven to 400 degrees.
In a heavy-bottomed pot, heat 1 tablespoon of the olive oil. Salt and pepper the lamb lightly and when the oil is hot, add the lamb and brown evenly.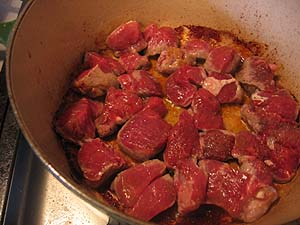 Remove the lamb from the pot and set aside. Add the leeks and mushrooms — sauté until soft. Add the butter and melt. Add the flour to make a roux. Turn the heat down to low, and cook the roux until it is evenly brown, about 10-15 minutes.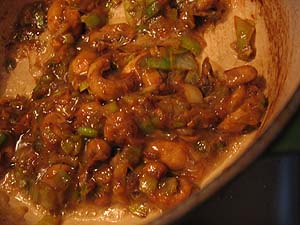 Whisk in the beer and stock. Add the tomatoes and the reserved lamb, bring to a simmer, and cover. Simmer, covered, for 1 1/2 hours. I stirred the stew occasionally and in doing so got a face full of steam. It smelled really, really good.
While the lamb mixture is simmering, combine the parsnips, carrots, potatoes and garlic in a large bowl. Toss with 1 tablespoon of olive oil, salt and pepper and rosemary sprigs. Place the vegetables in a roasting pan and roast in a 400-degree oven for 45 minutes. Halfway through the cooking time, turn the vegetables over and shake the pan a bit. When done, set aside, discarding rosemary sprigs. Some of the leaves will fall of the stem, that's fine — just leave those with the vegetables.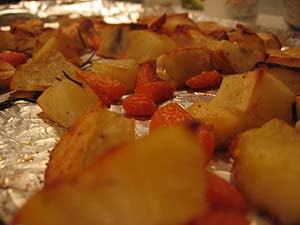 After the stew's 1 1/2 hours of simmering is done, add the roasted vegetables and the peas to the lamb mixture.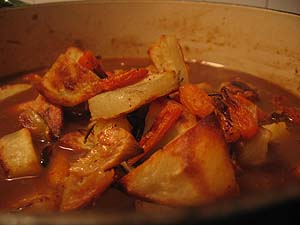 Cook for 10 minutes, then add the chopped rosemary. Taste and season with salt and pepper.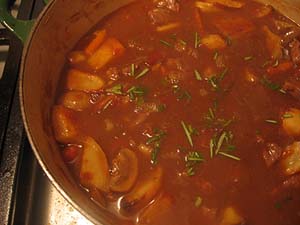 Serve with buttered and parsley-ed noodles. I used the no-yolk variety — proceed as you wish. If you can get your hands on some fresh noodles or pappardelle well, that'd work just fine.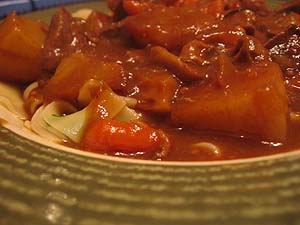 To set a mood, perhaps put on some U2 or some Pogues or a little Damien Rice. Then, dish your stew into a bowl, on top of whatever noodle you can procure and enjoy.
jwa and I both enjoyed this and the sauce that all the beer and stock and lamb fat made was just delicious. Mmmmm…lamb fat.