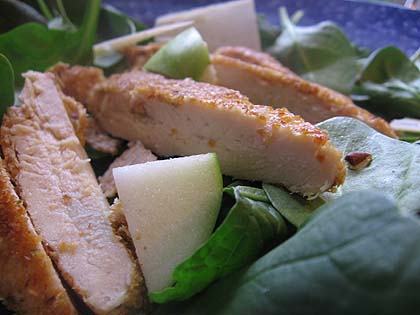 This was a fun challenge hosted by Too Many Chefs, in which the aim was to create a meal in 30 minutes. A meal where you start with raw (or pretty close to being raw) ingredients and make them into something tasty — tout de suite. This was challenging! I'm used to thinking big and definitely not-speedy for IMBB and this was all about thinking in a practical and time-conscious way.
I finally decided to go with a salad because: it's the beginning of salad-as-meal weather, it's fast, with some chicken it can be a total meal (unless you're a vegetarian) and I like big spinach salads!
You can really do this with any dressing that you like. My new favorite dressing is basil olive oil, balsamic vinegar and Dijon mustard — that would work here too. For a lighter, lemony-walnut flavor, go with the one I made for this meal, the one listed below (originally from Bon Appetite magazine).
For something a little different on those cooler nights, you could also wilt the spinach first in a pan with some walnut oil and garlic, then top with a squirt of lemon juice, the apples, walnuts and sliced chicken.
Oh and in the spirit of this theme, I used my handy kitchen timer.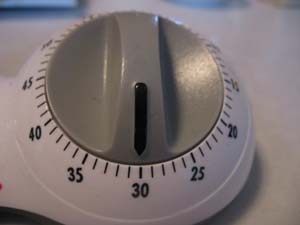 Walnut & Apple Spinach Salad w/ Crunchy Chicken:
Dressing:
1 tbsp low-fat mayonnaise
1 tbsp fresh lemon juice
1 tbsp walnut oil
2 tsp Dijon mustard
Salad:
1 bag baby spinach, washed
1 apple, diced
1/2 cup walnuts, toasted
A few shavings of Parmesan cheese or gruyere cheese, or crumbled feta would work here too
Chicken:
2 chicken breasts
1 egg
1/2 cup toasted wheat germ (or panko — Japanese breadcrumbs or other breadcrumbs)
1/2 cup finely grated Parmesan cheese
1 tsp salt
1/2 tsp pepper
1/2 tsp dried thyme
Preheat oven to 425.
To start (and honestly, before I set the timer) I laid all my ingredients out on the counter.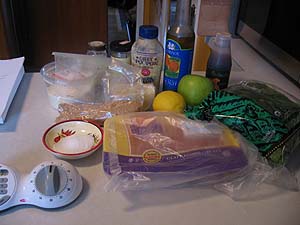 Okay, combine the wheat germ (or bread crumbs), thyme, salt and pepper in a bowl. I really like the nutty flavor of wheat germ for this but panko would be great too. The whole chicken part of this meal is based on a recipe I saw on the jar of my wheat germ a number of years ago.
But I digress and we have a timer ticking away here.
Crack an egg in a bowl, whisk.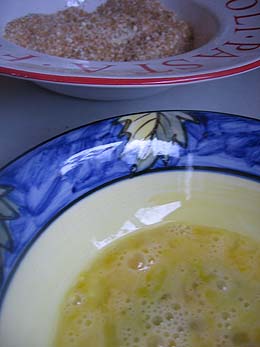 Next, trim any excess fat off chicken breasts. Place a breast on a piece of plastic wrap and fold over to cover, pound until a bit flat. Pound the second breast. This is basically just so that they will cook a little faster. You can skip the pounding step if you want and just let them cook about 5 minutes longer.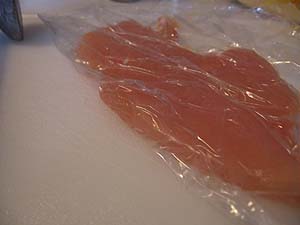 Place a piece of chicken in the beaten egg and coat. Then dredge it in the wheat germ/cheese coating. Repeat with the other piece. Arrange chicken on a baking sheet sprayed with non-stick olive oil spray. Lightly coat the tops of the chicken with spray too.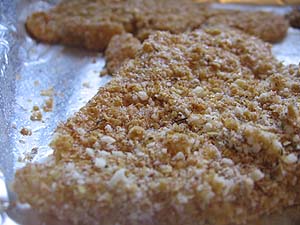 Time check: 20 minutes to go. Whew!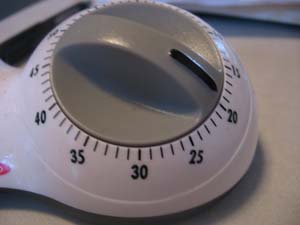 Bake in the 425 degree oven about 15-20 minutes, or until done (internal temp should be at least 160 when you pull it out of the oven). While chicken is cooking, arrange walnuts on an oven-safe dish and toast for about 3-4 minutes alongside the chicken. Set the nuts aside when done.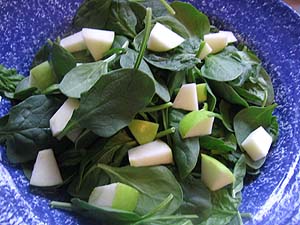 As the chicken bakes, wash your spinach and get it into a big bowl. Next dice the apple and get the Parmesan ready.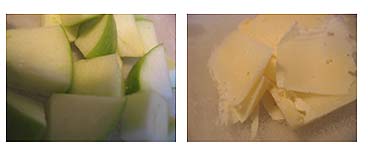 You should also get the dressing together now. But first, let's check the time. Eight minutes!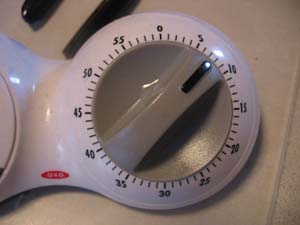 Whisk (or fork) the lemon juice, mustard, walnut oil and mayonnaise together.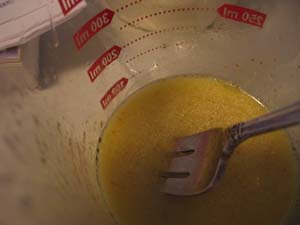 When the chicken comes out of the oven, let it rest for a minute or two while you get the cheese and walnuts into the salad bowl. Add the dressing and toss. Then slice the chicken.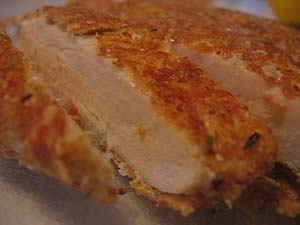 Dish the salad out into bowls or onto plates and then top with slices of chicken.
Time.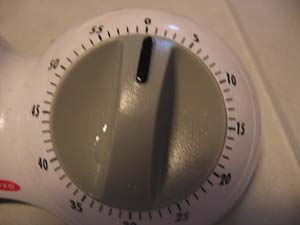 Thanks to Too Many Chefs for hosting and for coming up with a great idea for this IMBB!
Tagged with: IMBB24 + 30Minutes
***
Oh, the lamb stew got bumped this week because of IMBB — look for it on Monday!