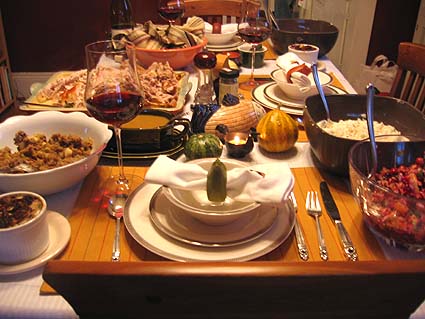 So, I pretty much stuck to my Thanksgiving schedule (posted here and here), although I omitted the squash and added some roasted vegetables. The big surprise, though, was the turkey. It turned out so well. I tried the America's Test Kitchen recipe last year and wasn't crazy about it but this time we used my mom's turkey chart from an old cookbook and wow — it was amazing!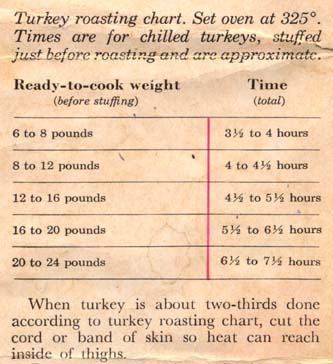 & then we cooked the hell out of it…
I brined the night before and then before sticking it in the oven, I stuffed and then used a combination of one stick of softened butter (!), a head of roasted garlic and about 2 tablespoons of fresh, chopped sage and rubbed that creamy, buttery mixture under the skin of the breast meat. The extra, I rubbed over the top of the turkey — "oh, why not?" I thought.
Then, the turkey went in the oven at 11:15 AM, with aluminum foil wrapped over the pan both horizontally and vertically. Wwe also added about one cup of water to the bottom of the roasting pan. The temperature was set to 325 degrees. We cooked it until 2:00 pm (2 hours and 45 minutes) without touching it, then removed the foil, basted and added the vegetables to the bottom of the pan. We basted again at 2:30 and again at 3:00. It came out of the oven at 3:15. The temperatures were about 178 in the breast and stuffing cavity and 200 in the thigh, which freaked me out, as I thought it would be way overdone. But wait. We basted it again really good after it came out of the oven and then lifted it out of the pan and let it rest, wrapped up very well in aluminum foil, for about a half an hour. And it was the moistest, most tastiest turkey ever. Seriously! Go crazy 70's cookbook, go!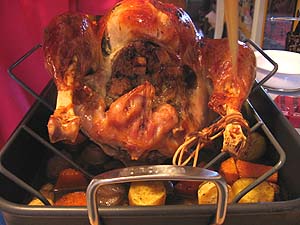 My mom and jwa carved while I got everything else served up and on the table.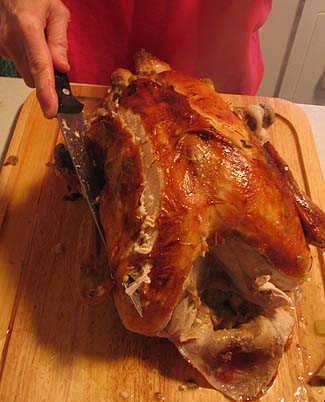 The sides:
The sides were great too. They are usually my favorite part of the meal. This year the stuffing had one cubed granny smith apple, 1/4 cup of pecans, 2 tbsp fresh sage, 1 stick of butter (!!), 1 1/2 cups chicken stock, one egg, one tsp poultry seasoning and one tsp rubbed, jarred sage. And, yes, we stuffed.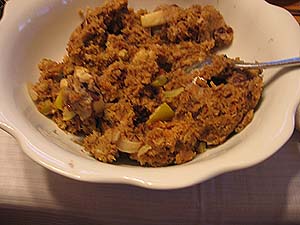 The stuffing — removed from the bird and ready for consumption.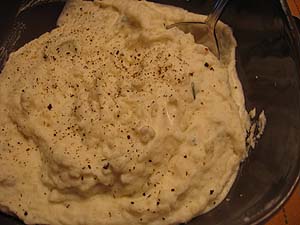 Goat cheese rosemary mashed potatoes. (I used half and half).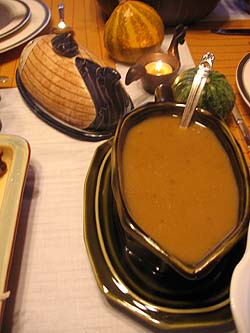 Giblet gravy.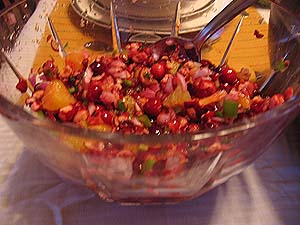 Cranberry orange relish.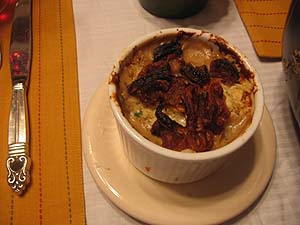 Individual green bean casserole.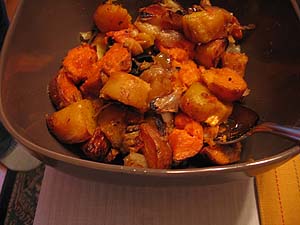 Oh and the roasted root vegetables. When I posted earlier, I wasn't sure if I was going to put those in the bottom of the roasting pan — well I did and it worked great. They went in for one hour and fifteen minutes. Then, while the turkey rested, I put them on a baking sheet and turned the heat up to 425. After 15 minutes of that, I turned n the broiler and let them caramelize for about 3 minutes. Mmm!
& then there was pie…
Yes, pie. That was pretty good too. I followed the recipe I discussed before, except I made a different pie crust because I was tired and lazy that night and this crust seemed simpler.
Here's the new crust recipe:
1.5 cups flour
3/4 tsp salt
1/2 cup vegetable shortening, chilled
2 tbsp unsalted butter, chilled
1/4 cup milk, chilled
1 tbsp brown sugar
1/2 tsp cinnamon
Mix flour, salt, brown sugar and cinnamon together in a large bowl. Cut in shortening and butter with a pastry cutter, until it resembles coarse meal. Sprinkle milk over dough and work in with your hands until it sticks together. Shape into a disc and wrap in plastic wrap and refrigerate for at least an hour. Roll out dough on a lightly floured surface into a 12-inch disc. Place in 9-inch pie pan and crimp edges. Prick dough with a fork and refrigerate at least 30 minutes.
Preheat oven to 350 degrees. Line bottom of pie pan with foil or parchment and line with pie beads or dry beans. Par bake for 45 minutes. Let cool and fill with pumpkin filling and bake.
Oh and another thing I changed — I put a layer of crushed ginger snap cookies on the bottom of the pie crust before filling with the pumpkin. Then, I added pecan pieces to the top (which also helped hide any cracks). Sneaky!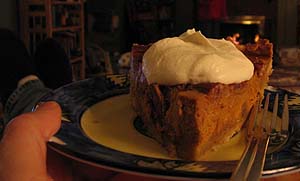 All in all, I am very pleased with how everything turned out! Next year, however, I think I will drop the green bean casserole from the rotation, just because there was so much of everything else and that's the one item that we all pretty much forgot to eat!