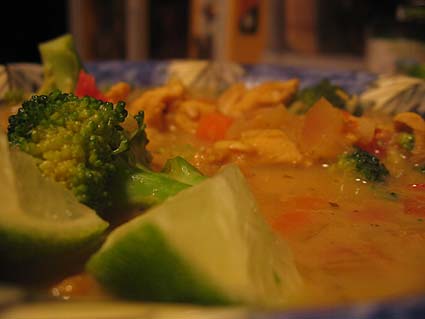 This, for slashfood's Lovely Leftovers Day.
This recipe came about because:
1. I wanted to do something for slashfood's leftover day,
2. I have a ton of turkey to use (12 pound bird for three people!),
3. I had all the other ingredients on hand, and
4. While walking around Penzey's with my mom, I picked up a recipe card for somthing similar to this (although their version was sans the coconut milk, veggies, tomato, ginger and brown rice).
I made the turkey stock Sunday afternoon by putting the carcass in a big stock pot, covering with water, adding half an onion, a bay leaf, a one-inch piece of ginger and three garlic cloves. I simmered about three hours and skimmed any icky stuff off the top. Then I strained the stock and refrigerated it in a ziplock bag. Now, it's dinner time.
Turkey Curry Soup with Brown Rice:
1 1/2 cups chopped, cooked turkey
3 cups turkey stock
1 medium onion, diced
3 cloves garlic, minced
1/2 cup carrots, chopped
2 heads broccoli (or broccoli florets from a vegetable tray)
A handful of baby carrots, chopped (another great use for raw, leftover veggies — if you've got others — throw them in too!)
1 tbsp (or more) curry powder (I used about 2 tbsp)
1 tsp (or more) cumin
1 can coconut milk
2 tomatoes, diced
1 tsp minced fresh ginger
1 tbsp vegetable or peanut oil
3/4 cup brown rice
Salt to taste
Cilantro leaves and lime wedges for garnish
Heat the oil in a heavy stock pot. Add onion and carrot — cook until soft, 3-4 minutes. Next add garlic, spices, and ginger. Sauté for a couple more minutes, then add turkey stock, coconut milk and diced tomatoes. Stir in turkey. Add rice and let simmer until rice is tender — about 35-40 minutes. Clean broccoli and cut off the florets (if needed). Add to soup and cook until tender (4 minutes or so). Serve with chopped cilantro and lime wedges garnish.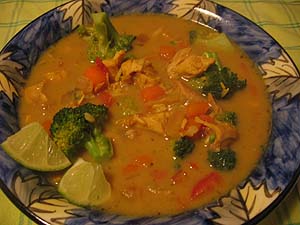 Behold, The Turkey Sandwich:
Also, in the true spirit of Thanksgiving leftovers — here is my lunch Sunday afternoon: a turkey and smoked gouda sandwich with spinach and honey mustard on a leftover dinner roll. Mmm!