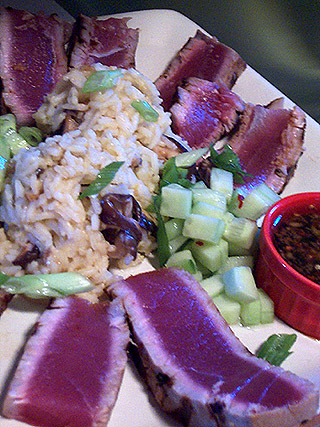 A week or so ago, I made my favorite "fancy dinner" (I think it's jwa's too). Seared ahi tuna, shitake-miso rice and cucumber slaw (I know! I have no idea why I like cucumbers here!). And, yeah, it's more diced than, uh, slaw-shaped, but, it's my menu and I'm callin' it slaw, damn it!
The planning usually starts with a trip to Wild Oats or New Season's Market. We typically only have this dinner once a month or so because nice, sushi-grade tuna is super expensive, at anywhere from $16.99 – $18.99/lb. I get 3/4 to one full pound, because when it comes to seared tuna, we can both be gluttonous.
Tuna Marinade:
3 Tbsp soy sauce
1 Tbsp seasme oil
1 Tbsp rice wine vinegar
Juice of half a lime
6 thin slices of peeled, fresh ginger
2 cloves of garlic, diced very fine or run through a garlic press
A dash of red pepper flakes
I usually make a double recipe of the above — pour half of the concoction in a freezer bag and use that to actually marinade the tuna (2-3 hours). The other half, I store in the fridge to use as a dipping sauce.
To sear the fish, I heat up a grill pan for a few minutes and give the pan a quick spray w/ non-stick cooking spray (just in case). Place the tuna down and don't touch it for about 2 minutes. Turn and give the other side 2 minutes. Remove from the pan and slice.
The shitake-miso rice, will begin when I sauté the shitake mushrooms in some olive oil and a sprinkle of kosher salt. When they are done, I throw them in a bowl and set aside.
For the actual rice cooking, instead of water, I use chicken stock, with about 1 teaspoon or so of miso whisked in. Bring to a boil and cook basmati rice as usual. When it's done, add the mushrooms and combine. As an aside, Imagine makes the best packaged chicken stock I have ever tried. Just so you know.
Cucumber Slaw: (So, so easy!)
1/2 an English cucumber, peeled and diced
1/2 Tsp salt
1 Tbsp rice wine vinegar
1 Tsp sugar
A pinch of crushed red pepper flakes
Mix everything together. Taste and add more of any of the above if needed. Set aside (in the fridge) until ready to eat.
How to plan this all out with as little craziness as possible:
Not too surprisingly (I hope), I marinate the tuna first. When that's got about an hour to go, I sauté the mushrooms and make the cucumber slaw. Then I start the rice a little bit later. As the rice absorbs all the liquid and has been doing so for about 15 minutes, I preheat the grill pan (which I think I will name "Tex"). I sear the tuna. Swear and scramble about as the tuna and rice get done at the same time.
Take a breath and have a sip of wine. Or half a glass (quickly! Everything's done!).
Slice tuna. Make it all look pretty on the plate with a mound of rice in the center, tuna fanned out around it, slaw artfully to the side, sesame seeds and green onions strewn about on top. Reserved, extra marinade in a little bowl.
Sit down and eat!