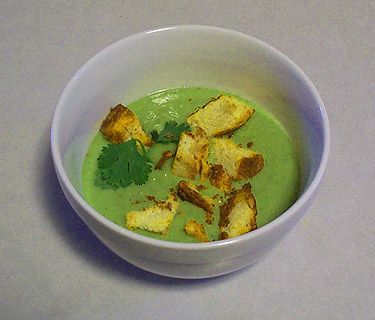 Oh, I wanted this one to be my very favorite of them all. I pretty much (with a few exceptions) followed the recipe as written, so I will just give a link to it:
Avocado Gazpacho with Spiced Croutons
I think it had too much cucumber for me. That's actually one of the places I deviated from the recipe — the recipe calls for 2 cucumbers, I used 1/2 of an English cucumber. Yeah, I know, I have a ways to go in my embracing of the cucumber.
In other adjusting of the recipe news, as far as the spiced croutons went, I used about a 1/4 of a loaf of bread (again, the very lovely and talented, Romano & Garlic from New Seasons) and I kind of just eyeballed the spices. I also used only about 2 tablespoons of butter. Those turned out really well.
I would make this again but with a few adjustments.
Keep the avocado (duh!), limes, chicken stock, cilantro and jalapeno (but roast and peel it first). Instead of green onions, use about a 1/4 of a sweet onion (Walla Walla or some sort), add a garlic clove and puree all of that in the blender. Add salt & pepper to taste.
Then, when serving, still add the diced avocado, but include diced tomato and perhaps a bit of diced onion. I think losing the cucumber and adding the tomato/onion will give it a bit more of a guacamole feel. Can you guess how much I like Mexican food? Yeah? Okay, good. Just checking.
Getting back to the soup, on top, instead of the croutons, I'd take a corn tortilla, use the 'ol pizza cutter to make little strips of it and then crisp those up in a pan with olive oil — little crunchy tortilla strips. Mmmm! Add these to the top with maybe an arty dollup of sour cream or yogurt. Hmmmmm….I'm hungry now! I will try this version soon and report back. But I think my hypothesis will be correct — I will like this version better.
To recap: the original Avocado Gazpacho with Spiced Croutons recipe I am give 3 something or other's — icons coming soon! — out of four. Not bad, but I didn't like it as much as I thought I would. I think the cucumber kind of overwhelmed everything. The first (and traditional) gazpacho recipe of last week seems to be winning!
Go Traditional Gazpacho Recipe, GO!
But — the next challenger is eyeing Traditional Gazpacho Recipe with a hungry, surly, menacing gleam in its eye. Why…it's Cantaloupe, Honeydew, and Sweet Onion Gazpacho! Can Cantaloupe, Honeydew, and Sweet Onion Gazpacho knock Traditional Gazpacho Recipe from it's footing? Will Traditional Gazpacho Recipe reign supreme? Or will the new Avocado Gazpacho make a comeback?!
These and many other questions will be answered here soon…on Gazpacho Challenge 2005!