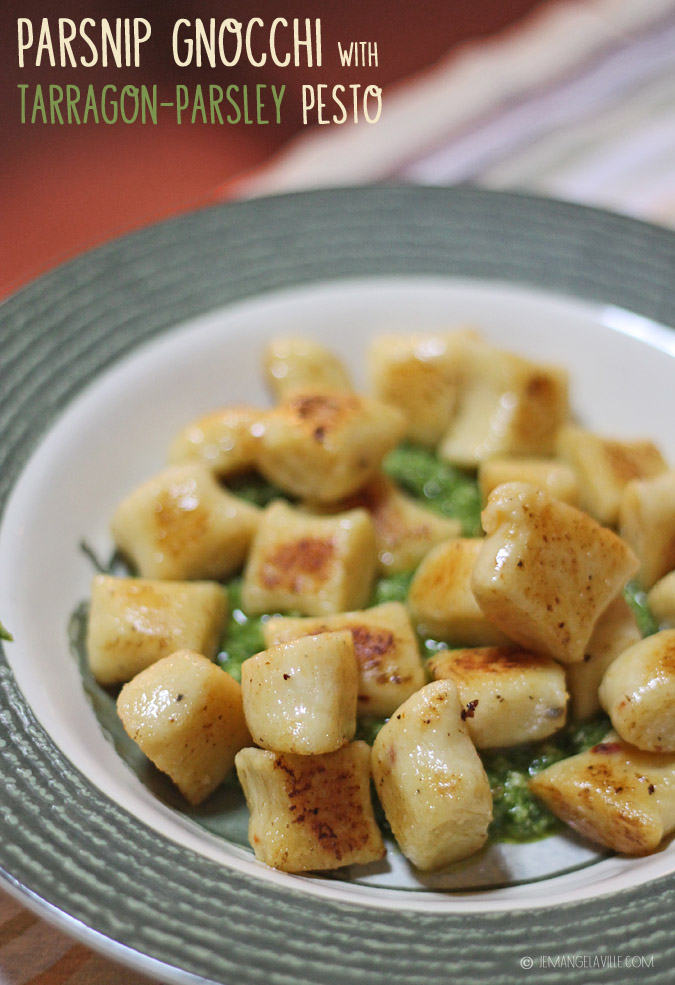 Is is easy to make gnocchi? Well, it absolutely can be easy, as well as rewarding and delicious. There's nothing especially tricky to it, but there are a few steps, and if it goes wrong, it can go really wrong, leaving you with a pot of boiling water and mostly dissolved gnocchi pieces just floating around and mocking you.
I think the key is adding just enough flour–you want it to hold together but not have a gluey texture. I've always found that if I roll the ropes out on a very generously floured board, I can get away with a little less flour in the actual dough. And if you dry your cooked parsnip pieces in the hot pan after draining, the 1-1/4 cups of flour should be enough to do the job here.
Mark Bittman also suggests the following tip: If you want to test your gnocchi's resolve, bring your water to a boil early, and just before you divide your dough into the four sections, pinch off a small piece and add it to the water. If it holds together, cooks, and then floats to the top in about 60-90 seconds, you're good to go. If it doesn't hold together, try adding just a bit more flour to your dough.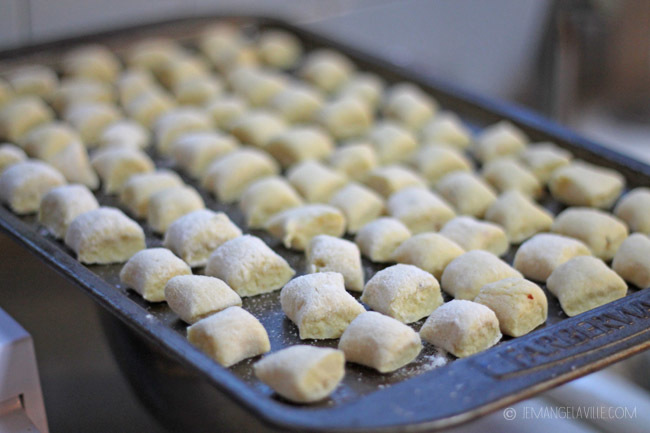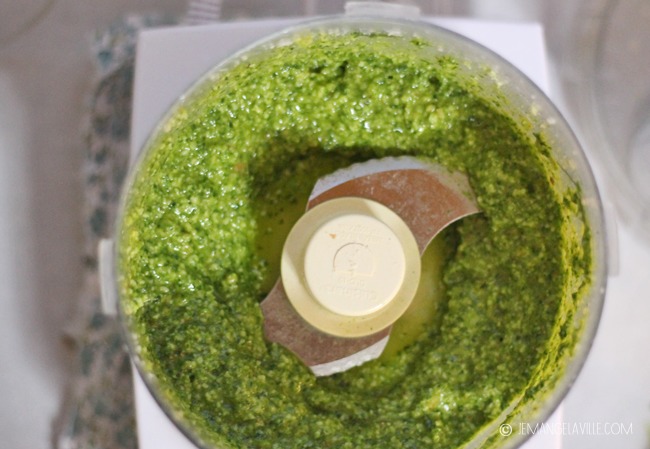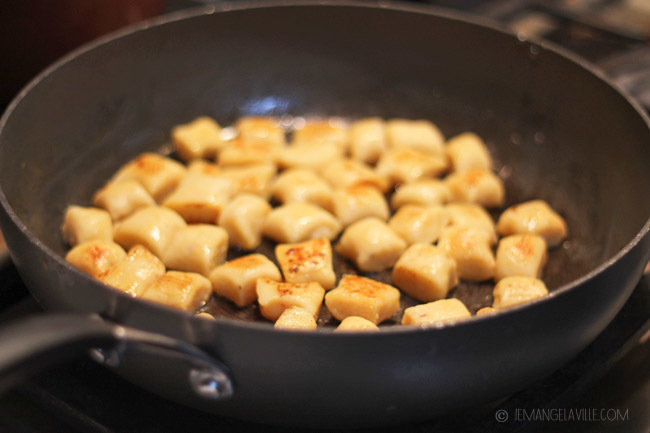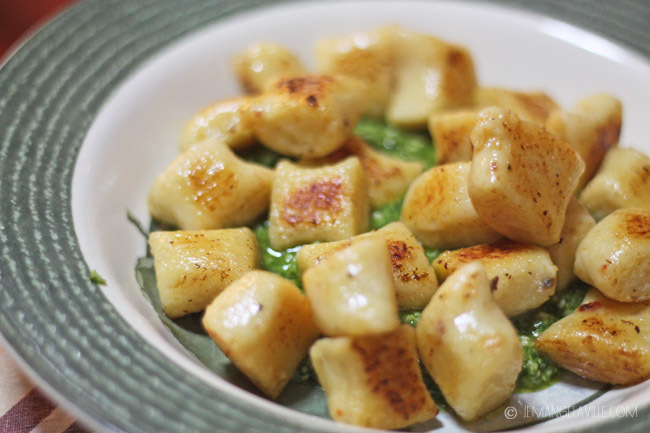 Easy Parsnip Gnocchi with Tarragon-Parsley Pesto
Serves 3-4, gnocchi adapted from a recipe by Mark Bittman
1lb parsnips, ends trimmed, peeled, and cut into two-inch mostly uniform pieces
1 egg
1/2 cup grated Parmesan cheese
1 clove garlic, minced
1/2 tsp salt
1/4 tsp pepper
pinch ground nutmeg
1/8 tsp red pepper flakes
1.25 cups all purpose flour (plus additional flour for your board)
Optional: Olive oil for sauteing the cooked gnocchi
Pesto
1 bunch parsley, leafy tops only
1 tbsp tarragon leaves
1/4 cup grated Parmesan cheese
1/4 cup toasted walnuts
juice of 1/2 lemon
1/4 cup olive oil
salt and pepper to taste
Make the pesto first. Add all of the pesto ingredients to a food processor, pulse until you get a nice consistency, and then taste. Adjust the olive oil, lemon juice, salt, and pepper as needed. Set the pesto aside. Then rinse and wipe out your food processor, so it's all set for the cooked parsnips.
For the gnocchi, add the parsnip pieces to a pot of salted, boiling water. Reduce to a hearty simmer and cook until fork tender (about 15 minutes). Drain well in a colander and return the parsnip chunks to the hot pan and stir around over medium heat for about a minute to dry the parsnip pieces out a little bit. Add the parsnips to the food processor and let cool for about 5 minutes. Then add the egg, cheese, garlic, salt, pepper, nutmeg, and red pepper flakes. Process briefly until combined.
Put the parsnip mixture into a large bowl and add 1-1/4 cups of the flour. Briefly mix until it comes together (I like to just use my hands), adding a bit more flour only if needed to make a soft, pliable dough. Turn out onto a floured board and divide your dough into four equal pieces.
Working with one piece of dough at a time, roll out into a rope (use your hands against the floured board) until the rope is about 12-14 inches long. Use a bench knife or a regular knife to cut the rope into 1-inch pieces. You can use the tines on a fork to make grooves on the gnocchi if you want, but it's just as delicious without the traditional markings.
Repeat this process for the remaining three pieces of your gnocchi dough. You can use a baking sheet to store all of your gnocchi while you bring a large pot of salted water to a boil. In batches, boil the gnocchi for a minute or two, until they float to the top of the surface.
When all of the gnocchi are done, you can serve right away with the pesto, or you can saute the gnocchi in a skillet with a little olive oil over medium heat until they get some color. This is also an excellent time to give your golden and toasted gnocchi a small sprinkle of kosher salt.
To serve
Add some pesto to the bottom of your individual bowls and spread out to a circle. Add about 15-20 gnocchi on top of each pesto circle.
* You can create the gnocchi, and then freeze them uncooked on a parchment paper-lined baking sheet. After frozen, remove from the sheet and store in a freezer bag. Cook in boiling water right from the freezer (do not defrost). It might take an extra minute until they float to the top of the water.