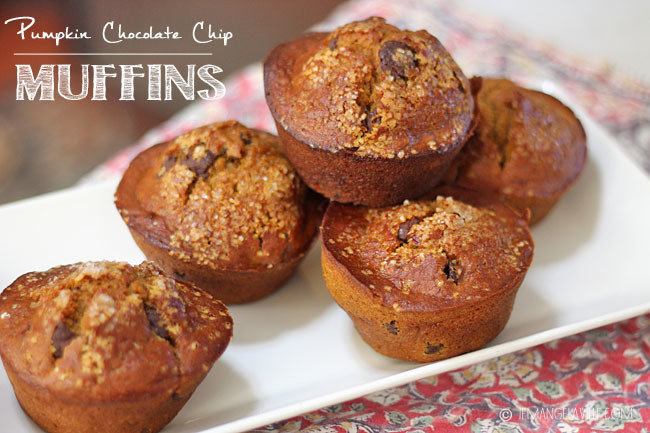 Let's celebrate the season with the satisfying autumnal combination of pumpkin, spices, and chocolate–specifically dark chocolate. These delightful muffins have all three, in addition to toasted pecans and plenty of dark brown sugar. I use an equal mix of all purpose and spelt flours, but you can also substitute the spelt flour with whole wheat pastry flour or just as easily use all regular, all purpose flour. That's how these muffins roll. They're easy like that.
Now, let's talk about chocolate chips. Here are my favorites for baking and/or eating directly out of the bag: Ghirardelli 60% Cacao Bittersweet Chocolate Chips and Guittard Extra Dark Chocolate Chips. The chocolate makes all the difference in these muffins. You want the good stuff here.
The muffins will keep fine for a couple of days, but after that, store in the fridge for up to a week (or freeze). You can't go wrong with reheating a muffin up in the microwave for about 30 seconds before eating.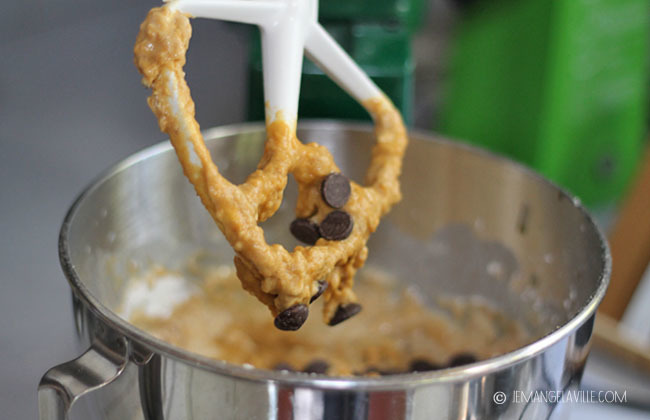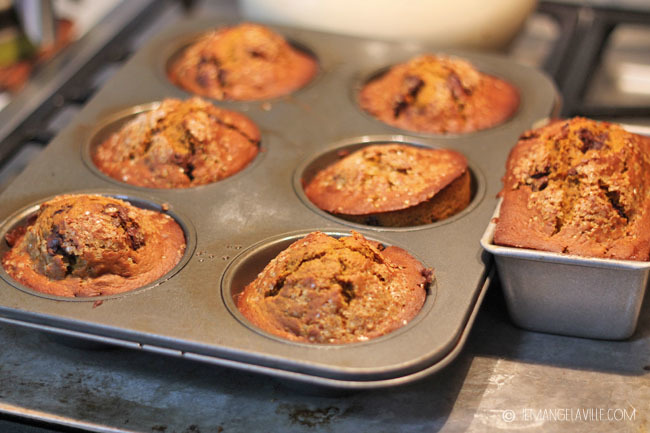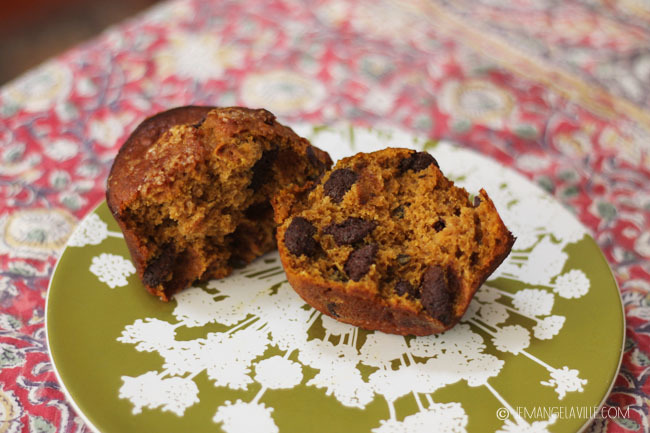 Pumpkin Chocolate Chip Muffins
Makes about 6 jumbo muffins or 12 regular-size muffins *
1 cup AP flour
1 cup spelt flour
1 teaspoon baking soda
1/2 tsp kosher salt
1 tsp ground cinnamon
1/2 tsp ground ginger
1/8 tsp ground cloves
1/8 tsp ground nutmeg
1 cup packed dark brown sugar
1/4 cup canola oil
2 large eggs
1 cup canned pumpkin
1 teaspoon vanilla extract
3/4 cup lowfat buttermilk (you can also use soured milk)
1 cup bittersweet or dark chocolate chips
1/2 cup toasted pecans (optional)
Coarse sparkling sugar for sprinkling (optional)
Preheat oven to 400 degrees F. Coat a jumbo six-cup muffin pan with non-stick cooking spray. Also, be prepared to use a ramekin or two (or a mini-loaf pan) for any leftover batter.
In a medium bowl, whisk together the flours, baking soda, salt, cinnamon, ginger, cloves, and nutmeg.
In a large bowl (or a stand mixer), whisk the sugar, oil and eggs until combined. Stir in the pumpkin and vanilla.
Alternate adding the flour and milk into the pumpkin mixture in two batches. Add the chocolate chips and pecans (if using). Mix until just combined.
Equally divide the batter into the prepared muffin pan, using ramekins for any extra batter. Tap the pan on the counter a few times – this will remove any pesky air bubbles. Sprinkle the tops with the coarse sugar if using (about a 1/2 teaspoon per muffin).
Bake for 30 minutes or until a wooden pick inserted in center of 1 of the muffins comes out clean. Let cool on a wire rack for 15 minutes. Run a knife around the muffins to loosen them and carefully unmold. Cool completely on the rack and then nom-nom-nom.
* If you are making 12 normal-size muffins, check for doneness after 20 minutes.