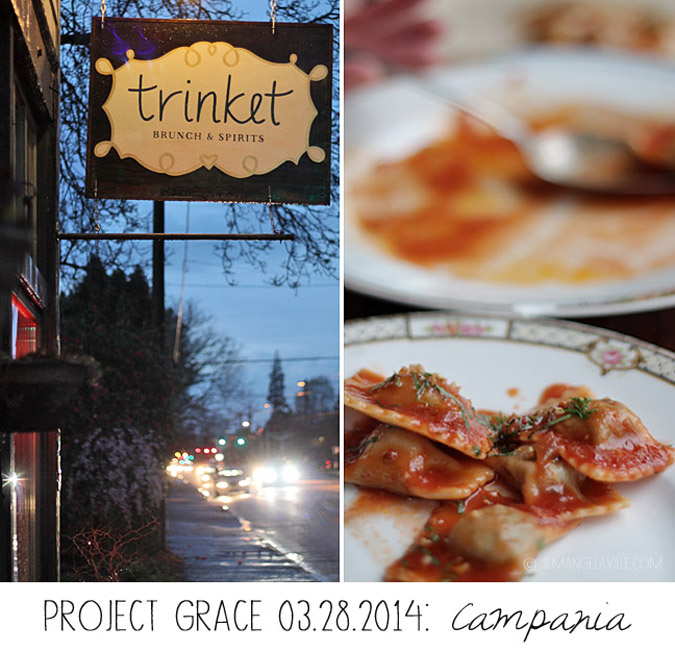 Project Grace
Friday nights at Trinket
2035 SE Cesar E Chavez Blvd.
Portland, OR 97214
503-805-1342 for reservations (or OpenTable)
Apparently, the last pop-up at Trinket is 4/18/2014 and the menu region is Sicily. Menu details are on Project Grace's facebook page.
Late last month we went to Project Grace for dinner. This is a pop-up that happens every Friday night at Trinket — they also do an additional Italian-American-inspired meal Tuesday evenings at Hokusei (SE 42nd and Belmont). Obviously, one of the huge appeals for Trinket (or Project Grace) for us is that it is walkable and we are lazy diners. That said, I would totally drive across town for more of the Cacciatore-esque roasted game hen.
Every Friday is a five course meal (for about $40) that focuses on a different region of Italy. On our night, it was Campania. This meant seafood, chilies, rich tomato sauces, and saffron. The meal is served family style and if you are lucky, you will get to enjoy an 80's soundtrack with your dinner.
We started with cocktails and freshly grilled bread with a honey-lavender butter. The plates came out well-paced and each time something got laid down on the table, we both kind of oohed and aahed over the plating and the delicious smells.
My only complaint (and it's not even that), is that I wished there was more hen to share — it was just so delicious, that I really did want more. It was succulent and cooked perfectly and the tomato-pepper sauce tasted like it had been simmering all day. And, oh, the vinegary-onion-y condimento! Oh! But we were certainly satisfied by the amount of food.
Oh and the saffron cake. I've already tried to recreate that at home so, yeah, that was good too.
It looks like there will be a full-time restaurant coming to the SE this summer under the name of Renata. But until then, try to make it in for a pop-up dinner!