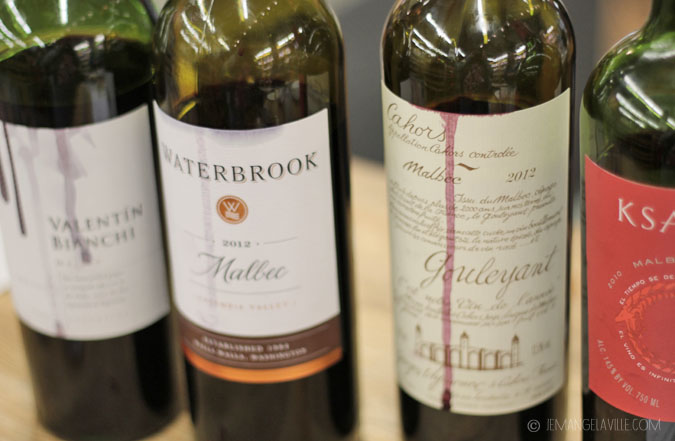 This post is fairly short and sweet and to the point. Do you want to win a $10 Whole Foods giftcard? And why wouldn't you – it's a free $10 to spend on hummus, bagels, rhubarb, wine (may I suggest a malbec?), or even put towards some fancy steak, salmon, or tuna for dinner.
I recently attended a fun and free Malbec wine tasting last week and I got the $10 card from Whole Foods to give away on my blog. At this event, myself, a couple other food bloggers, and some unsuspecting shoppers got to sample seven malbecs at the Hollywood Whole Foods (that's the neighborhood in Portland, not LA). They were priced from $9.99 – $21.99 and, I thought, all were quite good. My favorites were probably the Marchiori & Barraud ($21.99), Waterbrook – from nearby Washington ($12.99), and the Don Valentin ($9.99).
Here's how to win: Leave a comment below letting me know your favorite wine (can be as simple as "red" or "white", to an exact producer and year) before Friday, April 4th at noon, Pacific Time. I'll pick a winner at random, email you, get your address, and send you the card. Simple!
But, because we live in a civilized society, there will be a couple of three rules. 1. You'll have three days to answer my initial "hey! you won!" email with your address or I'll move onto another winner. 2. You need to live in the US or Canada (because that's where the card works). 3. I take no responsibility if the post office loses the giftcard while it's on its way to you (I highly doubt this will happen, but let's just mention it to be safe).
Okay, leave a comment and good luck!
Winner has been selected and is being notified. Thanks!