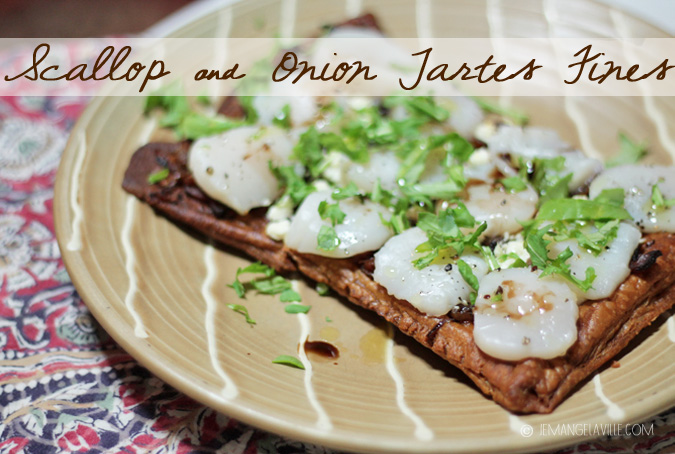 Well, this French Fridays with Dorie was a little different — but in a really good way. I didn't quite know what to expect but it seemed sort of like a scallop pizza to me. And what does pizza need? A little cheese. I know some people do not like to mix cheese with seafood but — I am not one of those people.
I also decided to add a little color to the top, by way of some chopped arugula leaves. The pop of green was exactly what was missing, I thought, plus the peppery greens added a nice contrast to the buttery scallops.
This recipe is also easily halved for two people – just cut the puff pastry dough in half, roll that out a bit, and save the remaining dough in the refrigerator for another use. And really, who can't find something to do with a little puff pastry dough?
You can of course, find the original (and no doubt superior) recipe in the cookbook, Around my French Table by Dorie Greenspan. Check out how the whole FFwD group did this week – here's a link to everyone's posts.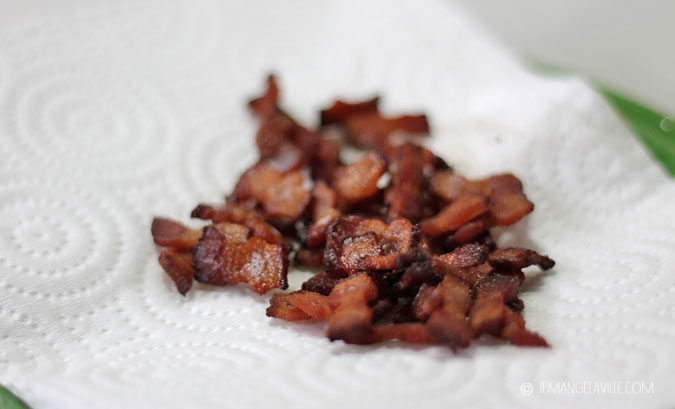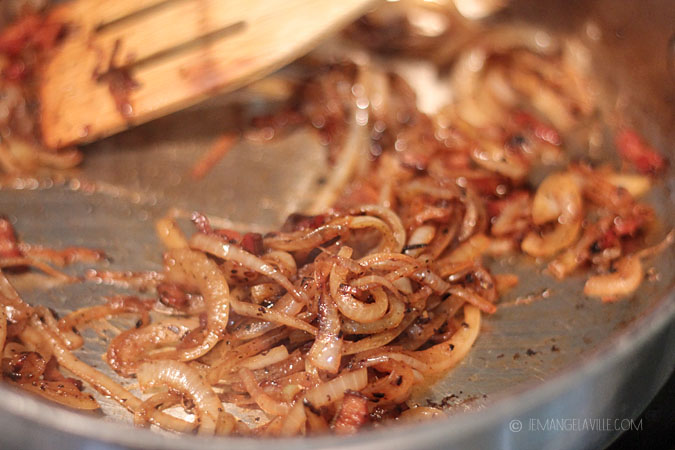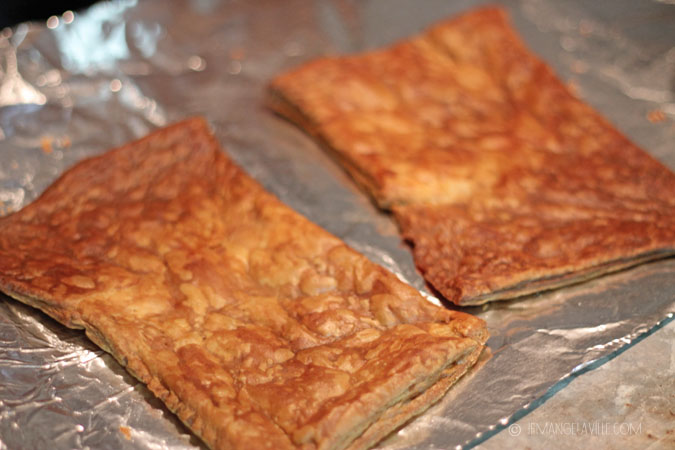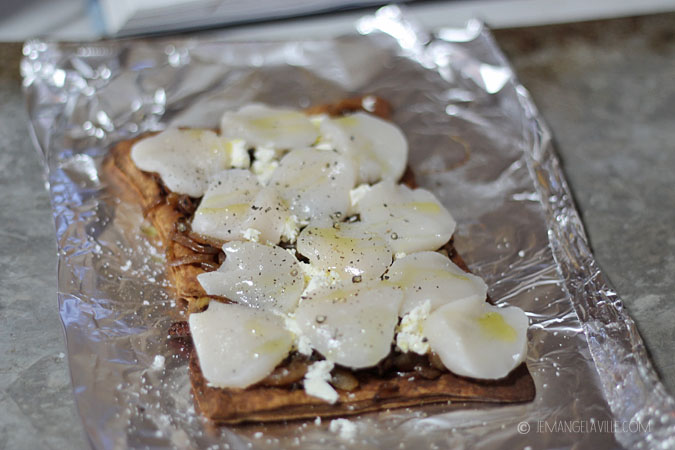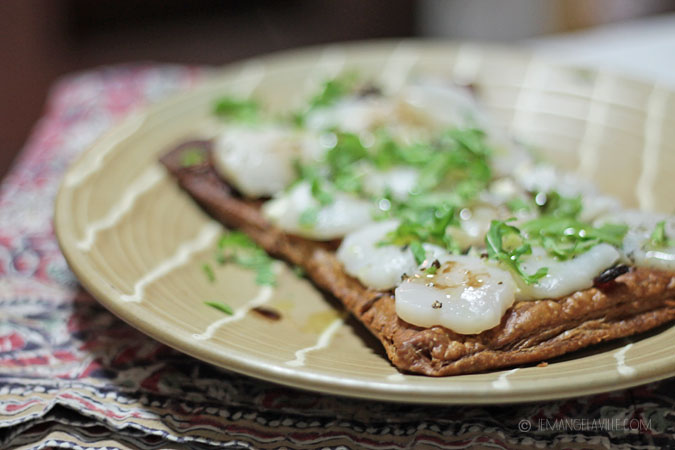 Scallop and Onion Tartes Fines – aka: Scallop and Onion Puff Pastry Pizza
Adapted from a recipe by Dorie Greenspan, from the cookbook, Around My French Table; serves 4. Recipe can be halved easily for 2 servings.
1 sheet Puff Pastry dough, thawed
3 slices Bacon, diced
2 medium Onions, thinly sliced
2 tbsp dry Vermouth
1/4 cup Feta Cheese
1 lb dry-packed Sea Scallops, small muscles removed (this is a lot of scallops – especially when you figure that you'll get three slices from each one. You could certainly get away with using 3/4 lb if you want to save a bit of money).
Olive Oil
Kosher Salt and Freshly Ground Pepper
1/2 cup Arugula, chopped
Balsamic Vinegar
Preheat the oven to 400 degrees F. Roll out the puff pastry until it's about a 13-inch square. Cut into four equal rectangles. Lay these out on a parchment-lined baking sheet, prick the pieces all over with a fork, cover with another piece of parchment, then another baking try (this is to keep it from puffing up too much. Ironic, non)? Bake for 20 minutes, until golden and a little brown. Be careful removing the top sheet, it's hot!
Cook the bacon over medium heat until golden and crispy. Remove from the pan with a slotted spoon and let drain on a paper towel. Leave about a tablespoon of bacon grease in the pan and cook the onions, until brown and caramelized, about 20 minutes. Stir in the vermouth and deglaze the pan, getting up all the brown bits. When the liquid has evaporated, sir the cooked bacon back in and season with salt and pepper. Remove from the heat and set aside.
When you're ready to make the tartes, increase the oven temperature to 425 degrees F. Divide the onion and bacon mixture between the cooked puff pasty dough pieces, spreading out to the edges. Crumble a little feta on each tarte.
Slice each scallop horizontally into three thin coin-shaped pieces. Lay the scallops on top of the tartes, season with salt and pepper and drizzle with olive oil. Bake in the oven until the scallops are just opaque (they won't brown), about 3-4 minutes. Before serving, sprinkle each tart with some of the arugula and drizzle a little more olive oil and some balsamic vinegar over the top. Bon appétit!