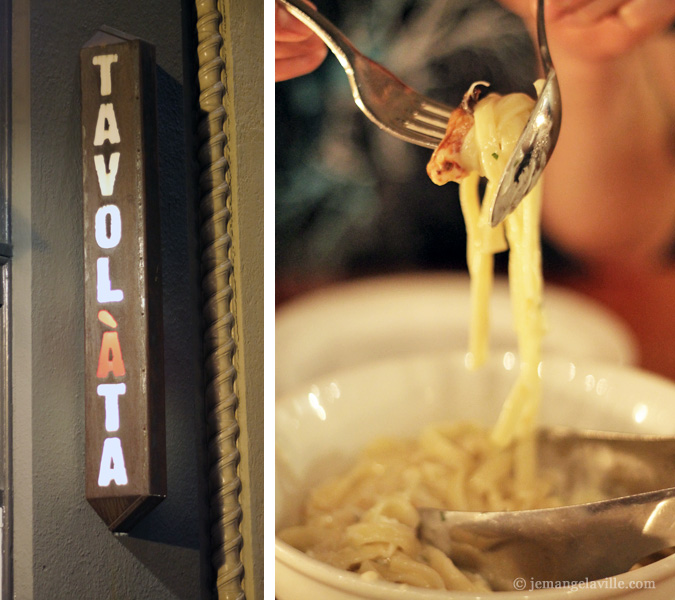 Tavolà ta
2323 Second Avenue
Seattle, WA 98121
Bon Appétit magazine says, "(Ethan) Stowell serves chic, unadorned Italian food in a narrow modern space whose centerpiece is a huge communal table."
I say, "Mmmmmm. Pork belly."
Way back in September, while I was up north for the International Food Bloggers Conference, jwa came up Saturday night to hang out, go out to dinner, and drive home with me the next day. We (or rather I) decided on Tavolà ta for our meal which was just a short walk from downtown and sounded like we would both enjoy its focus – pasta, pasta, pasta. And really, I can't even remember the last time we specifically went out for pasta in Portland (this should corrected soon).
Our choices for the evening consisted of Castelvetrano Olives with Citrus, Mint, Chili; Pork Belly with Manila Clam, Tomato, Salsa Verde; Burrata with Arugula, Cucumber and Heirloom Tomato Salad; Tagliatelle with Dungeness Crab, Fennel, Chili; and Beef Shortribs with Celeriac, Balsamic, Baby Carrot. And for dessert – a Brownie with brown butter ice cream and a trio of sorbets.
This also marked the beginning of our new restaurant ordering strategy – getting a number of different dishes to split. We never usually do that and we don't always do that now, but we've successfully employed this tactic since at Takoro in Ashland and Block and Tackle and Cafe Castagna in Portland to name a few.
As I sometimes do when the food is especially good looking, I took a lot of photos of our Tavolà ta meal. My absolute favorites of the night (to photograph AND to eat) were the pork belly, the buratta, and the short ribs. Ironically, although I did enjoy the pasta, it kind of got overshadowed by the meat and cheese. Sometimes, that will happen. Because meat. And cheese.