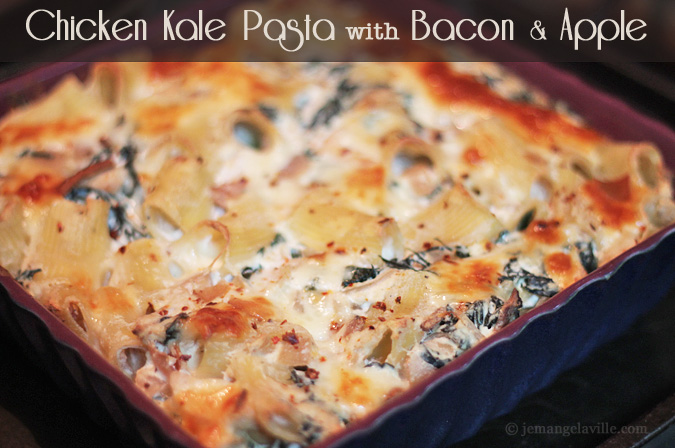 Kale, like brussels sprouts, fish sauce, and swiss chard, is an ingredient that I discovered that I liked later rather than sooner. I don't even think I started with the now ubiquitous kale chips — I think it was maybe braised kale at a restaurant, and only about three years ago.
Did you know October 2nd is (possibly) National Kale Day? I think that it's not quite an official thing yet, so let's all try to make it happen! Until then, I'm just going to pretend that Wednesday IS National Kale Day and celebrate with this kale post.
This casserole is hearty and comforting, just want you want on a cold, windy day that we've been having a lot of here in Portland lately. jwa thought it needed a bit more spice, but I thought it worked nicely just as is – creamy, a little bacony-y, and of course, kale-y. People who think it needs some extra spicy heat can always add their own hot sauce.
This would also be extremely easy to make vegetarian — just omit the chicken and bacon. But then, you probably could have figured that out on your own.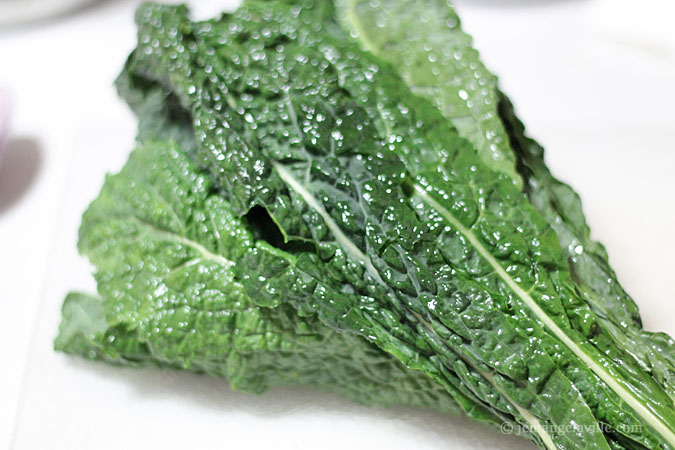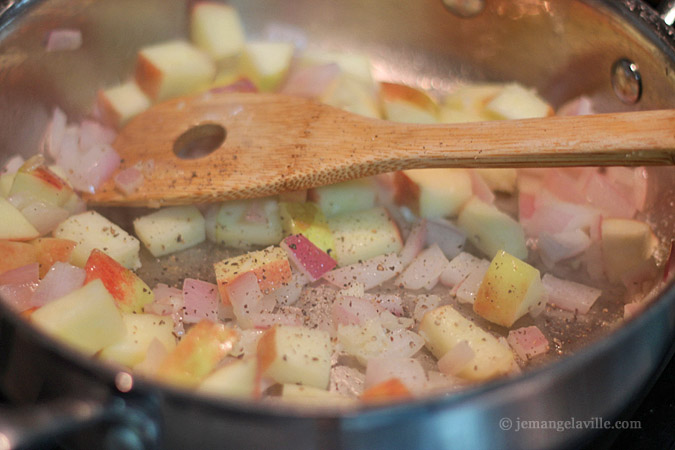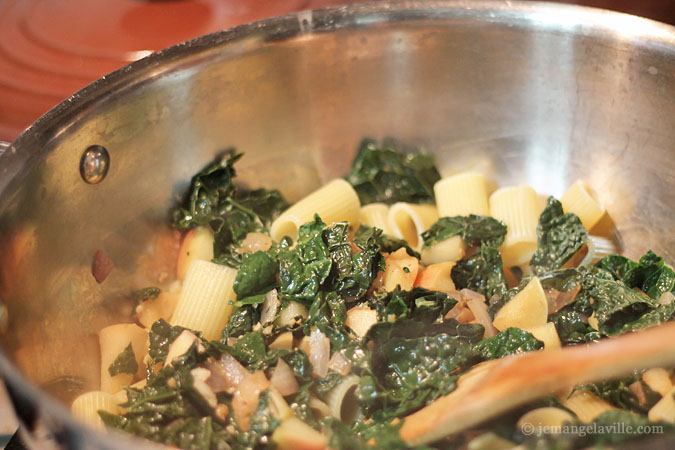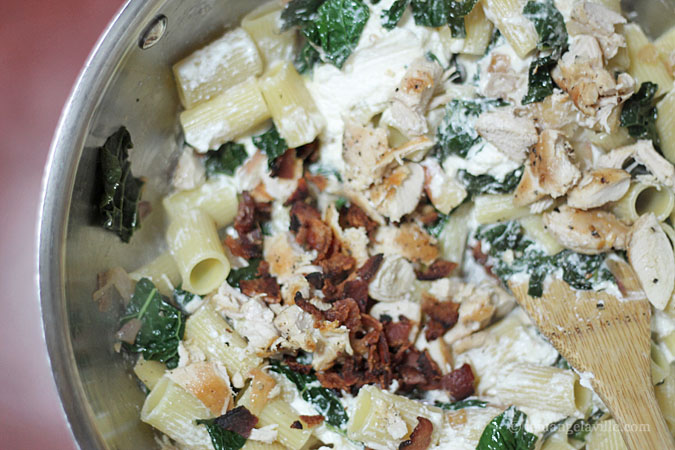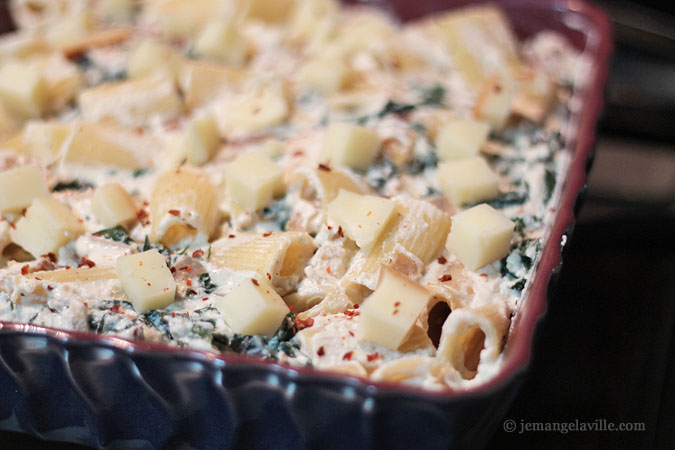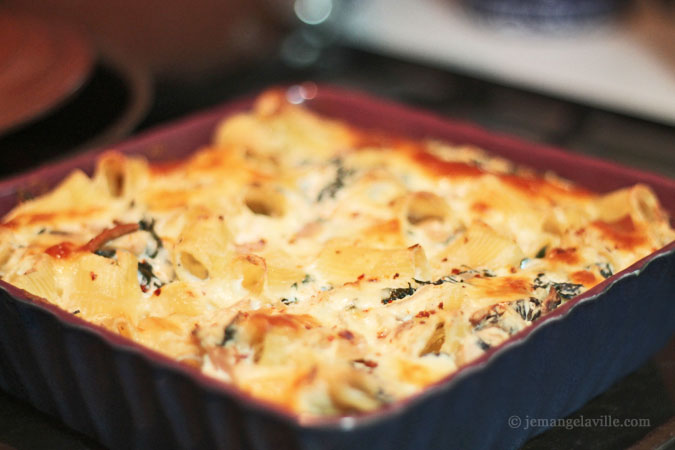 Chicken Kale Pasta (Casserole) with Apple & Bacon
Adapted from a recipe by Martha Stewart; serves 4.
Kosher salt and ground pepper
1/2 pound large pasta shells (I used Rigatoni)
1 tbsp Olive Oil
1/4 cup diced Onion
1 Apple (Granny Smith or Gala), cored and diced
2 Garlic Cloves, minced
1 bunch Tuscan Kale, tough stems and ribs removed, leaves coarsely chopped
2 tbsp dry White Wine or Vermouth
1 cup chopped cooked chicken
3 strips Bacon, cooked and crumbled
1 container (16 oz) part-skim ricotta
1/2 cup grated Parmesan Cheese
1/4 cup low-sodium Vegetable Broth
1/2 cup cubed Smoked Mozzarella Cheese
Optional: A light sprinkle of red pepper flakes on top (I used Aleppo Pepper flakes)
Preheat oven to 350 degrees F. In a large pot of boiling salted water, cook pasta according to package instructions. Drain; return cooked pasta to pot. In a large skillet, heat olive oil over medium-high. Add onion, apple, and garlic, season liberally with kosher salt and pepper; cook until onion and apple begin to soften and color, about 7-8 minutes. Deglaze the pan with the white wine or vermouth, scraping up any browned bits. Add kale, cover, lower heat to medium low and cook until kale is almost tender, about 5-7 more minutes. Transfer to pot with the drained pasta.
Stir in chicken, bacon, ricotta, Parmesan, and broth; taste and season with salt and pepper. Transfer mixture to an 8 X 8-inch baking dish that you've coated with non-stick spray; top casserole with smoked mozzarella and sprinkle lightly with red pepper flakes if using. Bake until top is golden, about 30 minutes. Serve hot.
* * *
Other Kale Recipes that may strike your fancy:
Kale, Feta and Onion Quiche (in an Olive Oil Crust) | Greens and Bulgur Gratin | All Kale Caesar Salad | Elie Krieger РSmoky Kale Chips | The Seaside Baker РWalnut Kale Basil Pesto | Bon App̩tit Magazine Р11 Easy Ways to Cook with Kale