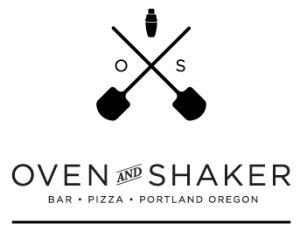 So, yay! It's Portland Dining Month in June! What's that you ask? Well…"Beginning June 1, Portland Dining Month returns to the Rose City for the fourth year, with restaurants offering three-course dinner menus – including an appetizer, entrée and dessert – for just $29."
To celebrate, Portland's Downtown Marketing Initiative has given me a gift certificate for a meal for two at Oven and Shaker, for the special dining month menu to giveaway! So exciting!
Here's Oven and Shaker's Dining Month awesome-sounding menu:
First Course: Focaccia panzanella – roasted summer vegetables, olives, red onion, champagne vinaigrette and Grana Padano.
Second Course: Squash pizza – ricotta salata, wild oregano, chili oil and cilantro.
Dessert: Fruit pie gelato – buttermilk, honey and pie crust pieces.
Want to win this meal for two? Just leave a comment on my blog by noon (Pacific time) on June 4th and I'll randomly pick a winner, contact you, you'll send me your address, and DMI will send you the gift certificate for Oven & Shaker to use during the month of June!
So, note: this really only works if you live in Portland, OR/will be visiting pdx in June 2013. WINNER HAS BEEN PICKED and is being notified. Thank you!
More on the restaurant: "A partnership between three of Portland's most accomplished industry veterans, Oven and Shaker is a modern urban saloon in the heart of Portland's Pearl District. It ties the hearty Italian street food and wood-oven-pizza-making talent of three-time James Beard Award-nominated Chef Cathy Whims together with the ingredient-driven classic cocktails of veteran Northwest bartender and Aviation Gin co-creator Ryan Magarian."
More on Dining Month:
This year, diners have more than 85 top Portland restaurants to choose from throughout the month-long promotion – nearly 40% more restaurants than in 2012.
"We are really excited about this year's crop of restaurants. We have old favorites joined by a set of newer establishments," says Courtney S. Ries, Director of the Downtown Marketing Initiative. "Portland Dining Month offers visiting and local diners the perfect opportunity to try out a variety of the city's most notable restaurants at a great price."
Check out the Portland Dining Month website for the most up-to-date list of participating restaurants and menus.
Portland Dining Month's partnership with OpenTable to benefit the Oregon Food Bank also returns this year. For every reservation booked on OpenTable through the links on the Portland Dining Month website, Downtown Portland will make a donation to Oregon Food Bank. Last year this partnership donated more than $1,800 to the Oregon Food Bank to assist with their work of distributing emergency food to hungry families.