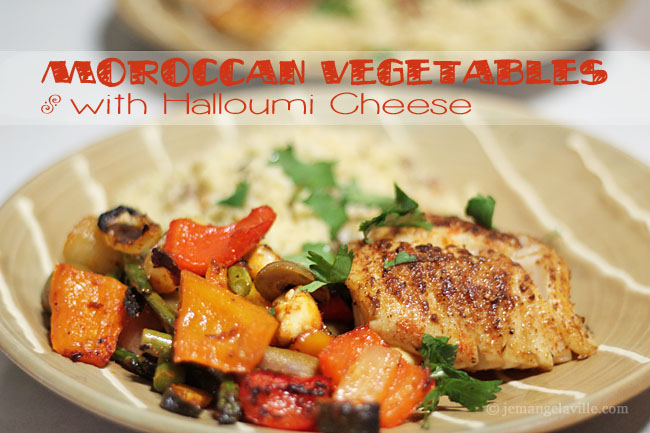 The trickiest part of this recipe is probably locating the halloumi cheese. I used Mt. Vikos brand, which I've found easily before at both New Seasons and Zupans. I'm sure places like Whole Foods have it as well (and also Barbur World Foods, no doubt). This cheese browns and crisps up nicely instead of just melting. And it is delicious.
In the summer, when asparagus is no longer plentiful, just substitute more zucchini, bell peppers, or some yellow squash. And for the next little stretch of time, when asparagus is still around — especially in the Northwest, where it's still basically winter and we all have our flannel sheets on the bed until July — try to use the big, fat stalks, so you can just toss them in at the beginning with all the other vegetables. If they are skinnier, put them in after the other vegetables have roasted for 10 or so minutes.
We recently had this on the side with some halibut (sprinkled with a little cumin and smoked paprika and grilled) and whole wheat couscous. And before that it was a successful side dish for Chicken Tagine with Chickpeas and Golden Raisins that we had with company over for dinner.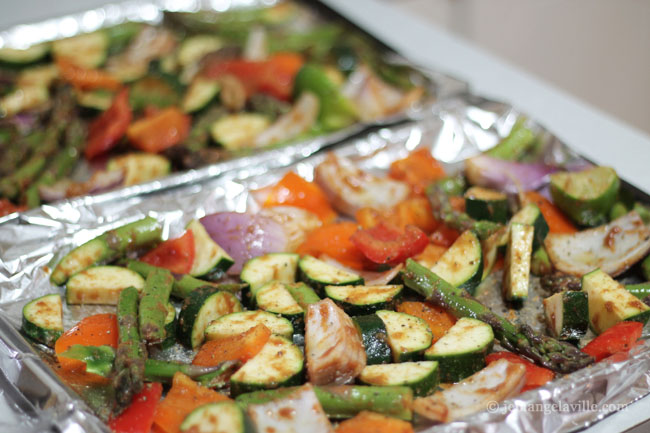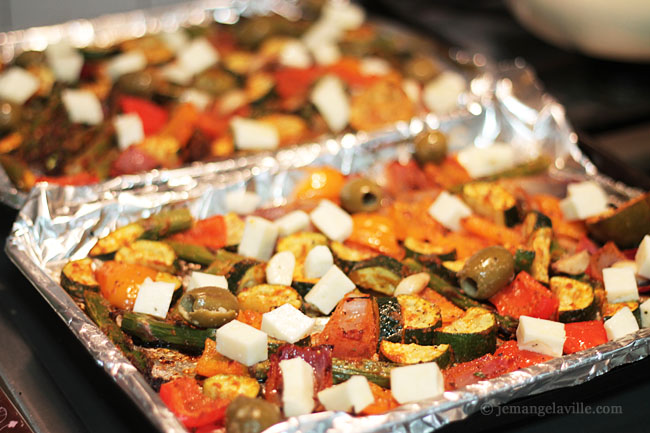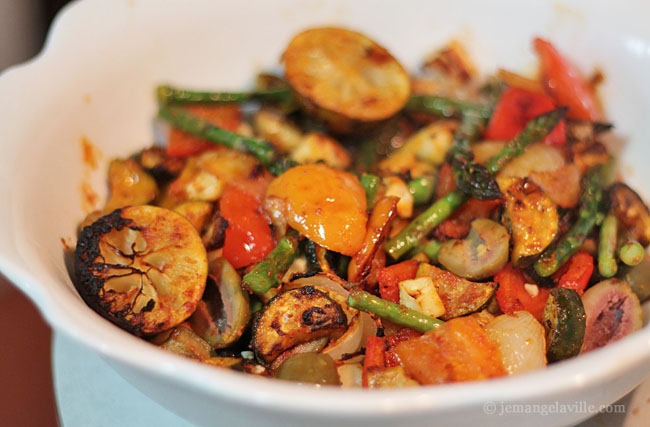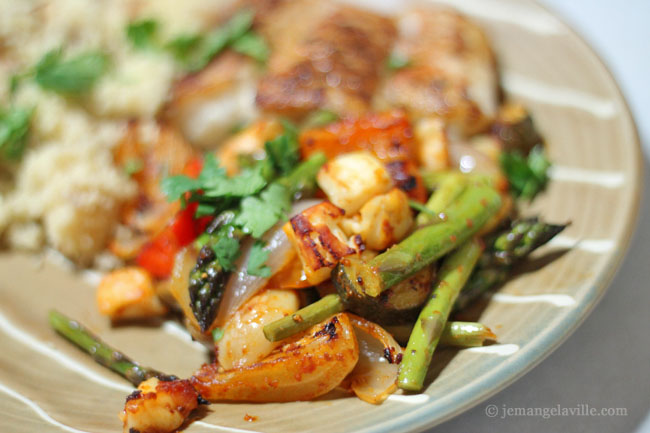 Moroccan Vegetables with Halloumi Cheese
(Adapted from a recipe by Tesco, which I'm petty sure is a grocery store in England, even though it kind of sounds like it should be the name of a gas station; Serves 3-4)
1/2 tsp Cayenne Pepper
2 tsp ground Cumin
2 tbsp Tomato Paste
1 Lime
3 tbsp Olive Oil
2 Red, Yellow or Orange Bell Peppers, deseeded and cut into chunks
2 small Zucchinis, sliced
1 small Red Onion, sliced into wedges
1 bunch Asparagus, thicker stalks, ends trimmed, cut into 3-inch pieces
4 Garlic Cloves
Kosher Salt and Pepper
6 oz Halloumi Cheese, diced into cubes (about a 1/2 cup if you don't have a scale)
2 oz Green Olives, pitted (about 1/4 cup)
2 tbsp chopped Cilantro or Parsley leaves
Preheat the oven to 425 degrees F. Mix together the cayenne, cumin, tomato paste, juice from the lime, and oil. Place the peppers, zucchini, asparagus, onion and garlic in two roasting pans to spread out, sprinkle with a little salt and pepper, and drizzle with the tomato mixture.
Put the squeezed lime halves into the pan and roast for 20 minutes until the vegetables are golden and tender. Add the dices halloumi and olives and cook for a further 10 minutes until the halloumi is golden. Garnish the vegetables with the cilantro or parsley leaves and serve.