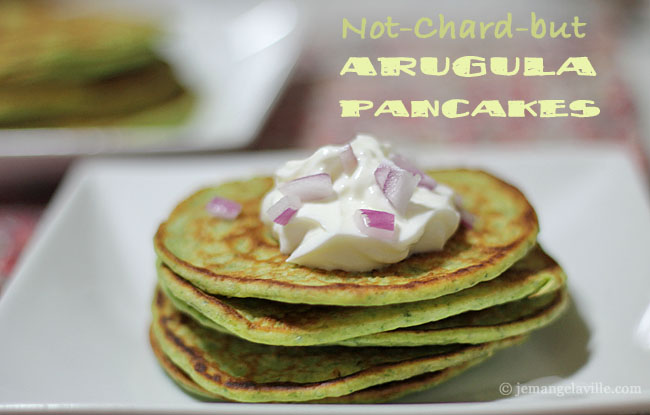 I almost didn't make this French Fridays with Dorie. In fact, I really wasn't going to make it at all but at 9:00pm on Thursday night I looked to see what the assignment was…it was Swiss Chard Pancakes. I had really wanted to make those. And I didn't have any chard. Because I was lazy and I absolutely did not want to go to the store, I used what I did have — arugula. Dorie even suggests these pancakes are very good with spinach instead of chard, and is arugula really that far away from spinach? No. Especially not at 9:00pm on a Thursday.
The nice thing is these came together so quickly! I was all done by 9:30-ish. And we had a nice breakfast all ready for the following morning (Friday). I just rewarmed them in a 350 degree F oven (in foil) for about 10 minutes. I served the pancakes with some Greek yogurt and finely diced red onion.
The few changes I made: made a half recipe, added about 1 tsp Dijon mustard to the batter, and sprinkled a tiny bit of Parmesan cheese on each pancake before I flipped it over. Oh and I also used much less oil for frying, just because it seemed sensible.
The recipe for Dorie's Swiss Chard Pancakes is here but you can, of course, also find it in the cookbook, Around My French Table.
Okay, my photos below and a link to everyone's French Fridays posts here.