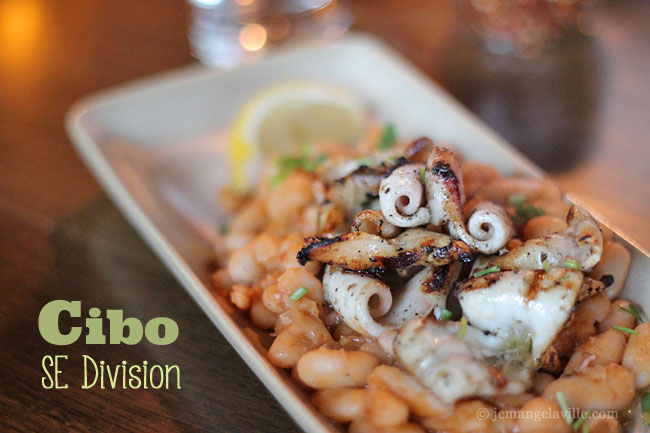 In the last few months (year, maybe? I am bad at judging time), it seems that my stretch of SE Division street has just exploded with new places — Ava Gene's, Xico, Lauretta Jean's, Sunshine Tavern, Cibo. And I'm sure there's more I'm even forgetting. Of this group, we've been to Cibo twice so far and I can't wait to go again. It was a bit crowded on a Tuesday night for our last visit, so we started at the bar and moved to the table when one opened up.
Cibo
3539 SE Division Street
Portland, OR 97214
On that visit, we split the octopus dish as a starter and I think it's my favorite plate featuring octopus in Portland right now. A great char, nice and tender, on a plate full of creamy beans, herbs and lemon. It changes from time-to-time (right now I think it's on a bed of potatoes) but it's definitely worth checking out no matter what version it is.
We also split the Caesar salad, which was also good and recommended, but the pizza. Oh my! Get the pizza. They are definitely big enough to share, but if you get one per person, you can try a variety and have some to take home (note: for breakfast, put an egg on it). That evening, we had the Margherita (me) and the Vegetariana (jwa). Both pies had thin, crispy-on-the-edges, delightful crusts (the kind you slice at the table with scissors) and very good, distinct flavors. We were also treated to a fine selection of 80s/90s alternative music while we dined.
The environment at Cibo is warm and inviting — a great place for a glass or two of wine (the house red was extremely drinkable), superior pizza snacking and listening to Jane's Addiction while eating your meal.