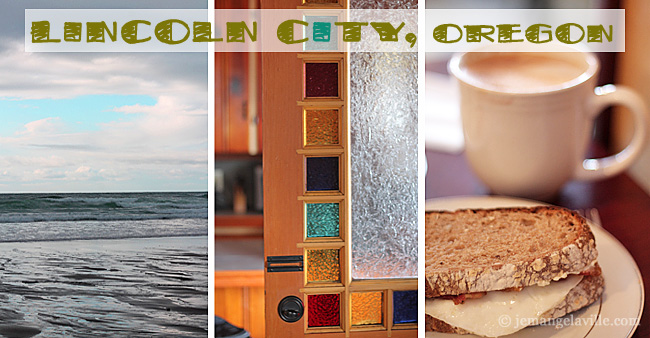 Lincoln City is a long, sprawling town on the central Oregon coast. It has a casino, an outlet mall and continues along Highway 101 for miles. But it also has equal miles of sandy beaches, distinct neighborhoods and a couple of pretty good places to eat. It's also known for all of the glass art studios that populate the area, as well as being a great location to view pelicans flying over the ocean. The Lincoln City Visitor and Convention Bureau even hides glass floats on the beach for visitors to find in the off season (boo! we did not find one).
Even though I wouldn't necessarily call Lincoln City quaint, there's a lot to see and do and it's not very hard to get off the beaten path and do your own thing — but still easily treat yourself to a new pair of shoes at the Nike outlet.
Whispering Winds Motel
3264 NW Jetty Ave
Lincoln City, Oregon 97367
The first part to this quick, overnight trip was finding a place to stay. On earlier Lincoln City trips, we've stayed at both The Coho and Surftides, but I wanted to try some place new, which is how I stumbled upon Whistling Winds Motel. We stayed in one of the three "cottages" — Oceans 11, which had a stained glass front door, full kitchen, a beautiful agate-covered gas fireplace (supposedly, the agate came from the nearby beach), bedroom and small bathroom.
Our room cottage also steered clear of my two biggest pet peeves when staying at a hotel/motel/rental house — old carpeting and out-of-date, weird 70's style bed spreads. Here there was hardwood floors and a modern-looking coverlet on the bed. I thought it was a pretty comfortable place to spend the night, with unique, arty decor and only a short distance from the beach — about 2 blocks.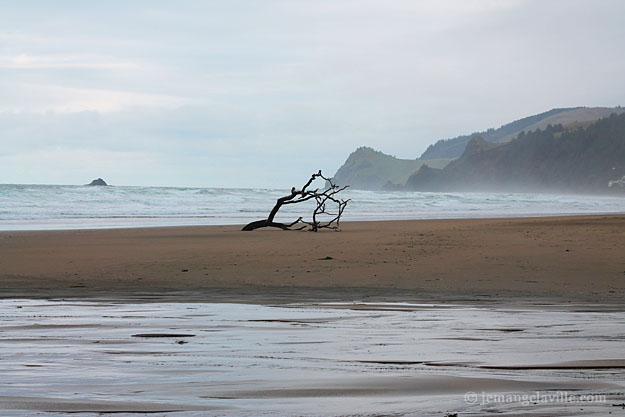 A quiet, secluded stretch of beach at Lincoln City.
BlackFish Cafe
2733 NW Highway 101
Lincoln City, Oregon 97367
A nice perk to staying at Whispering Winds, is that it's just about a 10-15 minute walk to Blackfish Cafe for dinner. I think it can be challenging to find good food on the coast and in my opinion, Blackfish (owned by chef Rob Pounding), is one of the handful of restaurants where you can go and be pretty confident that the meal will be excellent. This trip was no exception with light and crispy calamari to start, small Caesar salads, and almost-too-pretty-to-eat plates of salmon and albacore tuna for dinner.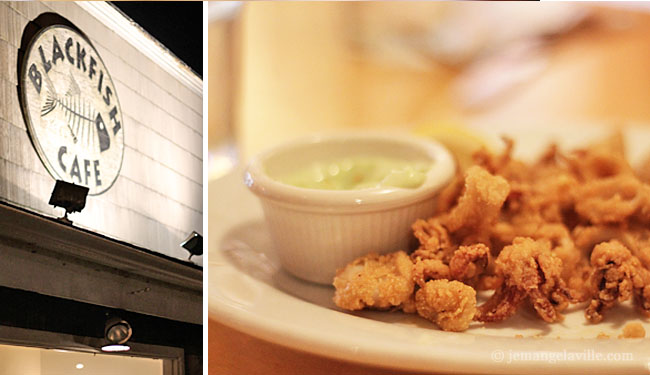 At the Blackfish Cafe — starting with calamari with a cornmeal crust and basil aioli. (Calamari Clause activated).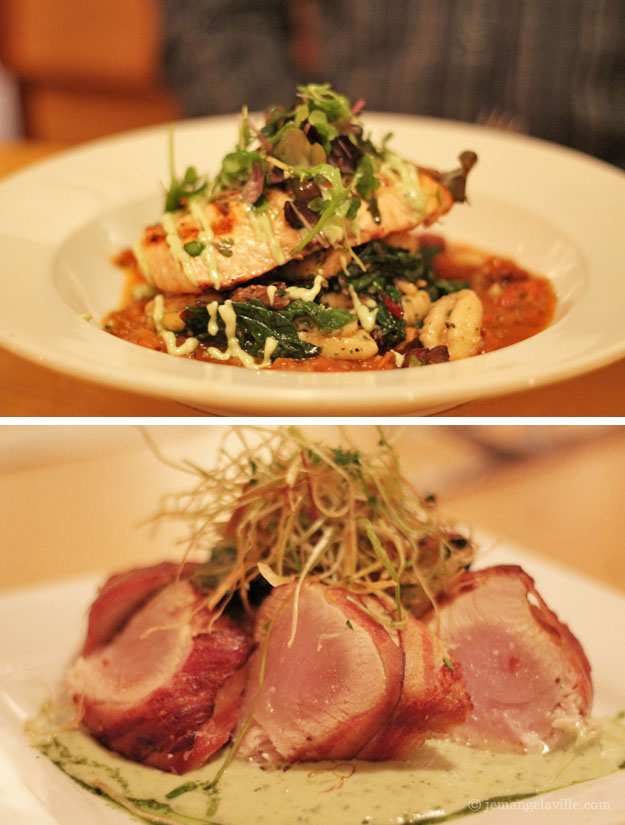 Top: The evening's special – wild salmon with potato gnocchi, sauteed chard and a tomato-walnut romesco sauce. Bottom: Pan-seared bacon wrapped albacore tuna with new potatoes, braised greens, pea shoots and extra virgin olive oil arugula emulsion.
Rockfish Bakery Cafe
3026 NE Highway 101
Lincoln City, Oregon 97367
In the morning, we visited the Rockfish Bakery for the first time. I'd heard about them before and I want to say they are somehow affiliated with Blackfish Cafe, but I don't know that for sure. I could just be making that up. What I do know is that the Rockfish Bakery is owned and operated by Danelle Lochrie and Ethan Granberg and that they make great bread, pastries, and breakfast/lunch snacks.
Sunday morning, we both had lattes, an orange scone to split and breakfast sandwiches (an over easy egg, bacon and garlic aioli). We also loaded up the car with a loaf of Garlic Ciabatta and a couple of oatmeal cookies (fitting, since today is National Oatmeal Cookie day) to take home.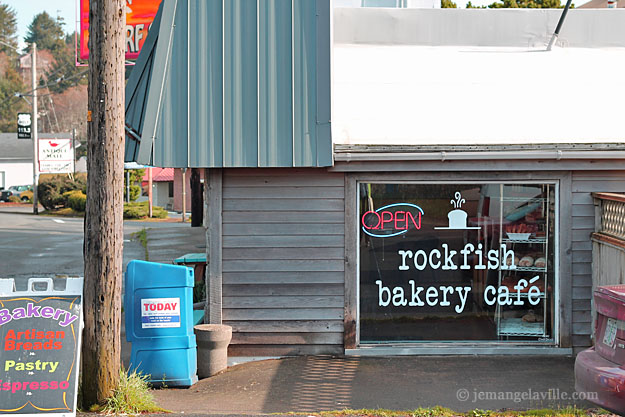 Unassuming from the outside, the inside holds pastries, espresso, and deliciousness.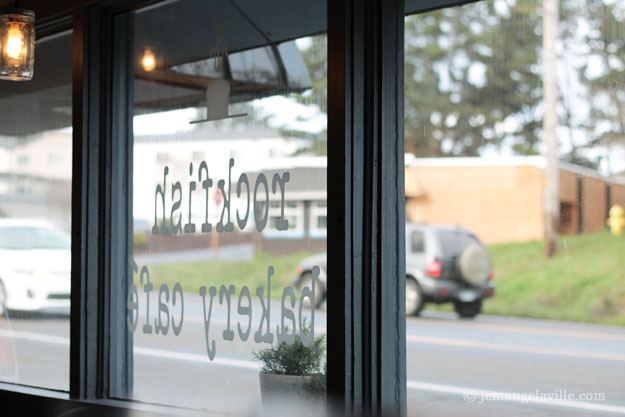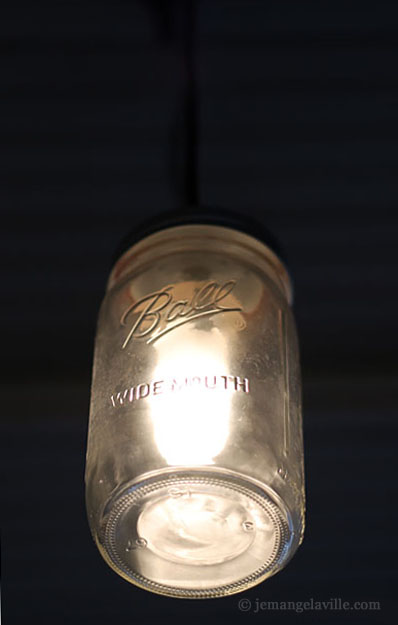 Detail of the interesting Ball jar lighting in the bakery.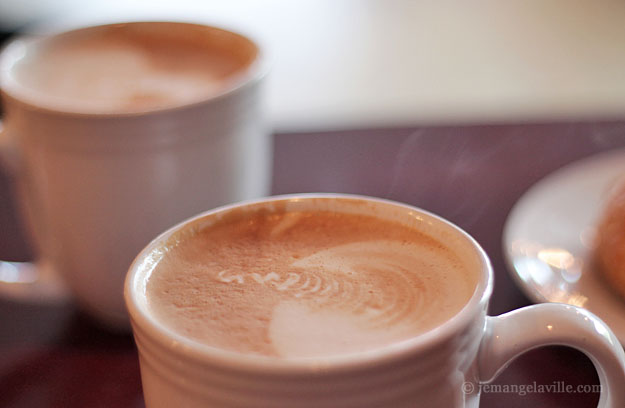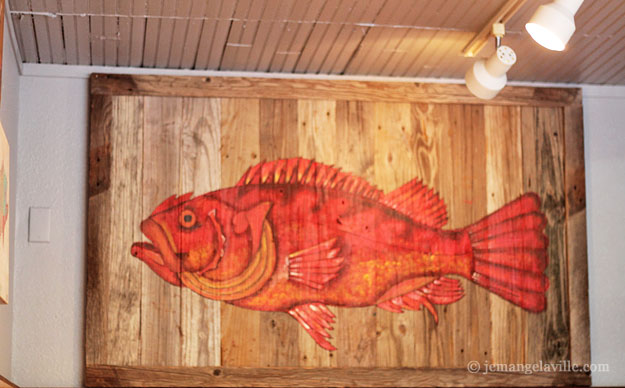 Large fish art mural at the Rockfish Bakery.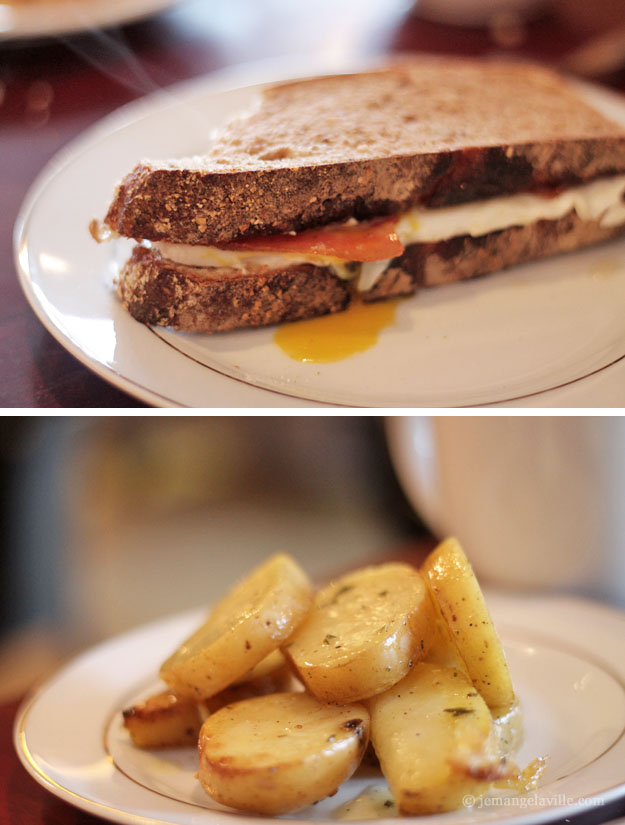 Top: breakfast sandwich on 12 Grain Sourdough bread. Bottom: Roasted potatoes with herbs and olive oil. Not quite crispy enough for my tastes, but we brought the leftovers home and they were a wonderful addition to Sunday's dinner of cauliflower tagine.
Cape Lookout State Park
Off Highway 101, 12 miles SW of Tillamook, Oregon
On the way home, instead of going back the same way we came (highway 18), we continued north on highway 101, pulling off whenever we saw something interesting. This included a detour around Netarts and a quick stop at Cape Lookout State Park, where we ended up in a parking lot for the Cape, North and South trailheads. After the bakery, a quick hike seemed like a sensible idea.
There were three trails to pick from — the Cape trail being the easiest. We set out in that direction since this wasn't really an all day thing at this point, but a quick, post-breakfast walk. After about a mile of woods, with little peeks of the ocean, you reach a bluff with great views of the coastline. The trail continues on for another mile or so, with more ocean views.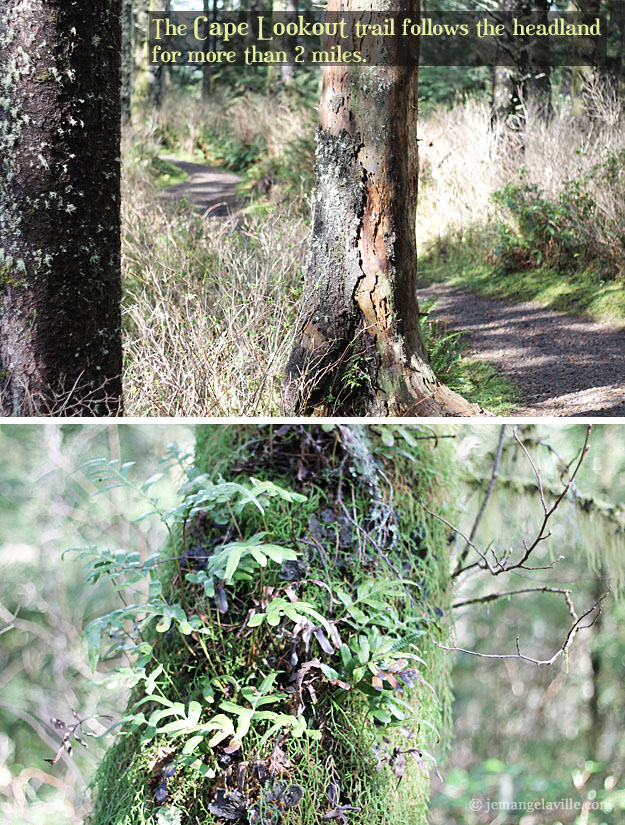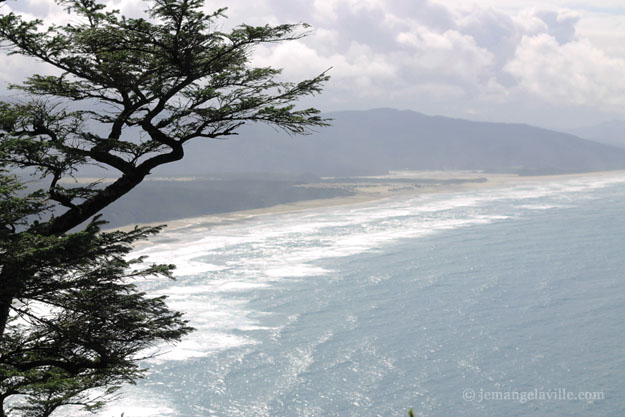 After about a mile or so on the trail, you will be rewarded with a stunning view of the ocean.

Lincoln City on Dwellable