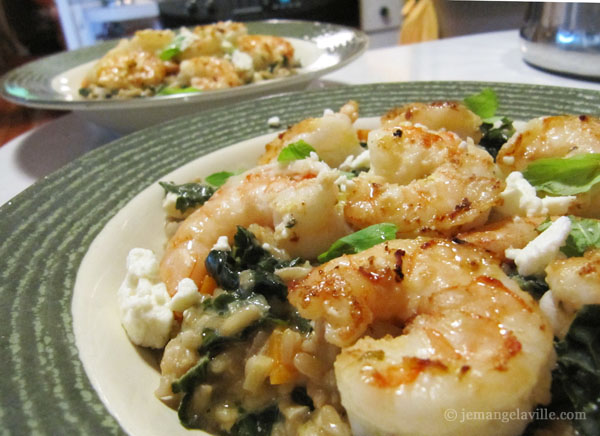 I really enjoy finding a new ingredient that I've never cooked with before and discovering something fun to do with it. That's exactly what happened with me and oat groats. To be honest, when I first got the bag I wasn't even sure what an oat groat was — oat kernel with its hull removed. But one thing I've learned about oat groats? They can be delicious!
I came across a recipe for savory oat groats and used that as a starting place and ended up with a creamy, kale-filled, risotto-like dish topped with herbed, garlicky shrimp. Oat groats can also of course be cooked for breakfast as a more traditional porridge. But, as I tend to do, I opted for the savory, cheesy option and now, oat grouts have turned into one of my favorite grains.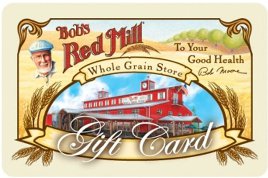 Win a Bob's Red Mill Giveaway $50 Gift Card: Would you like to find your own new favorite grain? Bob's Red Mill is a great place to discover new whole grains and they've given me a gift card to give away on my blog! Leave a comment below telling me what new grain you would like to try and you'll have a chance to win — with $50 to spend online (or at the store in Milwaukie, OR) you could discover some new grains or even stock up on some old favorites.
I'll pick the winner at random around 3pm Pacific Time on Friday, February 15th, so be sure to get your comment posted before then.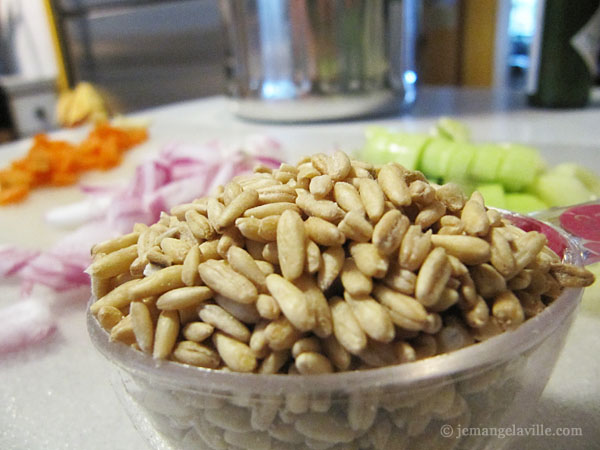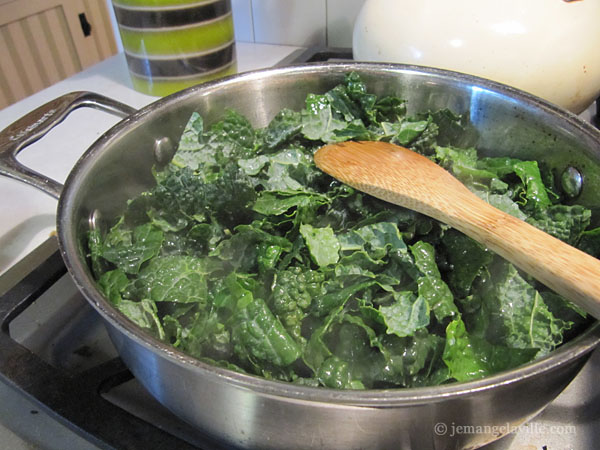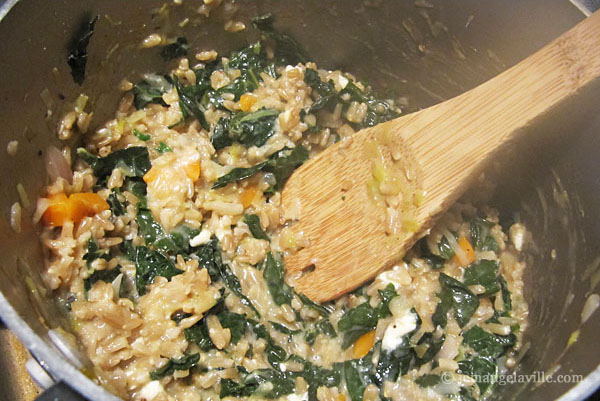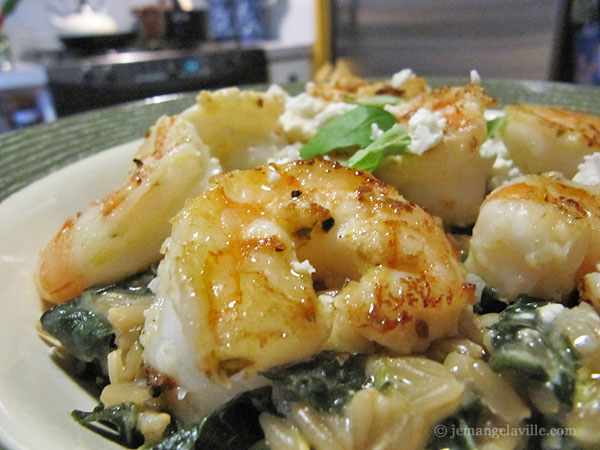 Savory Oat Groats with Kale, Feta and Shrimp
Adapted from a recipe by Martha Stewart; serves 4
3 tbsp olive oil, divided
1 small onion, finely chopped (red, yellow or white is fine)
1 medium leek, white and pale-green parts only, halved lengthwise, rinsed well, and chopped
4 garlic cloves, minced
1 small carrot, peeled and diced
1 cup oat groats
2 cups low-sodium chicken or vegetable broth
1 tsp kosher salt, divided
6 ounces Tuscan kale, stemmed and cut crosswise into 1/2-inch-wide strips
Freshly ground pepper
1/4 cup crushed red-pepper flakes
1/2 cup crumbled feta cheese
1 lb shrimp, peeled and deveined
1/2 tsp garlic powder
1/2 tsp dried thyme
Lemon wedges and fresh parsley leaves for serving
Heat one tablespoon oil in a medium saucepan over medium heat until hot but not smoking. Add onion, leek, and minced garlic. Cook, stirring, until onion is translucent, about five minutes. Stir in carrot and groats; cook one minute. Add broth and 1/2 tsp salt. Bring to a boil. Reduce heat; simmer, covered, 25 minutes.
Heat another tablespoon oil in a medium skillet over medium heat until hot but not smoking. Stir in kale; cook, stirring, until wilted, about 3 minutes. Stir cooked kale mixture into groats. Cover; cook until liquid is completely absorbed and groats are tender but still chewy, about five minutes.
Toss shrimp with remaining tablespoon of oil, salt, pepper, garlic powder and thyme. Let sit five minutes. While groats and kale are cooking, return the skillet you cooked the kale in back to the burner, over medium high heat. Add shrimp. Cook about two minutes per side. When done, remove from heat and set aside.
Season oat groats and kale with pepper and a pinch of red-pepper flakes. Then stir in feta. Dish up groats and kale between four bowls, with shrimp divided on top. Serve with lemon wedges and a sprinkling of parsley leaves.
Winner has been chosen and is being notified. If you left a comment below to enter, could you please make sure you are checking the email that you used when commenting? If I haven't heard back from the winner by the end of the day on February 25th, I will select a new winner. Thanks!
Update: New random winner chosen on 2/26 and being notified. Thanks!