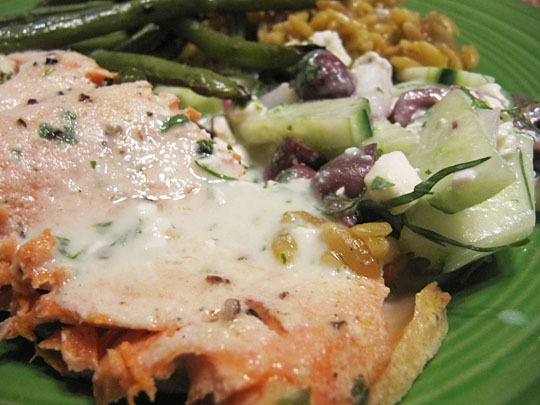 The first thing that has to be said about this dish is that this is the absolute go-to buttermilk dressing recipe. Oh my god, who knew dried ginger would bring the awesome so much? The only think I'd do differently is maybe add a little mayo or plain yogurt to make it a little thicker, but wow, was that delicious!
The next thing I'm going to say is that this was the last of my amazing Prince William Sound Sockeye Salmon from Copper River Salmon.
And finally, this is such a great Summer meal. The salad is nice and cool and there's really nothing stopping you from making the salmon earlier in the day (when it's cooler), refrigerating and then serving cool or at room temperature later.
Oh, also, what this salmon dish doesn't have in looks (not super photogenic, this one), it definitely makes up for in taste. So flavorful!
Herb-Buttermilk-Marinated Salmon with Cucumber Salad
Adapted from a recipe in Fine Cooking Magazine.
1 cup buttermilk
1/4 cup lightly packed fresh basil leaves, coarsely chopped
1/4 cup lightly packed fresh cilantro leaves, coarsely chopped
1/4 cup thinly sliced scallions (about 6 medium scallions)
2 Tbsp white balsamic vinegar
1 Tbsp honey
1/2 Tbsp ground ginger
2 garlic cloves, minced
Kosher salt and freshly ground black pepper
1 side of salmon (about 3 lb)
1 large English cucumbers, cut in half lengthwise, seeded, and sliced crosswise
1 small red onion, cut in half and thinly sliced
1/2 cup pitted Kalamata olives, cut in half
1/2 cup crumbled feta cheese
1 tbsp fresh, chopped dill
Kosher salt and freshly ground black pepper
Make the Dressing: In a food processor or blender, combine the buttermilk, basil, cilantro, scallions, vinegar, honey, ginger, garlic, 1/2 tsp salt, and a pinch of pepper. Process until smooth, about 30 seconds. Set aside 1/2 cup dressing for the salad.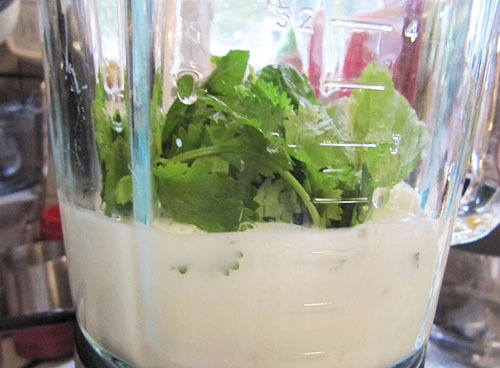 Make the Salmon: Thirty minutes before roasting the salmon, pour the remaining marinade over the salmon in a large rimmed dish and let sit at room temperature. (For the best texture, don't marinate longer than 30 minutes.) I flipped my salmon over to get it coated and then let it hang out skin-side up.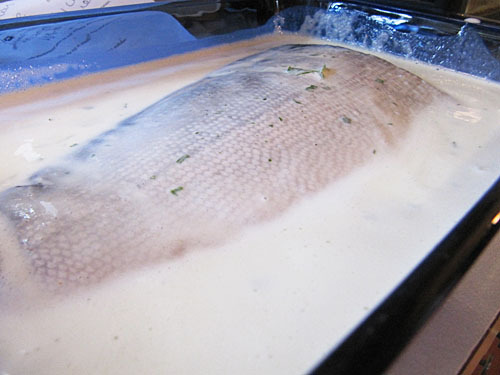 While the salmon is marinating, position a rack in the center of the oven and heat the oven to 400°F. Line a large rimmed baking sheet with foil. When ready to roast the salmon, remove it from the marinade and set on the baking sheet.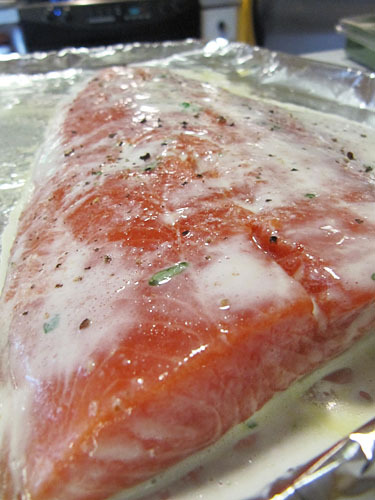 Bake until just firm to the touch and opaque in the center (use a paring knife to peek), 15 to 25 minutes. Remove from the oven and let rest in the pan for 5 minutes.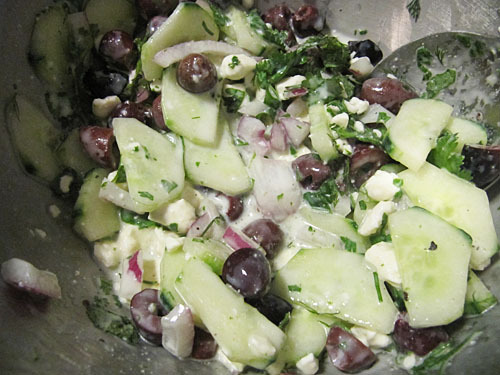 Make the salad: In a medium bowl, mix the cucumbers, onion, olives, cheese, and 1-1/2 tsp. salt. Toss with the reserved buttermilk dressing and season to taste with more salt and pepper.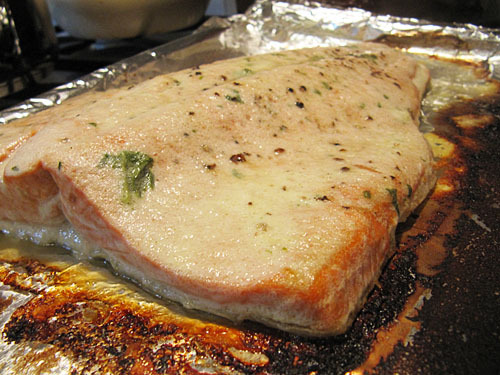 To serve: Use two large spatulas to carefully move the salmon to a platter. Spoon some of the cucumber salad around the salmon and serve the rest in a bowl on the side. Or you know, you can also just put the salmon on a platter and the salad in a big bowl.