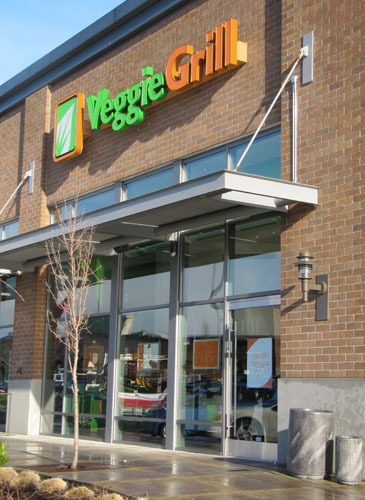 Veggie Grill
Cedar Hills Crossing
3435 SW Cedar Hills Blvd.
Beaverton, OR 97005
I was recently invited to attend a pre-opening lunch at the new vegan Veggie Grill restaurant in Beaverton (right by the Beaverton Powells). I brought jwa with me and we ate a lot of food and I took pictures (which is typically what happens when we eat out).
I wasn't quite sure what to expect when we showed up for our 1PM reservation, but it was a very enjoyable experience. After stepping inside, we got marked off the list, handed a menu and encouraged to order whatever we wanted at the counter. Dude actually said, "order one of everything!" Well, okay then. We didn't quite do that but we did alright.
The booths were reserved for parties of 3 or more for this event, so we ended up sitting right at the counter. Because of this, we got to see a lot of the food as it was being prepared to be run out. The salads looked really fun — many had frizzly, fanciful looking…carrots? Something orange on top. Edible vegan whimsy! I approve.
Anyway, after much discussion, this is what we tried.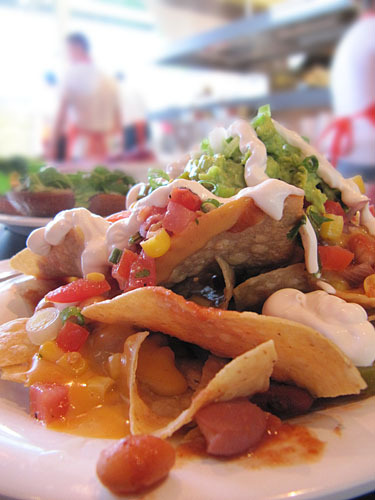 Uptown Nachos
Tortilla chips, chili, VG-cheese, corn salsa, avocado, soy cream, jalapeños.
I really liked these, but then it's hard to find nachos that I don't like. I hardly even missed the cheese. Probably my favorite thing that we ordered.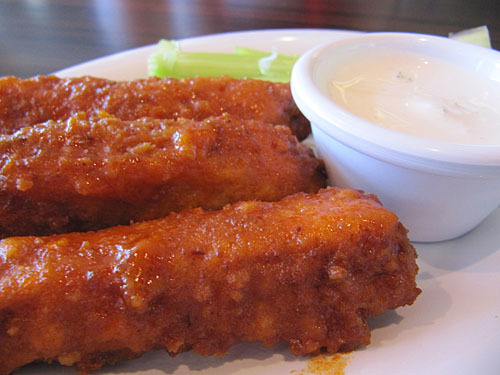 Buffalo Wings
Crispy chickin', tossed in spicy buffalo sauce with celery sticks, ranch dressing.
This was jwa's idea. I'm not a huge fan of real buffalo chicken wings so it was hard for me to compare these to anything, but they were not bad. Very vinegary; jwa thought they were a bit salty.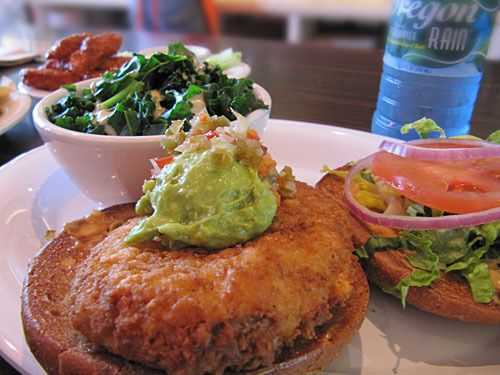 Santa Fe Crispy Chickin'
Fried chickin', lettuce, tomato, red onion, avocado, spicy vegan mayo.
I liked this a lot. Super crispy. I'd get it again.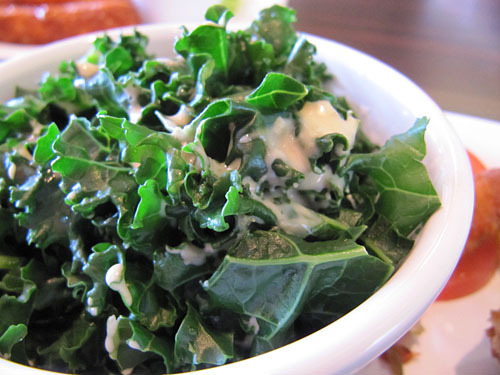 Side Steamin' Kale
Steamed until just tender, ginger-miso dressing, roasted sesame seeds.
I loved the kale salad. The dressing was a nice sesame-miso type deal. The kale was tender and tasty. I would definitely get this again (and probably even try to recreate it at home).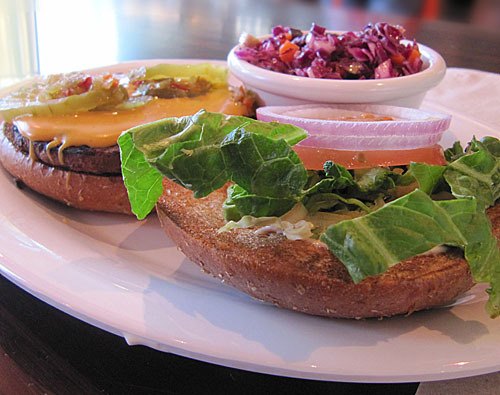 VG-Cheeseburger & Red Cabbage Slaw
The V-Burger topped with VG-Cheese El Dorado Style upon request with jalapeños, caramelized onions, ketchup.
What jwa got. He ate it all. I think he liked it.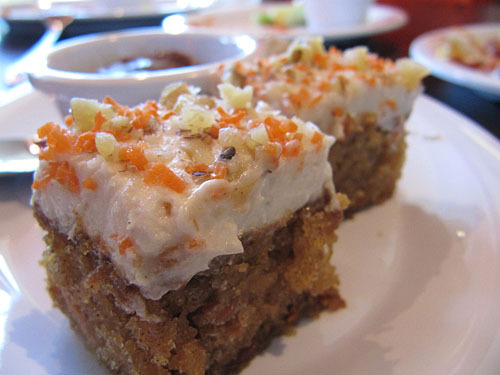 Dessert: Carrot Cake, Chocolate Pudding and Chocolate Chip Cookies
For dessert, they brought us out a sampler plate of tasty things. Well, I wasn't crazy about the chocolate pudding (a little chalky), but the carrot cake and cookies were delicious!
I asked jwa, since he works in Beaverton, if he would go there again and he said yes and even told some vegan co-workers (grrlvegangang) about it. If I worked/lived nearby I would probably go again for lunch too.
Seriously, I might even head out there again specifically to try the large kale salad with all the extra what-nots on top, because that sounds really good (extra what-nots: Marinated kale and red cabbage, corn salsa, agave-roasted walnuts, ginger-papaya vinaigrette). See? Really tasty sounding.