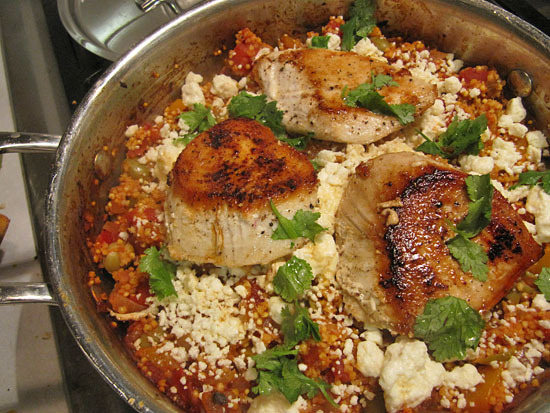 I am officially a huge fan of millet. This is the 2nd really great recipe I've made with this grain and it was delicious. I suppose if you don't have millet, you could use orzo or pearl couscous, but really, get some millet!
This is made in a few different steps, the millet is cooked separately, then stirred into the tomato and pepper mixture and then the fish is cooked in a different pan and added to the top.
The original recipe used shrimp, which would be great of course, but I had some frozen Ono* that I used (defrosted). Halibut or cod would also probably be delicious! Oh and I always thought saganaki was just the flaming cheese — apparently it refers to the actual frying pan that you maybe flame the cheese or say, cook tomatoes, peppers, olives and millet. Who knew? well, I guess I do now. Okay, carry on with the recipe.
Greek Millet Saganaki with Grilled Ono and Ouzo
Adapted from a recipe in Ancient Grains for Modern Meals by Maria Speck — a cookbook that is quickly becoming one of my favorites!
3 Tbsp olive oil (divided)
1 1/4 cups chicken or vegetable broth
3/4 cup millet
1 bay leaf
Pinch of salt
1 cup finely chopped yellow onion
2 cloves garlic, peeled and slightly crushed
1-2 bell peppers (I used a half a red, yellow and an orange one — about 1.5 total), cored and diced
1/4 tsp salt
2 tbsp tomato paste
1/4 tsp red pepper flakes (optional)
1 (28-ounce) can whole tomatoes, crushed in a bowl
1/4 tsp freshly ground black pepper
1/2 cup green pimiento-stuffed olives, halved if large
4 oz coarsely crumbled Greek feta cheese (about 1 cup)
1/2 lb firm white fish (I used Ono but halibut, cod, etc…would work)
Salt and Pepper
1/3 cup ouzo, or other anise-flavored liqueur
1/4 cup chopped fresh flat-leaf parsley (I used cilantro)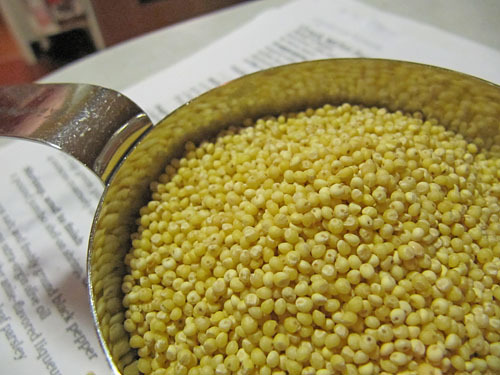 To prepare the millet, add 1 tbsp of olive oil to a pot over medium heat. Add the millet and toast for 4-5 minutes. Add the broth, bay leaf, and salt and bring to a boil. Decrease the heat to maintain a simmer, cover, and cook until the water is absorbed, about 15 minutes. Remove from the heat and let sit, covered, for 5 to 10 minutes. Uncover, remove the bay leaf, and set aside to cool.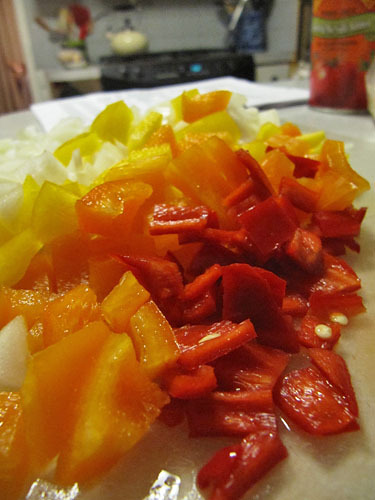 Meanwhile, make the saganaki. Heat 1 Tbsp olive oil in a large Dutch oven or large heavy-bottomed saucepan over medium heat until it shimmers. Add the onion, garlic, belle pepper, and salt; cook, stirring frequently, until the onion softens and turns light golden, about 5 minutes.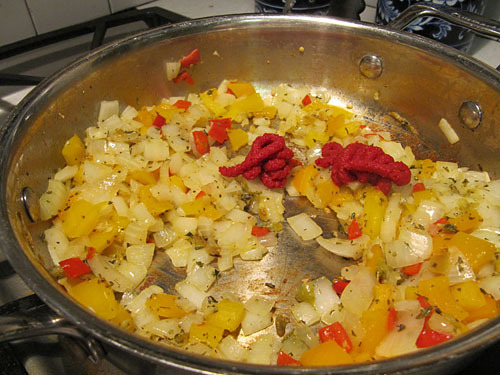 Add the tomato paste and cook, stirring, until it darkens, about 1 minute. Add the pepper flakes (if using), tomatoes with their juices and the black pepper; bring to a boil over medium-high heat. Decrease the heat to maintain a light boil and cook, uncovered, for 3 minutes.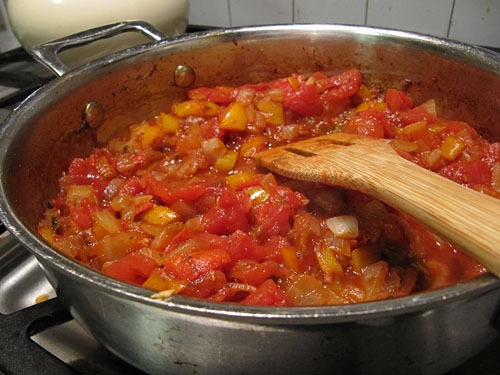 Stir in the millet and green olives. Taste for salt and pepper and adjust (keeping in mind that olives and feta cheese can be quite salty).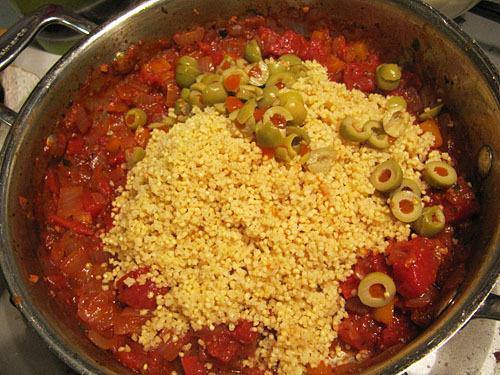 Remove the pot from the heat, sprinkle with the feta, and cover to allow the cheese to soften.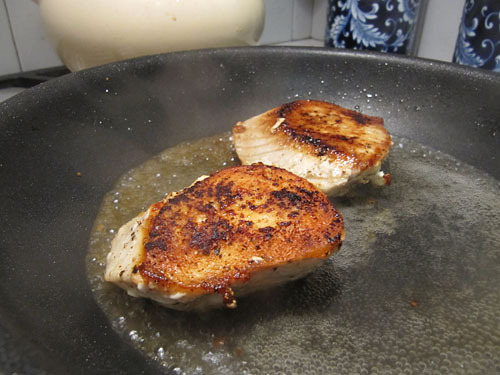 To prepare the fish, season with salt and pepper and heat 1 Tbsp olive oil in a 12-inch skillet or grill pan, over high heat until it shimmers. Add the fish. Cook about 3-4 minutes per side (depending on thickness and size of fish pieces). Add the ouzo and cook until syrupy, about 30 seconds.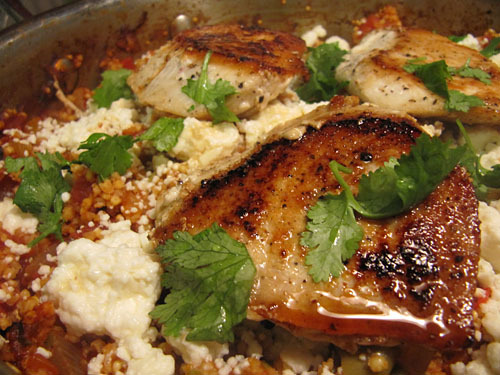 Using a spatula, briskly remove the fish from the pan and arrange on top of the millet. Pour any syrupy ouzo from the pan on top. Sprinkle with the parsley and serve at once.
* I've been getting this at Trader Joe's recently and I've become quite find of it. It's a very mild, nice white fish from Hawaii (also known as Wahoo).