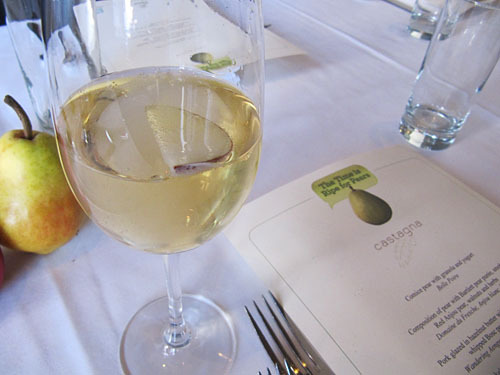 I recently had the very good fortune of being invited to a festive Pear Lunch hosted by Pear Bureau Northwest at Castagna Restaurant. This was completely awesome for a number of reasons, including I got to leave work early for a long lunch and Castagna is practically in my neighborhood, so jwa and I could just walk there. And although we go to Cafe Castagna pretty frequently, it's been a while (a couple of years?) since we've been to the restaurant side. So that was very nice too.
I took some photos of the lunch and at the time, I was pleased to not be the only one photographing my food. Seriously, everyone had a camera and/or iphone out and was snapping pics before trying anything. I was quite amused.
I missed a photo of the pear juice flight but I have two images of the champagne cocktail (sparkling wine cocktail? Sometimes when someone hands me a glass, I forget to remember what it is…) we were greeted with at the door, so I think it all evens out.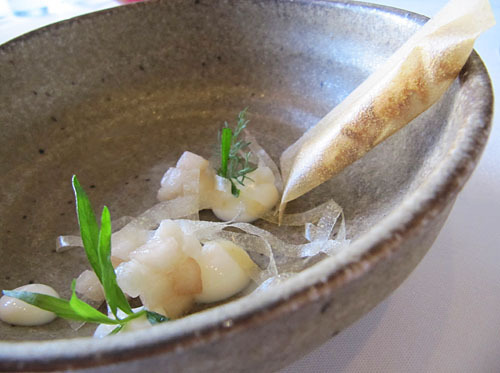 First up: Comice Pear with Granola and Yogurt. Sounds so simple but in reality was art in a bowl. A heavy pottery bowl with dollops of an almost-savory tasting yogurt, pear ribbons, fresh herbs and then we were each given a crispy pear pouch filled with yogurt. So fun and unique!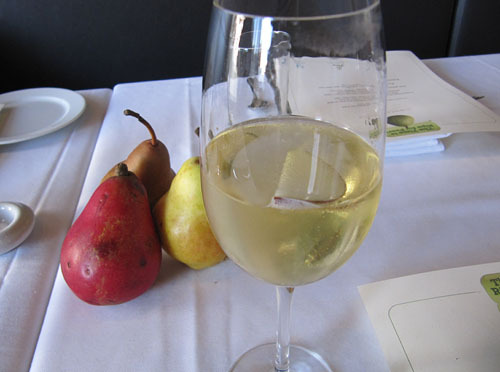 See, here is the second shot of the champagne. It was also at this point, after perusing the menu and wine/beverage pairings that I texted work and mentioned that I would not be back that afternoon.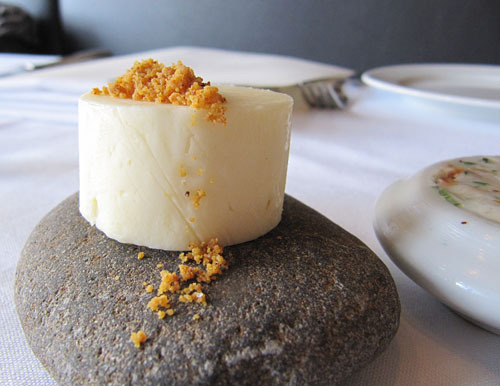 Now this, this is butter with a toasty, crumbly topping — this was the sensible choice. To the right, which I did not capture in all its glory is lardo (cured strips of fatback with rosemary and other herbs and spices). Oh my. We were also served these warm, crunchy on the outside and soft on the inside, rye rolls. With the lardo. That sort of melted into the bread. Oh, geez. So good.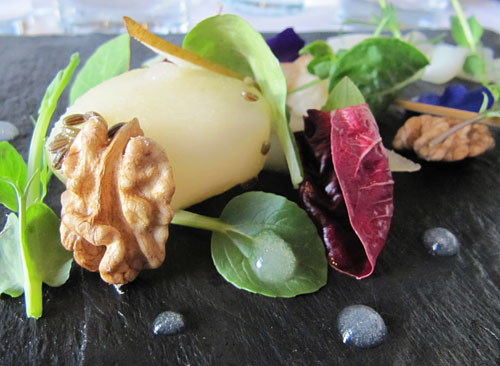 Second course: Composition of Pear with Bartlett pear puree, smoked Red Anjou pear, walnuts and herbs. This was another work of edible art. The smoked pear was amazing, as was everything on the black, stone-like plate (walnuts, lettuce leaves, flower petals). The salad was paired with a glass of 2009 Domaine du Fresche Anjou Blanc.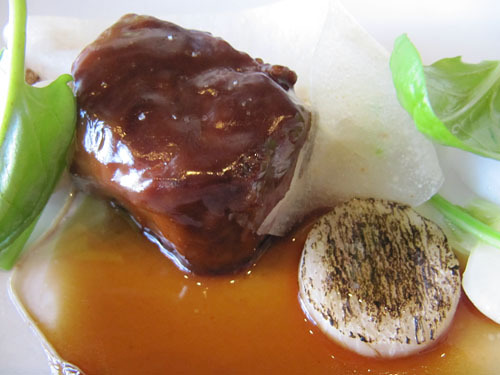 Third course: Pork glazed in hazelnut butter with compressed pear, whipped Bosc pear and turnips. This was so delicious and paired with Wandering Aengus "Anthem" Pear Cider.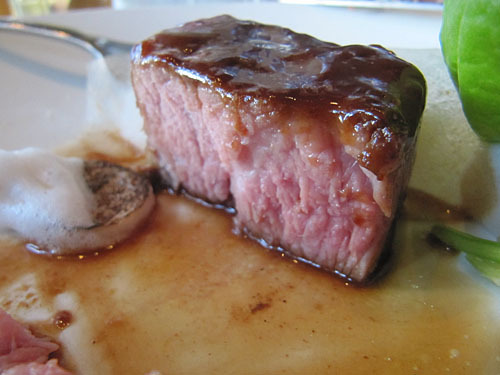 How delicious was it? Two photos worth of delightful, rich, porky, pear goodness.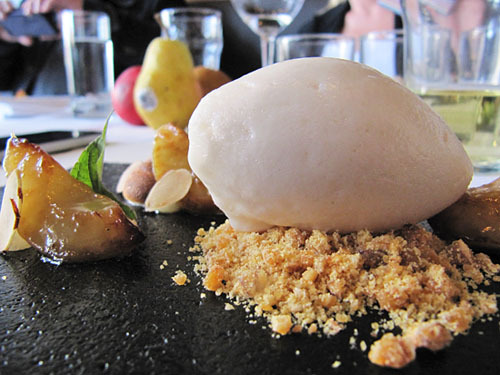 Dessert: Roasted Seckel pear, fresh meringue, pear sorbet and pineapple sage. The biggest surprise for me here was the pineapple sage. It was wonderful with everything on the plate that I tried a bite of it with. From the sorbet, to the cute little meringues, to the almonds. Again, just stunning plating.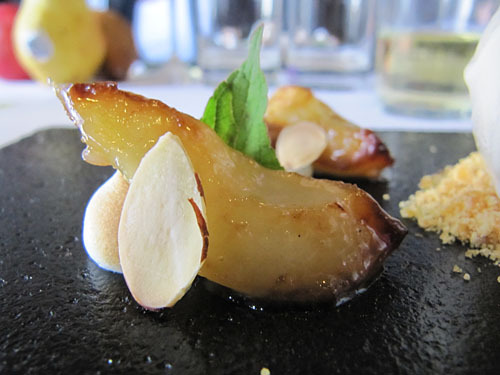 Aside from being a great afternoon, this meal definitely inspired me to hurry up and use the ten or so pears we got in our Thanksgiving CSA bag. I was a little at a loss and just stuck them in the refrigerator when I got them, but now I think I have some serious pear inspiration.
And, in case you were wondering, this is how you tell if a pear is ripe.