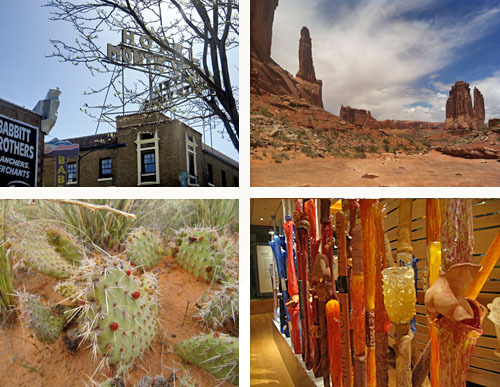 As I'm starting to plan another epic Southwest road trip for next Spring, I thought I'd take the time to do a post and an overview of last Spring's trip. I can't believe I never did a recap, but then a lot of bad crap happened after we got back and I think I just sort of lost track of many things that I meant to do. Summer 2011 – The Summer Where a lot of Stuff Really Sucked…*
Anyway, we had a super, wonderful time on our journey and here's where we stayed, what we did and what we ate. I'm kind of surprised I didn't take more pictures of food.
This HUGE post took more than a week to put together, so I hope you all enjoy it! 😉
Stop #1: Pendleton, OR
We stayed at the Oxford Suites (the only "chain hotel" we stayed in the whole trip). We'd stayed at one in Spokane, WA a couple of years ago that was nice, so I was expecting that here. Um, not really. It was okay. The hot breakfast bar in the AM was kind of sad. The Spokane one was much better. Also, Pendleton? Not really much going on…we ate okay Mexican food there that night (I can't even remember the name of the restaurant). Next time we're definitely driving through Pendleton and just waving.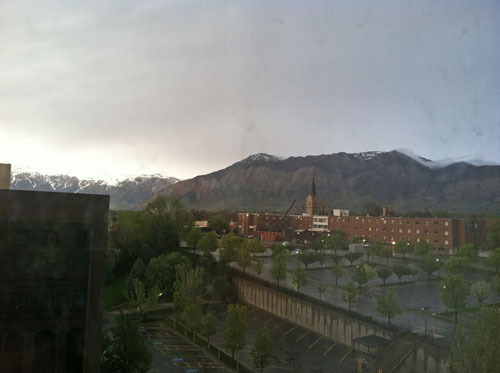 View from our hotel window in Ogden, UT.
Stop #2: Ogden, UT
This was just an "on the way" stop but I liked it. We stayed at Ben Lomond Suites. The room was a little plain, but quite big (separate living area with a bedroom, free parking, free breakfast). The buffet in the AM was fine. Nothing fancy but much better than Pendleton. The town (historic 25th area) was cute but really no one around.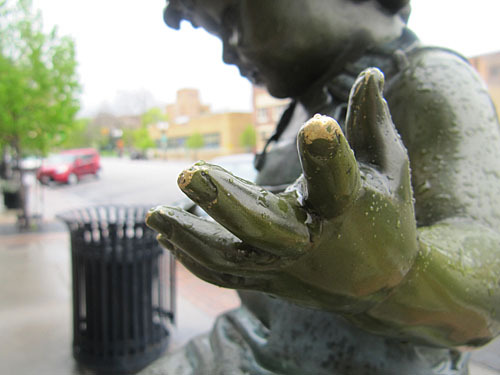 Sidewalk statuary in the Historic 25th district in Ogden.
We ate at Rooster's on 25th brewpub the night we got there for dinner, which I liked but jwa was kind of ambivalent about. Oh and we got a certificate through the hotel for a free appetizer at Rooster's, which was pretty nice. I invoked my calamari clause and we got that. I loved their "Louisiana" dipping sauce. I emailed them asking for the recipe but I never heard back. Oh, and also it must be so sad to be a micro brewery brewmaster in Utah, always having to keep your beer low in alcohol.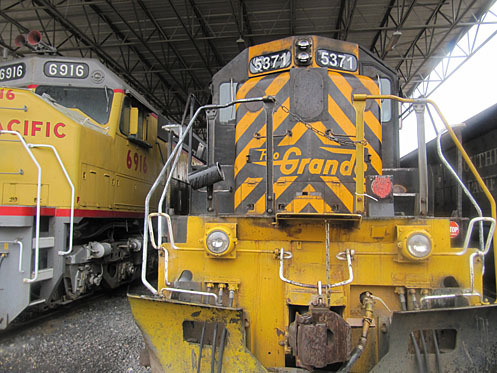 Old trains in Ogden.
There's kind of a neat little train museum at Union Station in Ogden that's worth checking out if you're there.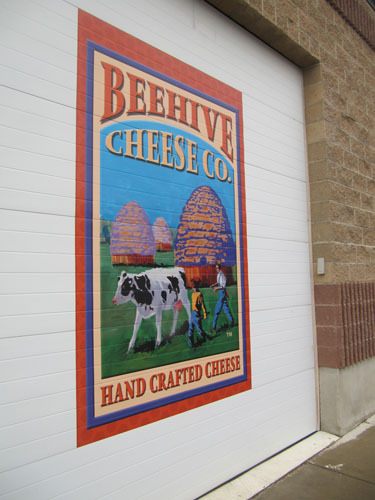 Mmmm…Beehive Cheese! The Barely Buzzed is especially delicious! And, you can find it in Seattle at Beecher's Cheese!
On the way out of town, we stopped at Beehive Cheese and loaded up on car snacks!
Stop #3: Moab, UT
Moab! The first real "destination" stop of the trip to go to Arches National Park and also just to hang in Moab, as I've been there before and really liked it. We stayed at 3 Dogs & A Moose Cottages (Bogie's Bungalow), which was $165 a night for a small studio cottage with a loft.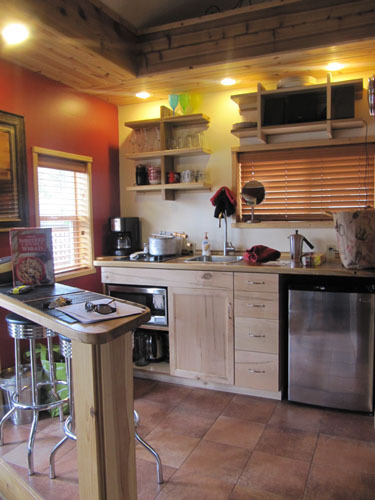 Cute little kitchen in Bogie's Bungalow.
It was very, very cute. There was also a tiny kitchen and a nice back courtyard. Honestly, while I really appreciated the ambiance of the space, when we visit Moab again, I'll probably want to stay somewhere with a bit more room. jwa didn't mind the size but I found it a bit cramped.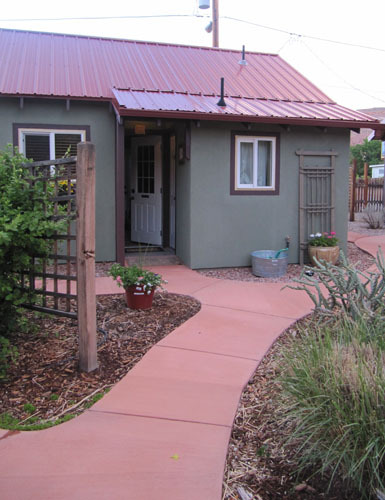 Outside of Three Dogs & a Moose.
And honestly, next year I'd rather stay somewhere a bit cheaper in Moab and splurge more on lodging somewhere else (Santa Fe! Santa Fe!).
Moab Restaurants:
Nothing blew me away. We ate at Pasta Jay's (I liked my meal but I asked to take the rest home and our server accidentally tossed it out, that kind of pissed me off) and a pizza place (just okay). Next time, I'll definitely want to stay somewhere with a kitchen and cook meals.
Arches National Park
In Arches, we did the Wall Street hike (so awesome) and drove through the park, stopping at each area to do the short hike to the arch. If you just have a day to spend there, that's a pretty good way to spend it.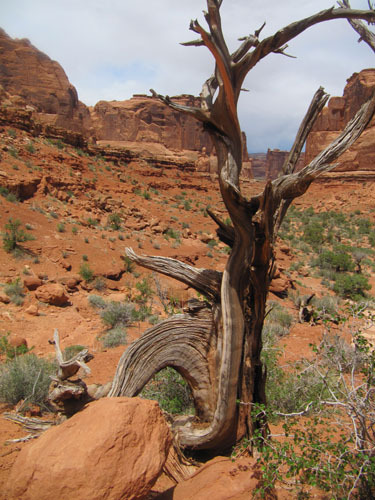 Arches National Park

I love the desert foreground with the snowy mountain background.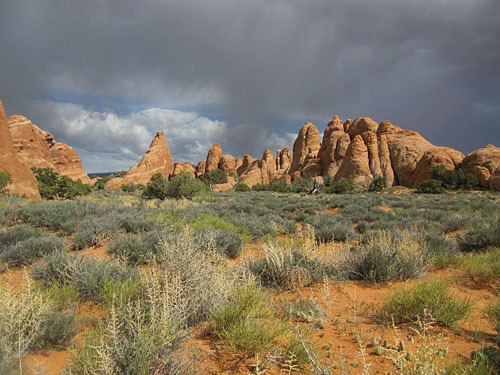 The sky about to storm.

I'd love to go to Moab & Arches again.
If not this next trip, then sometime in the future.
Yeah, it'll be next trip. Hooray!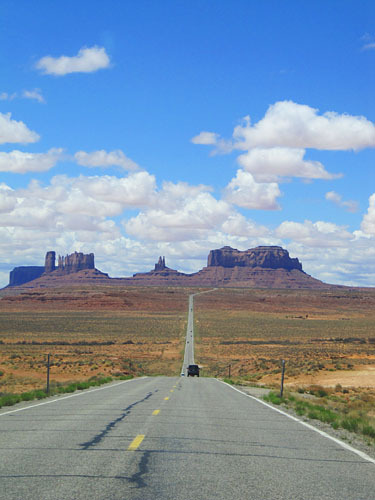 Driving towards Arizona.
We drove from Moab through Monument Valley which was beautiful. It was not the most direct route to Flagstaff, (there's a shorter way to do it) but it was worth it.
Stop #4: Flagstaff, AZ
Oh, Flagstaff! How I have pined for you the last 15 years. Your hacky sack playing hippies, your what-I-thought-was-good-coffee, your fresh mountain air, your Southwest location yet temperate, Alpine climate without scary southwest bugs. It was interesting to be back. It's grown but also stayed pretty much the same.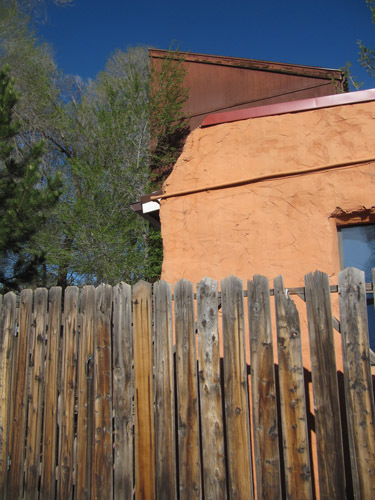 A cute adobe-looking house near where we stayed.
Funny, as we were driving around I said to jwa, "hmmm, it's a little more redneck-y than I remember." I think I blame Portland for that. When I moved to Flag, I was coming there from Indiana. Which made Flagstaff seem like the granola capital of the world to me. Now, not so much. Anyway, we still had a very nice time. We rented a cute little house and got a GREAT deal as we stayed for 5 nights and got a price break.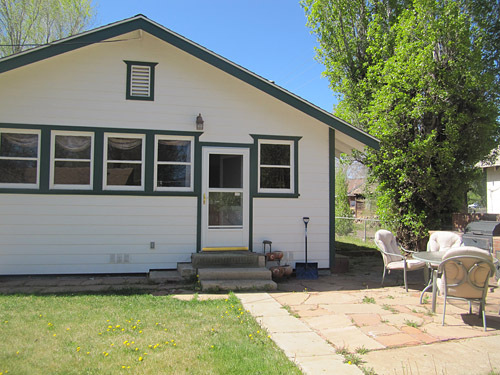 Our rental house from the back.
Restaurants: I still love
La Bellavia
and
Macy's Coffee
. Also
Cafe Ole
.
Charley's
…meh. Next time we will probably only stay two nights and I'll be perfectly happy with a breakfast at Macys and one at La Bellavia and the dinner at Cafe Ole. Maybe the other dinner in the room? Or maybe try a new place.
Brix
looks intriguing.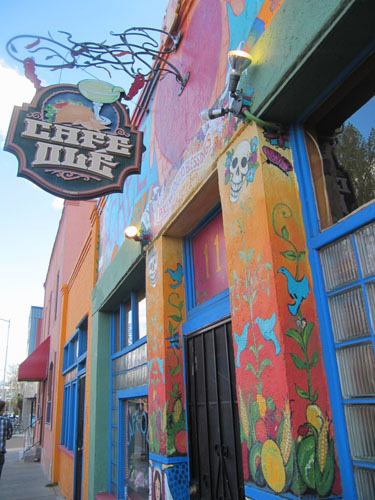 The colorful exterior of Cafe Ole.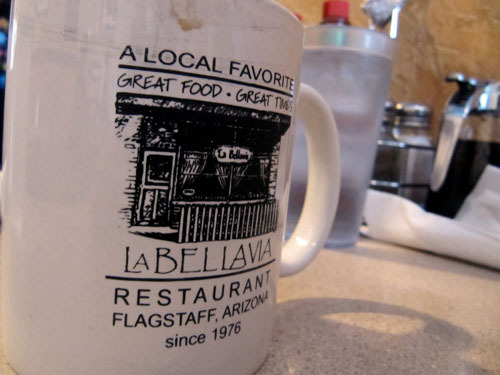 La Bellavia for breakfast.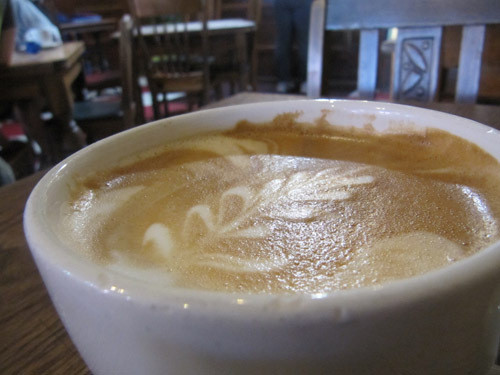 Latte at Macy's…almost like being back home in Portland.
From Flagstaff we took a day trip down to the valley and I went to the Heard Museum in Phoenix (totally awesome) while jwa met up with an old friend.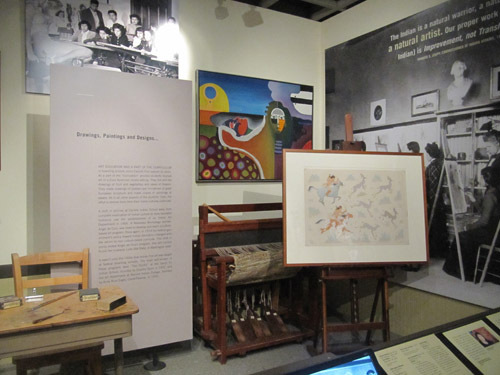 Heard Museum in Scottsdale, Indian School exhibit.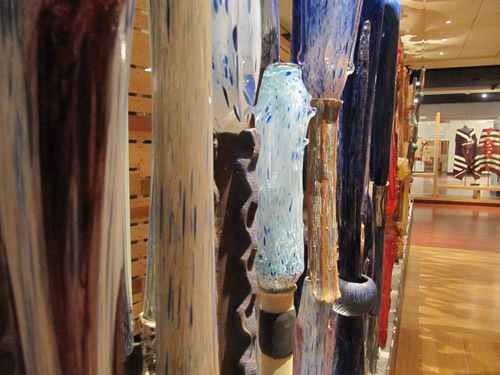 Heard Museum, near the entry.

Then we drove around Scottsdale and sweated a lot. Then back to Flagstaff to cool down.
Stop #5: Bryce Canyon, UT
On the way to Bryce Canyon from Flagstaff, we went through Lee's Ferry and spent a little time driving through the Navajo reservation. Our soundtrack for all of this was The Decemberists The King is Dead, which seemed to fit the trip quite well.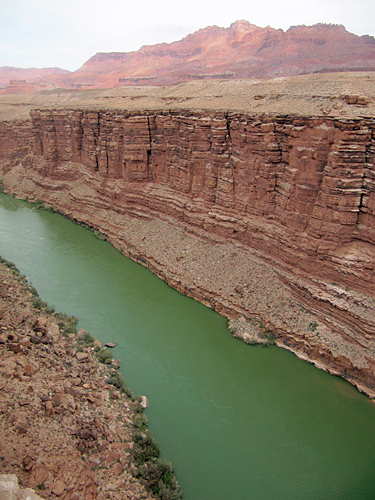 Colorado River at Lee's Ferry.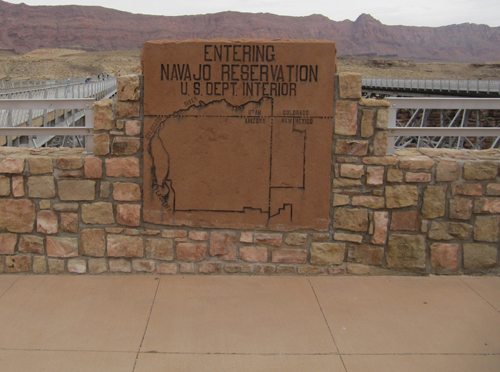 The Navajo reservation — actually we were leaving it.
I spent some time doing fieldwork at Bryce Canyon when I lived in Flagstaff and worked at a cooperative NBS (now part of USGS)/NAU research office. It was a park I really loved and have wanted to get back to all these years. So glad I finally did and was able to show the area to jwa.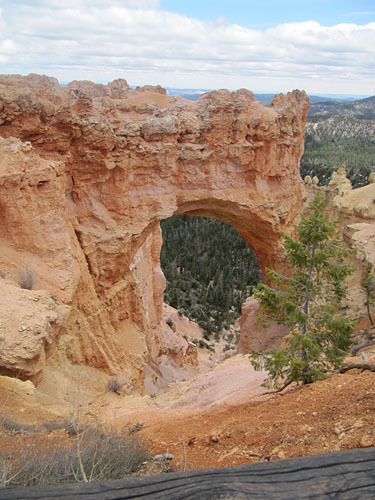 An arch at Bryce Canyon National Park.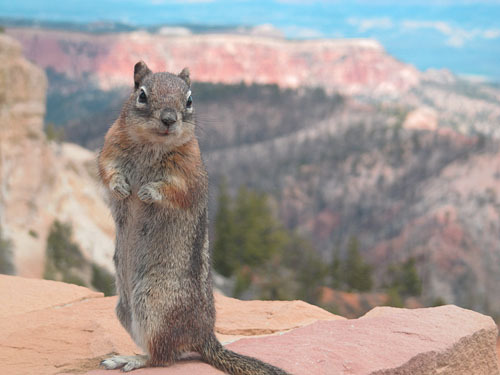 Chipmunk at Bryce. Hamming it up for snacks? We didn't feed him!
If you ever get the chance to go you really should, it's just stunning. They also have an in-park lodge there that's pretty nice. We stayed in one of the Western Cabins (if you want one, they go super fast. You can book a year in advance…that's what I did). There are ranger programs and trails and lots of stuff to do in the park. Also, European tourists just LOVE the southwest, you will hear a lot of German and French accents in Arizona and Utah parks, that can be kind of fun and interesting.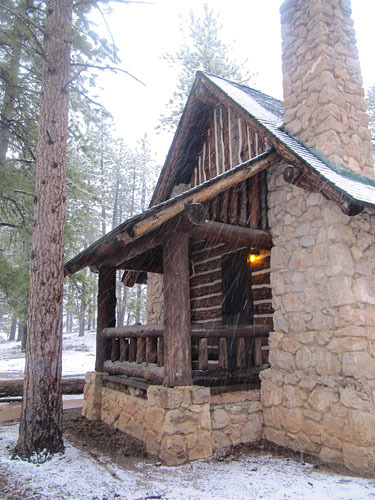 Our Western Cabin at Bryce.
The lodge dining room was actually really good! If I sound surprised, it's because they are pretty much the only place in the park to buy a meal and they could definitely just phone it in. But it was very nice. All of our meals were quite good and the head waiter looked like Conan O'Brien. He always wore black and we started calling him Evil Conan and trying to take covert camera pics of him during our meals. He was so fast! And sneaky! And all Evil Conan-y. I think the wine might have been an influence on all of this.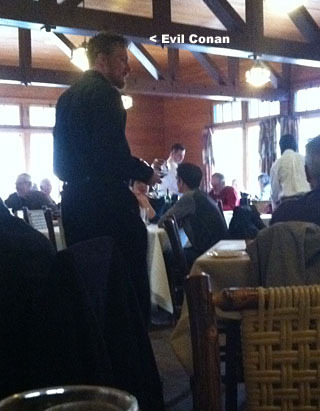 It's Evil Conan! He's sneaky. Like a ninja.
A note on weather — a late May snow storm is not unheard of in the Bryce area (even likely). Plan accordingly. Our last day there we woke up to snow and drove our way out of SW Utah in snow. Plus, even without snow, the temps the previous day were in the low 40's. So…bring a hat even in Summer.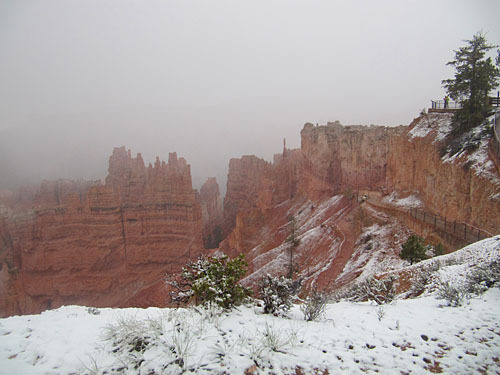 Late Spring snow storm at Bryce.
Stop #6: Park City, UT.
Starting back to pdx and I thought this may be a fun stop. So, so wrong. Park City, you kind of sucked. You may be all cool in February during Sundance but in May you are just expensive, closed up and kind of lame. Next time, Salt Lake City without a doubt! There was really no bad part of the trip at all but if I was forced to pick one, it would definitely be Park City.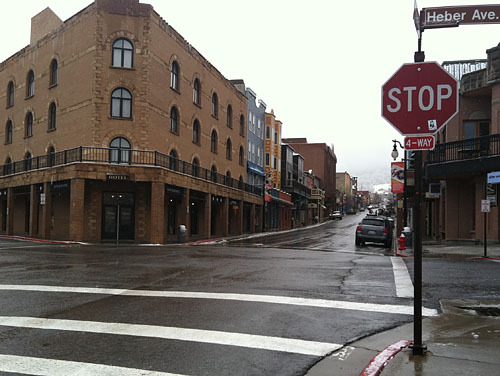 Park City…meh.
We stayed at the Marriott Summit Watch which was okay but pretty generic overall. Oh, before leaving we did find a decent coffee house: Alpine Internet/Park City Coffee Roaster. There was an art gallery there too that was kind of nice. After a quick breakfast we were driving out through the snow, towards our last stop.
Stop #7: Baker City, OR
Baker City and the Geiser Grand Hotel, the surprise hit of the journey! Just supposed to be an overnight pit stop but it was a lot of fun.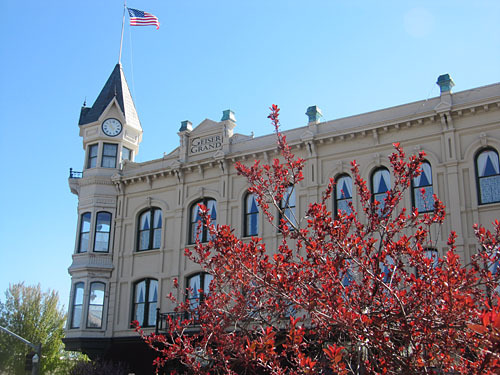 The Geiser Grand Hotel…supposedly haunted. We didn't see anything suspect, though.
Perhaps this could also have been due to the footloose and fancy free Oregon liquor laws after days and days in Utah. Oh, blessed gin and tonics with dinner. Keep 'em coming, Oregon — Even when I still have the previous one ON THE TABLE!@!#! The restaurant was very good and our possibly-haunted corner room was super nice and Baker City is, well, very damn cute for middle-of-nowhere Eastern Oregon. This is definitely how we will end all Southwest roadtrips in the future.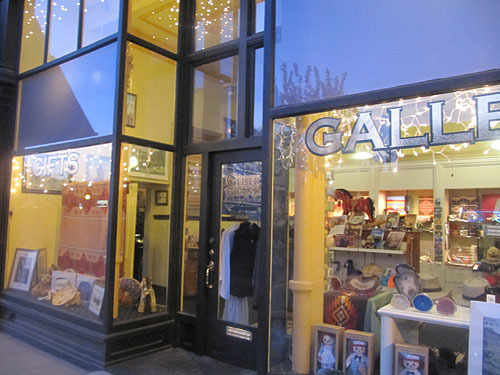 Baker City at twilight.
We went to the Baker City Cafe for breakfast in the morning and I definitely recommended that as well. Tasty egg dish, a latte and then 5 hours til home.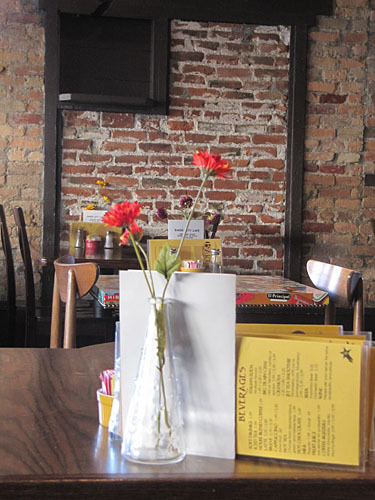 Baker City Cafe for breakfast before heading home to pdx.
If you want to see more of my Southwest pictures, you can find them here (along with a bunch of pictures of other things).
* Although, I did get a new job last Summer that I really like, so it wasn't a totally horrible time. That fact right there was enough to make my day-to-day existence much more pleasant, so that was definitely a good thing!