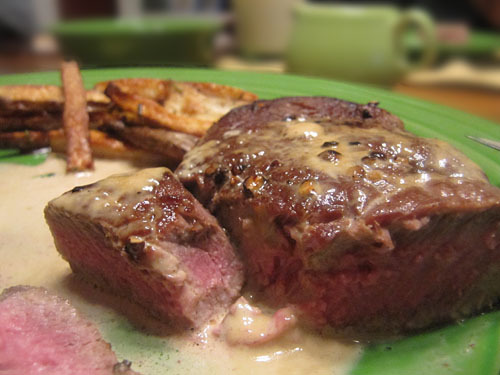 Oh, what a luxurious French Fridays with Dorie! Red meat! Brandy! Cream! And all on a Thursday night too.
First things first, I was actually going to look for a cheaper cut of meat to use for this seeing that it was going to be a Thursday night meal and all that, but I happened to find filet mignon at Trader Joe's (grass/vegetarian fed) for only $10. It was a small package of two 5 oz steaks and it was just perfect! So, filet mignon it was. Happy Thursday!
Here's a link to everyone's awesome and meaty posts!
Notes/Things I learned:
1. mmmmmm…red meat!
2. I only had tellicherry peppercorns, but they were excellent here. I put them in a plastic bag and bashed them with a meat tenderizer.
3. Three minutes on side one and four minutes on side two over high heat yielded lovely, slightly-on-the-rare-side, medium rare.
4. I chickened out with the flambe-ing. Just boiled the brandy. Maybe next time?
5. On the side we had sauteed broccolini and baked rosemary pommes frites (recipe below). Delicious meal!
6. The cream sauce, when it came into contact with some of the rosemary from my pommes frites, was AMAZING! Wow, adding rosemary to the sauce next time.
7. When I finally get my pricey, often dreamed-of DSLR camera (Canon Rebel!), I think I will continue to use my point-and-shoot for splattery, cooking meat photos.
Okay speaking of, on with the photos!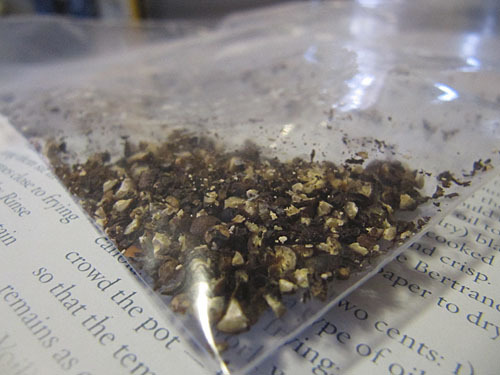 Peppercorns bashed, ready for the steak.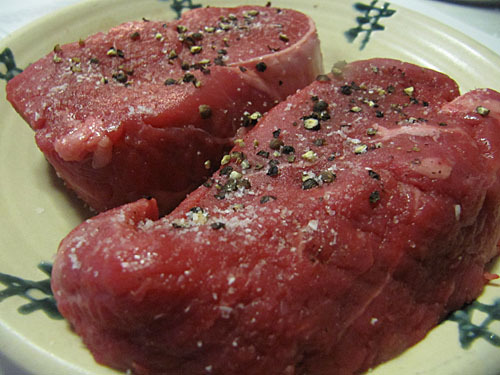 Filet crusted with pepper, waiting…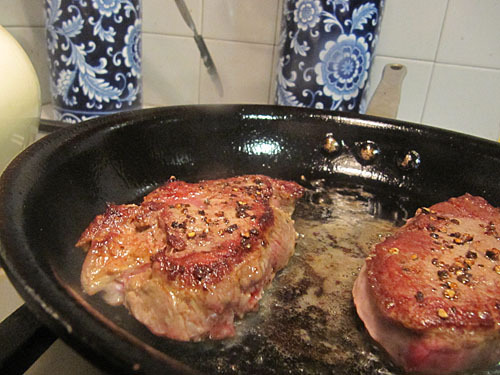 Filet mignon cooking away, side two.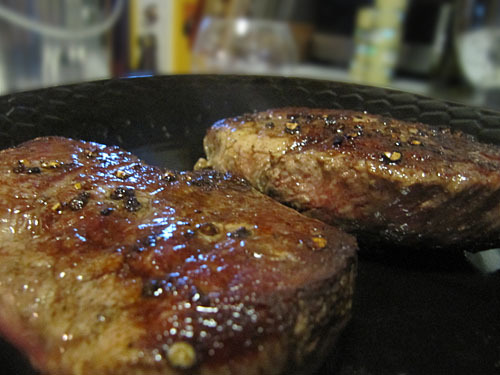 Resting.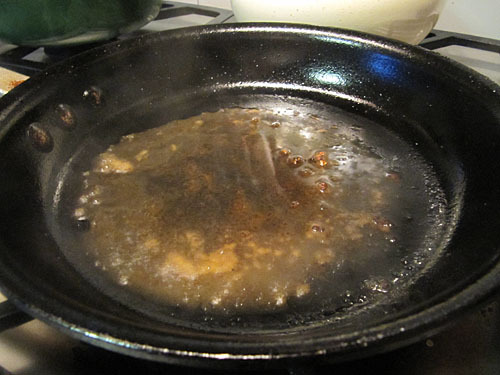 Brandy in the pan, not brave enough to flambe.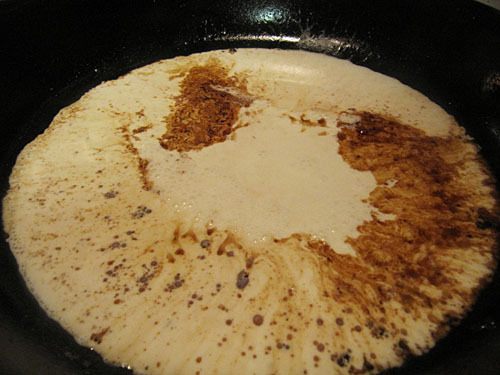 Cream added.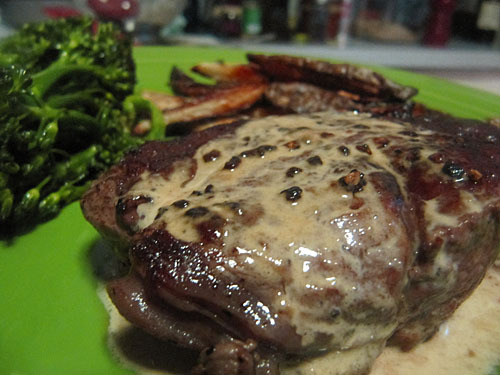 On the plate with Baked Rosemary Pommes Frites and sauteed broccolini.
***
These were amazingly good. Go make some now!
Baked Pommes Frites
Recipe adapted from Michael Chiarello
2 medium russet potatoes, scrubbed well
1 tbsp extra-virgin olive oil
Kosher or sea salt and freshly ground black pepper
1/2 tsp garlic powder
1 tsp fresh, chopped rosemary
Preheat the oven to 425 degrees F.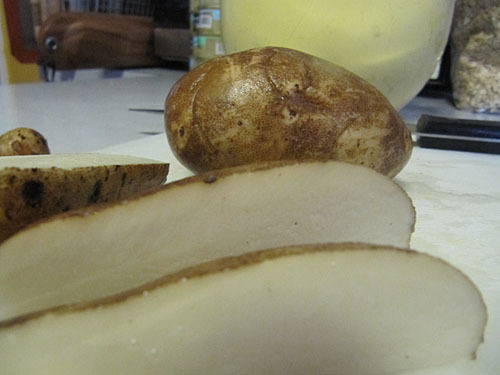 I did not peel my potatoes, but you can. Cut potatoes lengthwise into quarter-inch thick slices. Cut again into 1/4-inch thick fries. Place the potatoes into a bowl with cold water; Michale C. says this will help keep the fries crisp. Dorie seems to disagree in AMFT…confused! Anyway, just before cooking, drain water and place on paper towel, pat dry.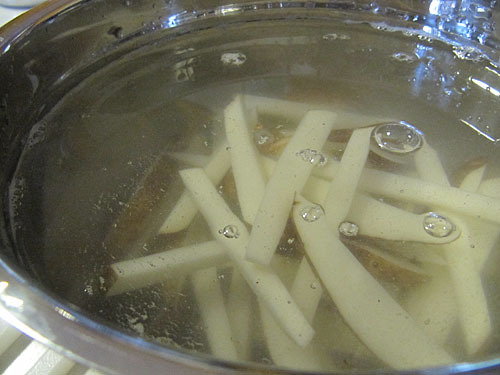 Put the potatoes in a bowl; add olive oil, some salt, black pepper and garlic powder. Toss well and lay out in 1 layer on nonstick baking sheet. I lined my baking sheet with foil and gave it a healthy coating of non-stick spray before laying the potatoes out on it.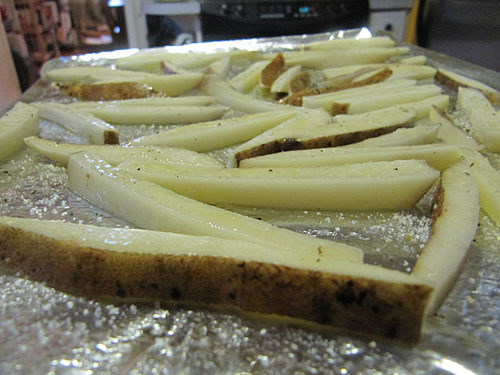 Bake for about 20 minutes. Remove from the oven and turn frites over. Sprinkle with half the rosemary. Increase the oven temperature to 450 degrees F and return the frites to the oven. Bake 10-15 more minutes until golden and crispy looking.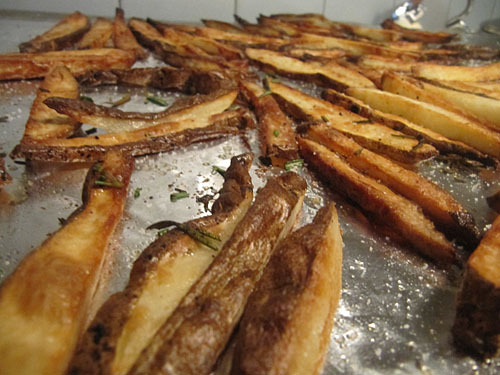 Remove from oven, sprinkle with remaining rosemary and a bit more salt and allow to cool for 1 or 2 minutes and serve.