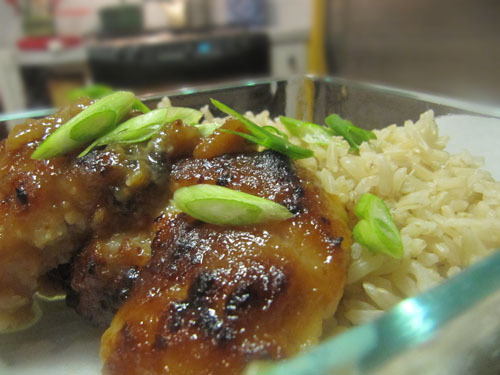 This is a recipe that is surprisingly good for how simple it is. Really. Make it and you will go, "Wow! I am so surprised. That was so simple." It makes a great weeknight dinner and reheats well for lunch the next day. I'll usually either halve the recipe below or if I know for sure I want leftovers for lunch, just go ahead and make a full recipe with all six fillets.
I'm also a big fan of this recipe because I have only recently (within the last couple of years) discovered how wonderful miso is. I have a refrigerator with 3 tubs of miso in it right now: blond miso (which I used for this), red miso and barley miso. Miso, miso, miso!
Miso Glazed Cod
Adapted from a recipe by Ellie Krieger
6 (6-ounce) black cod fillets, or regular cod fillets
1/3 cup low-sodium blond or white miso
1/4 cup dark brown sugar
1 tsp toasted sesame oil
2 tbsp mirin (Japanese cooking wine)
Cooked brown rice, assorted sauteed vegetables
Toasted sesame seeds and scallions, for garnish
Preheat the broiler, then rinse fish fillets and pat dry with paper towels. In a small bowl, combine the miso, brown sugar, sesame oil and mirin and stir well until brown sugar is fully dissolved.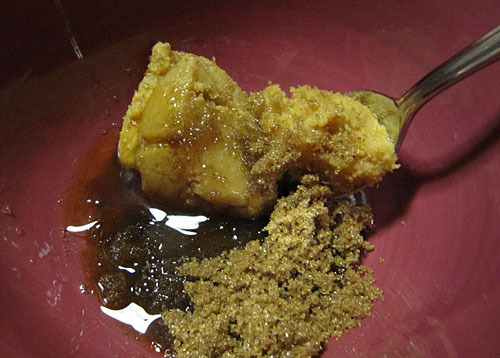 Brush some miso glaze on each fish fillet, dividing it equally between the fish. Marinate for at least 30 minutes, or up to 1 hour in the refrigerator.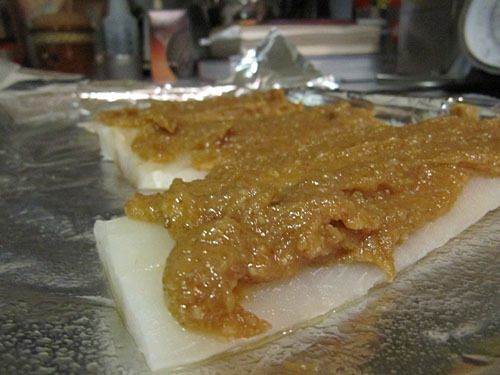 Place fish under broiler for 3 to 4 minutes, or until top is slightly charred and glaze has caramelized.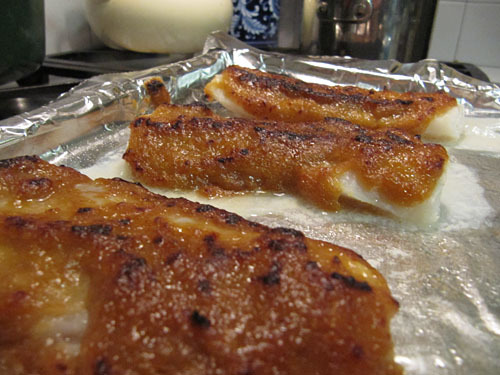 Lower oven to 375 degrees F. Cook an additional 3 to 4 minutes, until fish is flaky but not overcooked.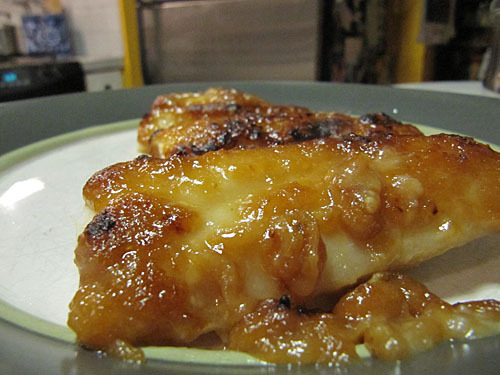 You can eat some now and pack up the rest for lunches the next day. When I have this, I also serve some brown rice and sauteed vegetables (I used bell peppers, onions and some cherry tomatoes here) on the side.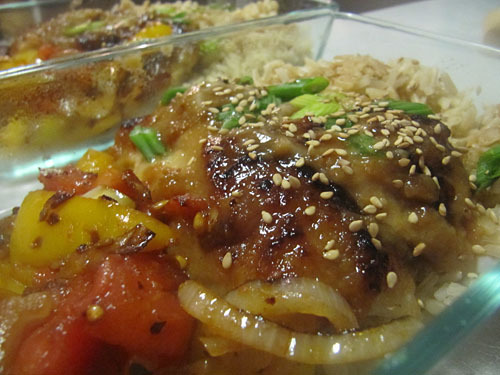 Packed up and ready for the next day's lunch.
***
Lincoln City
We spent last Saturday at the coast and had a wonderful time. Lincoln City for a change of scenery (we usually stick to the North coast). The sun was so nice…and sunny. Spring, could you finally be here?
We tried a new place for lodging, The Coho Lodge, which was really comfy and well-appointed. I loved the look of the rooms and they even had freshly ground coffee and a coffee press in the room too (as well as a big picture window of the ocean). Next time, however, I want to spring for a balcony.
For dinner, we headed to the Blackfish Cafe (where we had been once before). Still really liked that place. Crispy calamari with super garlicky dipping aioli, salads, perfectly cooked fish and wine. Uh-oh, it seems Blackfish Cafe is kind of giving Pacific Way Cafe some competition for our favorite coast restaurant.
The Coho Lodge
1635 Northwest Harbor Ave
Lincoln City, OR 97367
Blackfish Cafe
2733 NW HWY 101
Lincoln City, OR 97367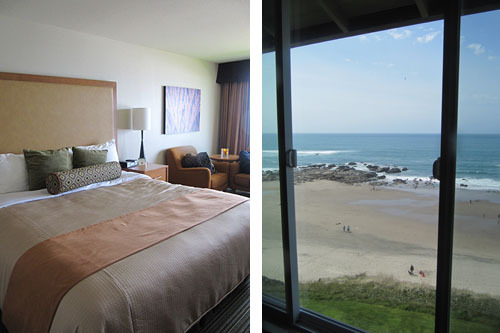 Our room at the Coho Lodge…very nice with a great view!

Dinner special at the Blackfish Cafe — Halibut with crabmeat, gnocchi, asparagus and a beurre blanc. Noble Pig Pinot Gris in the background…