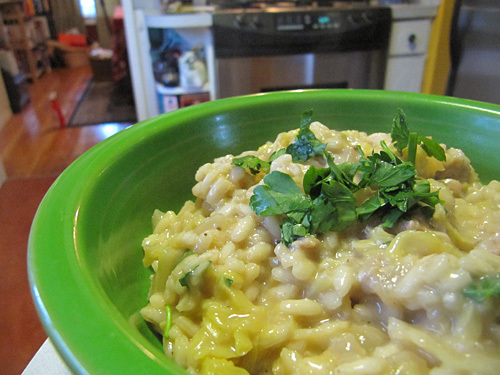 Oh, wow, having a cold is horrible. It's been so long since I've been sick, that I couldn't really remember how annoying it is to be under the weather. But, last weekend it all came back to me. It started with a lump in the throat and then the fun continued on from there — fever, chills, stuffed up nose, aches, pains, coughing. Grr! And to top it all off, this cold started while we were on a previously-had-to-be-postponed trip to Seattle to see the Battlestar Galactica exhibit.
Luckily, it's been about six days now and I think I've mostly recovered and ohmygod!, am I sick of canned soup. By the way, you know you're sick when canned soup sounds good (and you have absolutely no interest in making soup — an endeavor you normally love).
So, here's to good health! Let's celebrate with some tasty, creamy risotto!
This was a dish born out of having half a head of savoy cabbage leftover from making lamb cabbage rolls and having no idea whatsoever what to do with that half a cabbage head. Make more cabbage rolls?? It was starting to look like that when I found this recipe online.
This was very good and comforting, with just a bit of heat from the chicken Sicilian-style sausage I used.
Risotto with Savoy Cabbage and Sausage
risotto con verza e salsiccia…Adapted from La Cucina Italiana Magazine
2 tbsp extra-virgin olive oil
1 tbsp unsalted butter
1/2 Savoy cabbage, cored and thinly sliced
1 small onion, finely chopped
2 chicken Italian sausages, removed from casings
1.5 cups Arborio rice
1/2 cup dry white wine
5 cups lower-sodium chicken broth, heated to a simmer
1/3 cup freshly grated Parmigiano-Reggiano or Grana Padano cheese
1/4 cup chopped Italian parsley
Salt and Freshly ground black pepper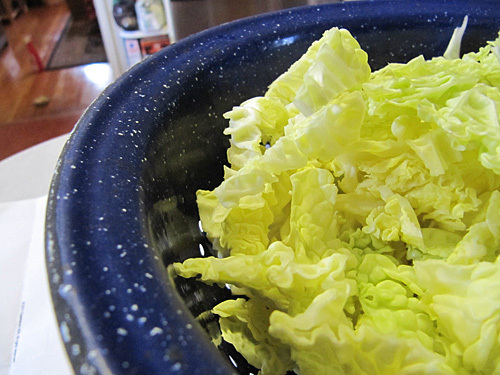 Heat oil in a large pot over medium-low heat. Add cabbage and onion; cook, stirring occasionally, until vegetables are softened, about 8 minutes. Add sausage and stir to combine. Add rice and cook, stirring constantly, for 5 minutes.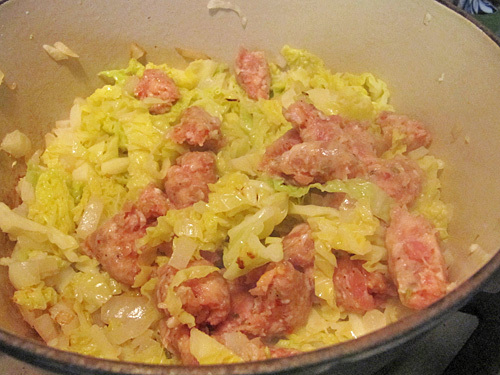 Add wine and 1 cup broth; cook, stirring, until liquid is mostly absorbed, about 7 minutes. Add 1/2 cup more broth and cook, stirring, until mostly absorbed.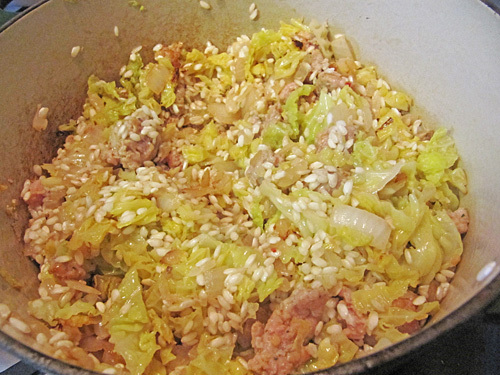 Repeat, adding liquid in 1/2 cupfuls, until rice is tender yet still slightly firm to the bite (you may not use all the broth).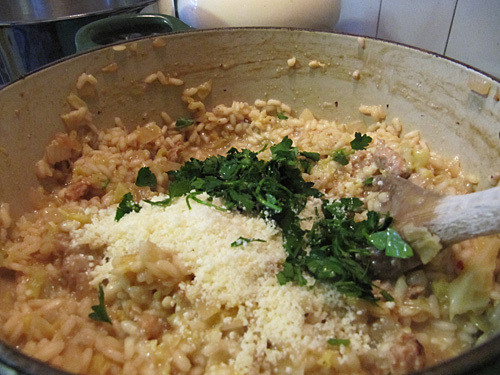 Stir in the tablespoon butter, most of the parsley and the cheese. Taste. Add a bit more cheese. (Repeat that last step a few more times). Season to taste with salt and pepper and serve immediately, garnishing with the leftover parsley. About 4-5 servings.