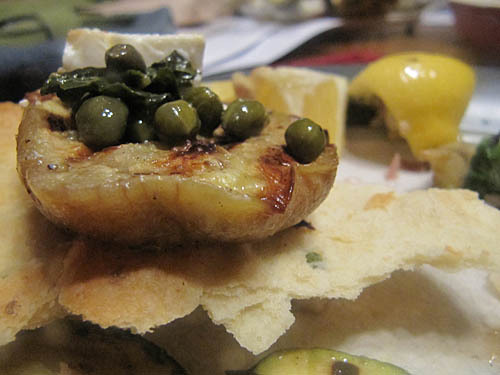 Yes, I am still on a Mediterranean kick. This is a great side dish or appetizer-ish snack. Even a tapas, if you will. I added the zucchini to the original eggplant only dish and I liked it a lot. Personally, I do enjoy eggplant but I enjoy it even more when it has a co-star.
The flatbread was really fun to make. I used my pizza stone and it crisped up very nicely. I think I'll be making the flatbread again. I am even thinking of rolling the dough out and then cutting it into little cracker shapes and just…well, making crackers.
Both of these recipes were in the now-defunct Gourmet Magazine. Thankfully, they were still on Epicurious.com! Hooray!
Marinated Eggplant and Zucchini with Capers and Mint
Adapted from a recipe in Gourmet Magazine
1 small eggplant, cut into 1/4-inch-thick rounds
1 medium zucchini, cut into 1/4-inch-thick rounds
5 tbsp extra-virgin olive oil, divided
2 tbsp red-wine vinegar
2 tbsp chopped mint
2 tbsp small capers, rinsed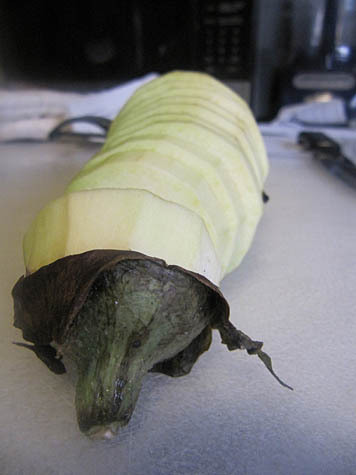 I peeled my eggplant, but you don't have to…
Preheat broiler or heat up a grill pan. Arrange eggplant and zucchini in 1 layer on a large baking sheet (or two baking sheets, if needed) and brush both sides with 2 tablespoons oil (total). Broil about 4 inches from heat, turning once, until golden, 8 to 12 minutes total. If using a grill pan, add the oil-brushed vegetables to the pan and cook on each side until you have nice grill marks and the eggplant and zucchini have softened a bit.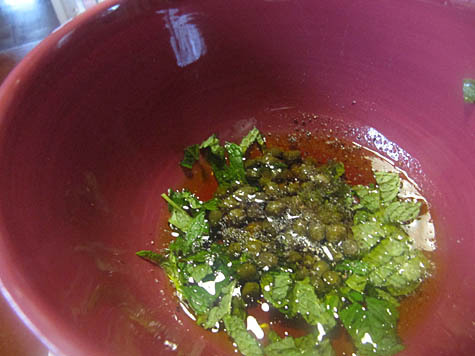 Stir together vinegar, mint, capers, 1/4 teaspoon salt, 1/2 teaspoon pepper, and remaining 3 tablespoons oil and toss with the warm eggplant and zucchini.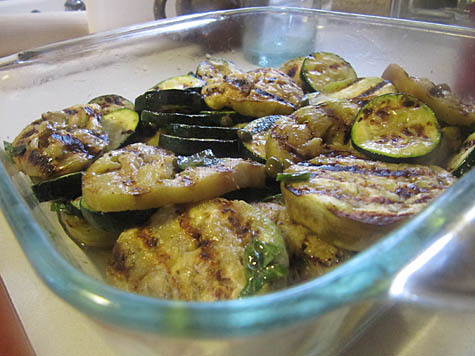 Marinate at least 20 minutes.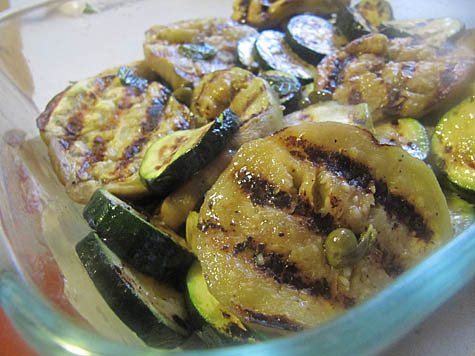 – – – – – –
Crisp Rosemary Flatbread
Adapted from a recipe in Gourmet Magazine
1 3/4 cups unbleached AP flour
1 tbsp chopped rosemary plus 2 (6-inch) sprigs
1 tsp baking powder
3/4 tsp salt
1/2 cup water
1/3 cup olive oil plus more for brushing
Flaky sea salt such as Maldon
Optional: 1 clove minced garlic to add to the brushing olive oil
Preheat oven to 450 degrees F with a heavy baking sheet on rack in middle. Alternately, you can heat up a baking (pizza) stone.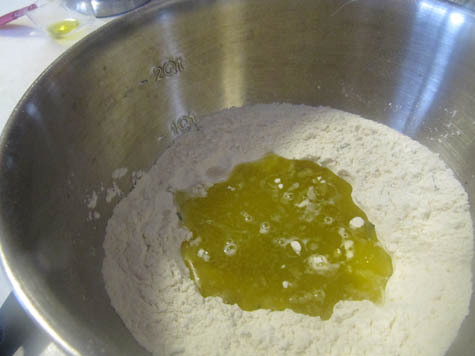 Stir together flour, chopped rosemary, baking powder, and salt in a medium bowl. Make a well in center, then add water and oil and gradually stir into flour with a wooden spoon until a dough forms. Knead dough gently on a work surface 4 or 5 times.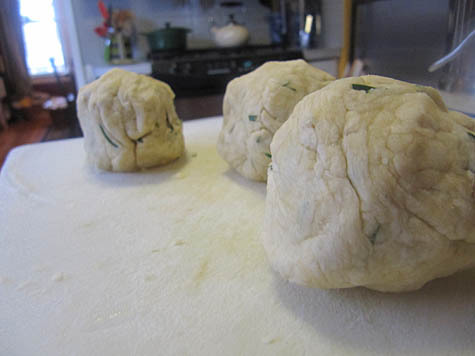 Divide dough into 3 pieces and roll out 1 piece (keep remaining pieces covered with plastic wrap) on a sheet of parchment paper into a 10-inch round (shape can be rustic; dough should be thin).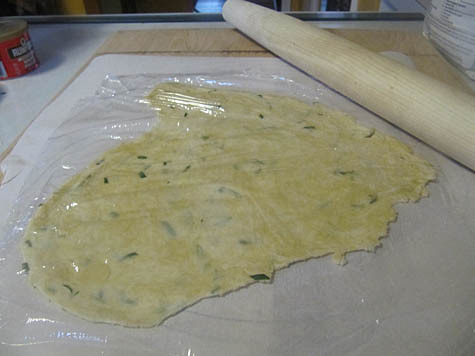 I kept my next rolled-out dough covered while the piece before was baking.
Lightly brush top with additional oil (for extra fun, add some minced garlic to the olive oil and brush with this garlic oil…fun!) and scatter small clusters of rosemary leaves on top, pressing in slightly. Sprinkle with sea salt. Slide round (still on parchment) onto preheated baking sheet or stone and bake until pale golden and browned in spots, 8 to 10 minutes.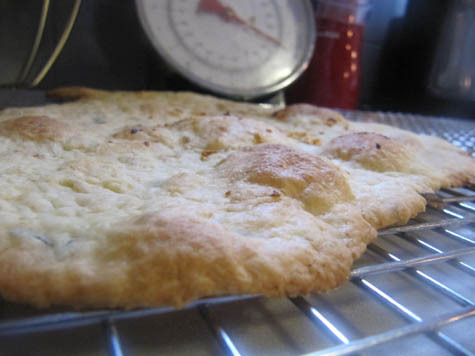 Transfer flatbread (discard parchment) to a rack to cool, then make 2 more rounds (1 at a time) on fresh parchment (do not oil or salt until just before baking). Break the baked flatbreads into pieces after cooling a few minutes.