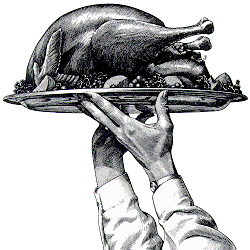 This year, I am trying to not overdo it. No, really! I'm not. I'm seriously restraining myself here. When there are two people for a Thanksgiving feast, you do not need a creamy baked dish. Or a third vegetable side. Or a ton of appetizers…Or two pies.
This is what you need:
Gougeres for an appetizer. I have some leftover from FFwD#1 in the freezer!
Then:
An 8.7 pound Mary's Organic Turkey for roasting. I seriously would not be against just roasting a turkey breast but I want more practice at roasting whole turkeys…
Spice brine. With wine!!
Regular ol' stuffing with apples, dried cherries, sausage, walnuts and fresh sage.
Giblet gravy.
Roasted root vegetables with a balsamic-lemon vinaigrette using a different mix than the original recipe — fennel, garlic, onions, and sweet dumpling squash, sweet potatoes, red potatoes from Sun Gold Farm.
Broccolini with smoked paprika, almonds & garlic (and Manchego cheese).
Cranberry relish.
Pecan pie.
See? Perfectly reasonable.