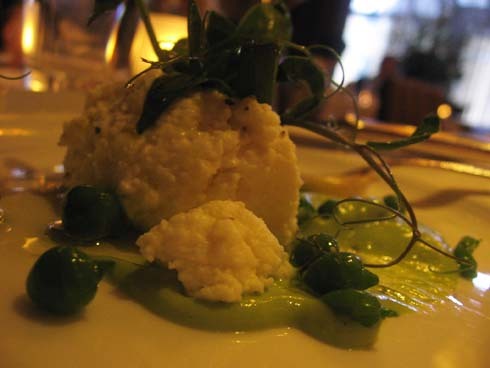 Genoa Restaurant
2832 Southeast Belmont St
Portland, OR 97214-4024
Okay, enough about California, let's talk about a Portland restaurant! Recently, jwa & I went to Genoa to celebrate our 2nd wedding anniversary. We hadn't been to the new one yet and were both very excited to give it a try. Wow, what a great meal. There's still a few days left with this menu, I'd recommend trying to check it out. We've decided to not wait for another big celebratory event. Maybe Flag Day?
"The Ancient Island of Sardegna" April 28th through May 15th
For the sake of simplicity, I'll just highlight the choices we had but the full menu is here.
Also, as the evening progresses, the images get a bit darker.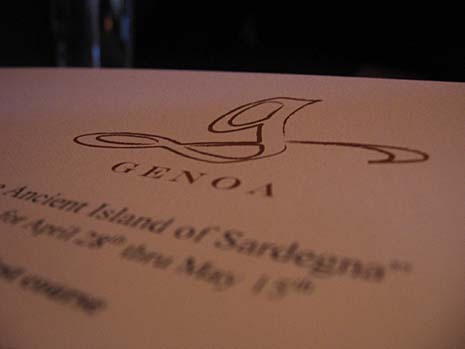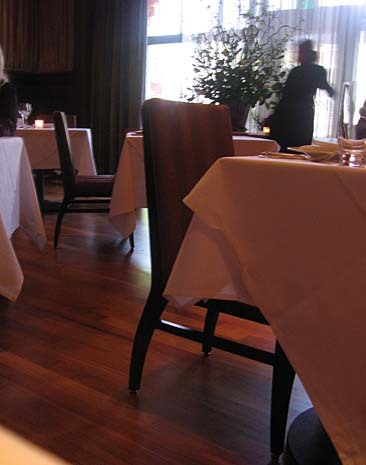 It's a nice, airy dining room with maybe a dozen tables.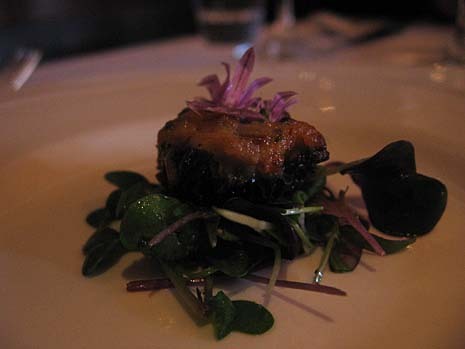 We started with an Amuse Bouche — a little mushroom ricotta bite with chive flowers on micro-greens that was just delicious!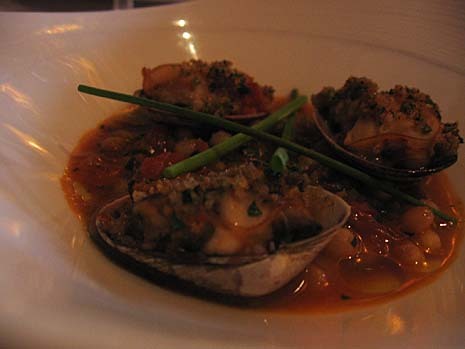 Course I: Fregula con Cocciule- Puget sound clams steamed in a soffritto of garlic, parsley and tomatoes then baked in their shells and served with Sardinian couscous.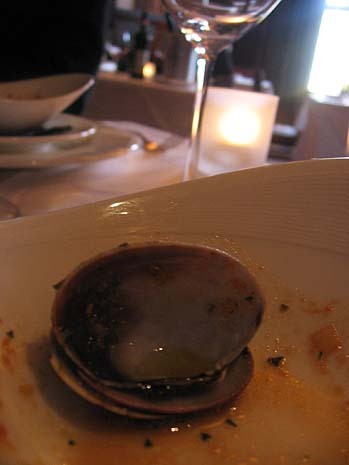 That course did not last long. So good! Plus, I amused myself by stacking my empty clam shells.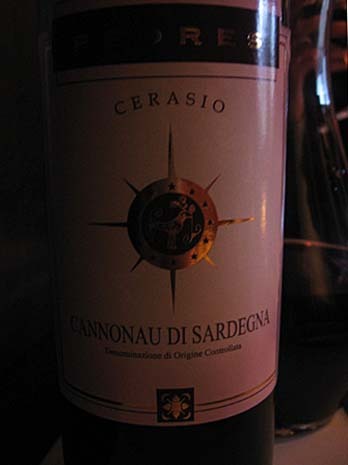 I also loved the wine we chose, Cerasio Cannonau Di Sardegna. We decided to stay in the region with this wine made from grenache grapes.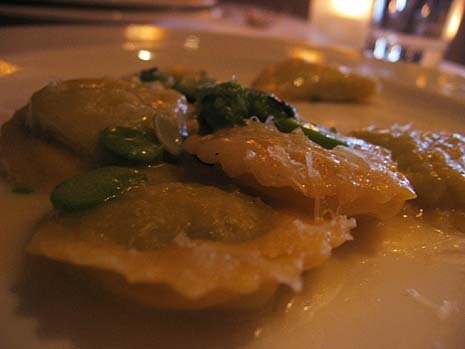 Course II – Pasta: For this course, we both chose Culurjones de Patate- delicate pasta stuffed with potatoes, and mint tossed with butter, fava beans and topped with grated Fiore de Sardo cheese. Nice and spring-like.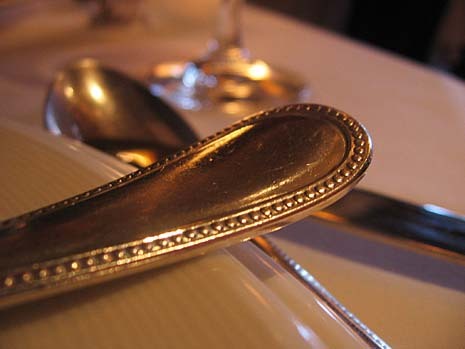 Shiny, pretty silverware awaiting the salad course.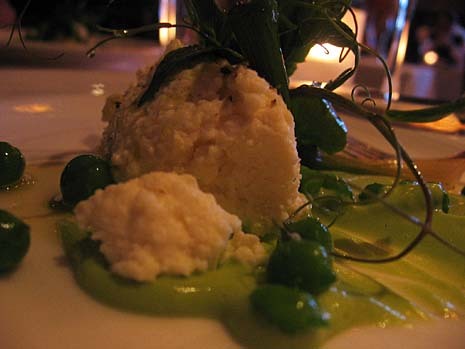 Speaking of…Insalata de Ricotta Pecora Fresca- a composed salad of creamy sheep's milk ricotta with fresh English peas, pea shoots and grilled green garlic drizzled with Sardinian extra virgin olive oil. The pea puree on the bottom was so wonderful. Just really fresh and bright and full of flavor.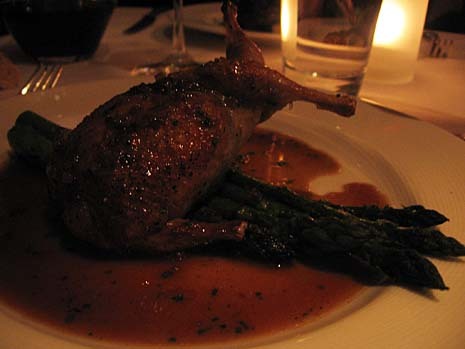 For my main course, I chose Quaglie con Funghi e Ortica- Pan roasted quail stuffed with wild mushrooms, nettles and herbs served over grill asparagus and finished with a Cannonau wine reduction. Very good. Meanwhile, jwa picked Arosto di Agnello- roasted leg of Oregon lamb served with roasted fingerling potatoes and artichokes and topped with a rhubarb and caper compote which was just amazing!
At one point I tried to get him to turn around so I could steal a lamp chop by mentioning that Tina Fey & Lisa Loeb were at the table behind him sharing a plate of spaghetti. It didn't work.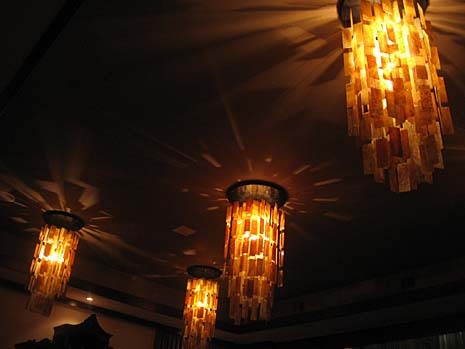 Sparkly ceiling lights.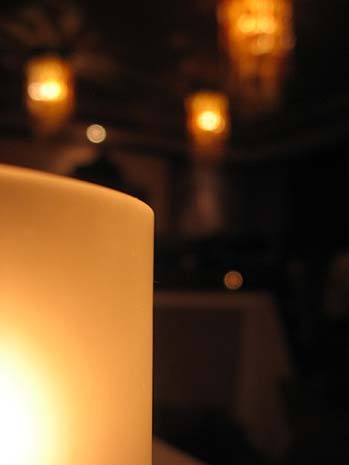 Romantic candlelight.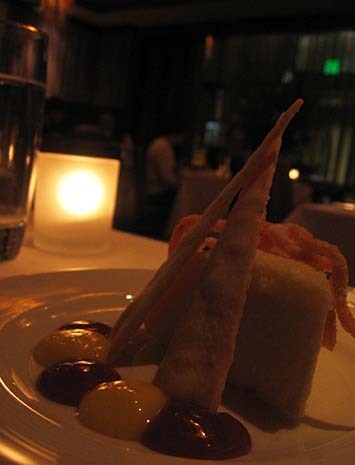 Desert Course: a choice from a selection of our favorite desserts, including a creamy lemon zuccotto, rhubarb crostata, and fried ravioli dolce with orange blossom ice cream. I had a citrusy lime dessert and jwa got a flaky rhubarb pastry. Again, delicious! Our desserts were accompanied by some decaf coffee press.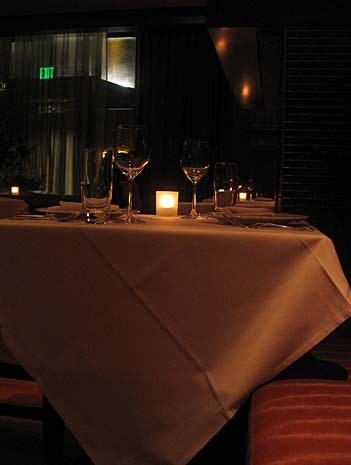 Goodbye Genoa, see you again very soon!
Next up: A recipe from the cookbook Nuts in the Kitchen by Susan Herrmann Loomis.