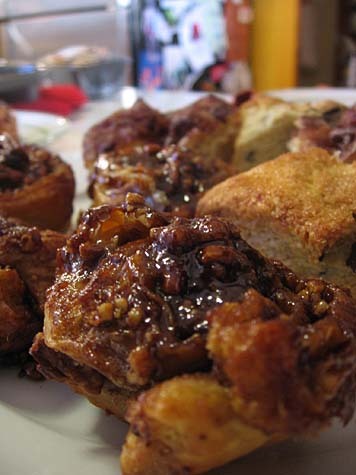 So here is what we snacked on Christmas morning while opening presents. This is also a great way to use up the odd piece of puff pastry you may have in your freezer after the holidays. Or, just go buy some puff pastry for the sole purpose of making these. That would certainly work too!
The original recipe is based on one by Ina Garten but I cut the butter way down. Seriously, I think the original recipe's rolls would have been swimming in butter. I adjusted it to only 4 tablespoons total (about half of what was originally called for).
I also omitted the raisins and added the pecans to the filling, as many reviews mentioned that the pecans burned while on the bottom of the muffin tin.
Note: I put these together the night before up to getting them in the muffin cups. Then I wrapped them up tightly with plastic wrap and kept in the refrigerator overnight. The next morning I baked them. Worked really well!
Puff Pastry Cinnamon Rolls
Recipe adapted from the Barefoot Contessa
3 tbsp unsalted butter, at room temperature
2 tbsp brown sugar, packed
1 sheet frozen puff pastry, defrosted
For the filling:
1 tbsp unsalted butter, melted and cooled
1/3 cup brown sugar, lightly packed
1 1/2 tsp ground cinnamon
1/4 cup chopped pecans (mine were lightly salted and toasted)
1/2 tsp orange zest
1/4 tsp anise seeds
Preheat the oven to 375 degrees F. Locate a jumbo 6 cup muffin tin. Combine the 3 tablespoons butter and 2 tablespoons brown sugar. Divide this mixture between the bottom of the six muffin cups.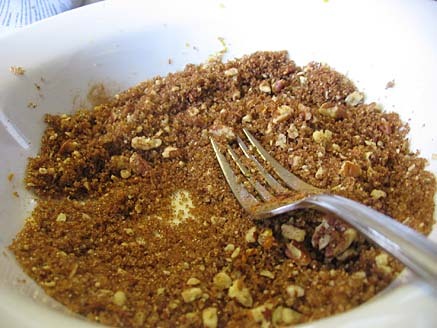 In a bowl, mix the brown sugar, cinnamon, pecans, orange zest and anise seeds.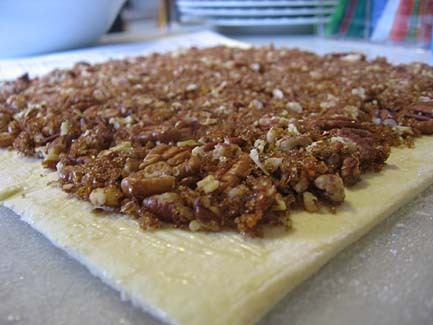 Lightly flour a wooden board or stone surface. Unfold your sheet of puff pastry. Brush the whole sheet with the melted butter. Leaving a 1-inch border on the puff pastry, sprinkle the sheet with the brown sugar/pecan mixture.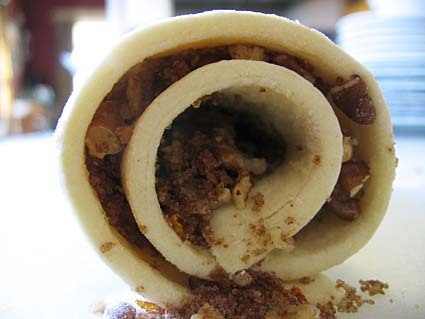 Starting with the end nearest you, roll the pastry up snugly like a jelly roll around the filling, finishing the roll with the seam side down.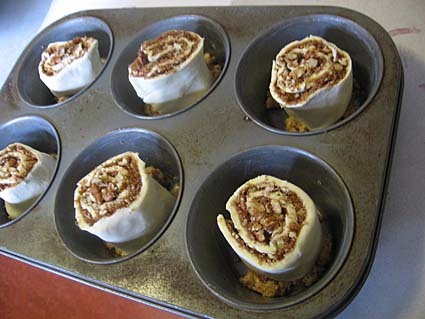 Slice the roll in 6 equal pieces. Place each piece, spiral side up, in a muffin cup.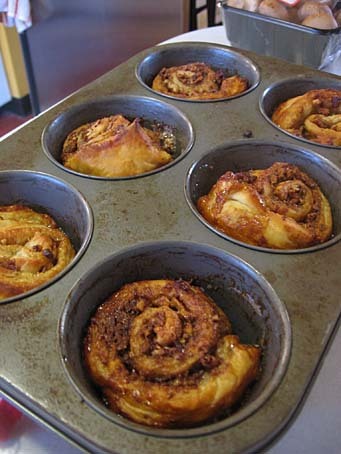 Bake for 20-25 minutes, until the sticky buns are golden on top and firm to the touch. Be careful – they're hot!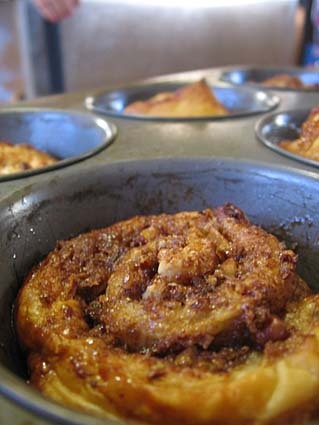 Allow to cool for 5 minutes only, invert the buns (you may have to do this one at a time, not just by flipping the muffin tin over) onto onto a plate. Use a spoon to spread any brown sugar/butter that stays in the cup, on top of the roll.
These are delightful eaten warm, but still delicious eaten at room temperature!