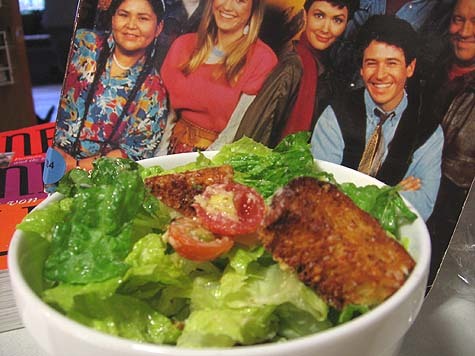 Okay, here is where I admit my love of Northern Exposure, at least until that other doctor came to town and Joel moved into the woods or whatever the hell that was. And, do you believe it — Portland is only a 4.5 4 hour drive from Roslyn, WA, where Northern Exposure was filmed?! And also, most of the buildings and stuff are all still there. I've actually wanted to drive to Roslyn since we moved here and I realized how close it was. It's only taken nine years, but we're actually going this month!
So, to get ready, we've been speeding through the dvd's (we're on season 3 now) and I took out my The Northern Exposure Cookbook: A Community Cookbook from the Heart of the Alaskan Riviera to create a feast for episode watching last weekend. Now, I will be the first to admit that cookbooks based on TV shows seem kind of silly, but this one I love, not that I have much experience with TV show cookbooks, of course…
The Northern Exposure Cookbook is written by the character of Ruth-Anne Miller, as a community cookbook from Cicely, and most all the recipes have an intro from the character that is providing the recipe. Also, and I thought this was pretty clever, there is an index in back which lists which episode each recipe was referenced in. Neat! Since I made this meal when the weather was a bit warm, I chose Adam's Walnut Toast with Warm Goat Cheese and The Brick's Caesar Salad. I'm going to copy the introduction for the walnut bread as written because it is awesome — I hope no one sues me.
Adam's Walnut Toast with Warm Goat Cheese
I asked Adam how something this rich and sweet could qualify as an appetizer. I'll spare you his reply.
I don't expect you to make bread properly. I don't expect you to have fresh thyme. I don't expect you to do the right thing, which is prepare your own bread crumbs from day-old french bread. I don't expect you to use fresh, unshelled walnuts instead of those pre-chopped, bag-wrapped objects.
All I ask is that once you put the bread and the cheese under the broiler, you watch it with undistracted concentration, so that the cheese doesn't run or burn. If you can't do that much, then do me a favor. Make something else. Better yet, stick your head in the oven and keep broiling. Are you still with me, Miller?
Walnut Bread:
1 tablespoon unsalted butter (or non-stick spray)
2 cups AP flour
2 tsp baking powder
1 tsp salt
1 large egg
3/4 cup milk
1/4 cup maple syrup
2 tbsp unsalted butter, melted
3/4 cup chopped walnuts
Cheese topping:
1 cup bread crumbs (panko work well)
1 tbsp chopped fresh thyme or 1 teaspoon dried thyme, crushed
1 (8-ounce) log goat cheese
Preheat oven to 350 degrees F. Butter (or spray) a 9 1/4 inch loaf pan with the 1 tbsp of butter or your non-stick spray.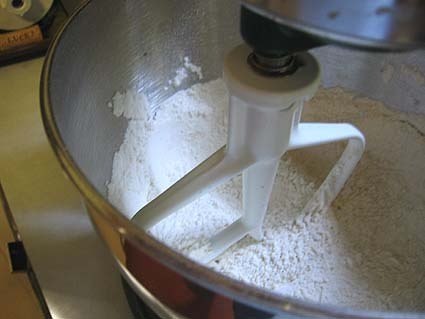 Mix flour, baking powder and salt together in a large bowl. Add the egg, milk, maple syrup and melted butter; mix until thoroughly blended.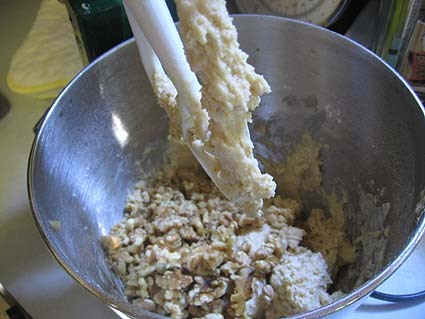 Stir in walnuts and pour batter into the prepared loaf pan.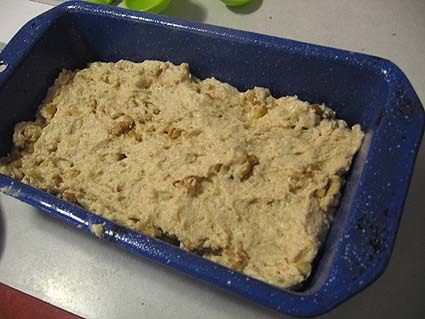 Bake for 45-50 minutes, until loaf begins to separate from the edges of the pan and a toothpick inserted into the center of the loaf comes out clean. Remove the loaf from the pan and let cool completely.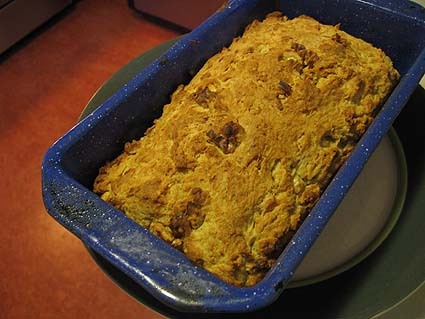 In a shallow bowl combine the bread crumbs and thyme. Line a baking sheet with aluminum foil. Cut the goat cheese into 12 pieces.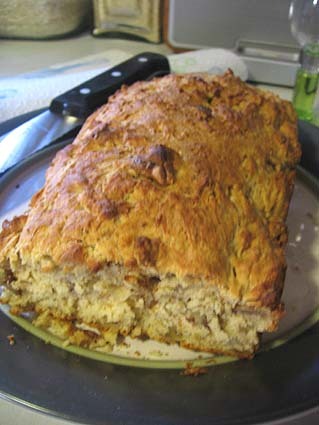 Now Adam, made little goat cheese rounds coated them in the bread crumbs, and broiled those alongside the toasts. Me? I just slathered the goat cheese on the bread, topped with breadcrumbs and broiled.
Cut 12 slices of the walnut bread. Place on the baking sheet and spread a piece of goat cheese on each piece. Sprinkle with the bread crumb-thyme mixture. Put under a hot broiler for a few minutes until the bread crumbs on the goat cheese starts to turn golden. From Episode – Dateline: Cicely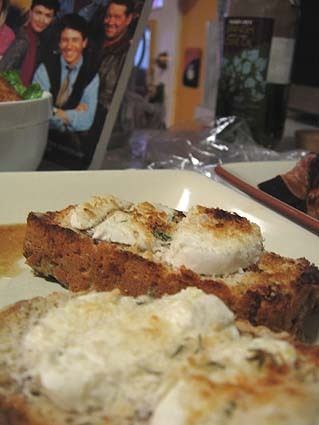 This was really good. I was surprised by how much I liked the bread — a very nice, flavorful quick bread! And warm goat cheese, thyme & breadcrumbs? Yeah, that was good too.
The Brick's Caesar Salad
This one has a long introduction — I'll recap. It's Holling's recipe but he got it from Maurice. *wink* *wink* Anyway, he called it a Roman Salad for a bit, because people at The Brick didn't want any fancy pants "Caesar Salad." But now, after all these years, he just calls it "Caesar Salad" again because no one really notices the name anymore. They just love it.
I've never made Caesar dressing from scratch before, and I liked this one. You cook the egg yolks here a little bit (I don't think that's standard), but what the hell. Spoiler alert: use a double boiler type set up (mine was simply a metal bowl over a pot of simmering water), or you may well scramble your first attempt. You may actually scramble your first attempt anyway. Try again and pull them off a second or two before you think you should.
Next time, I may just use the yolks raw. Also, anchovy paste is your friend.
Dressing:
2 egg yolks
1 tbsp white wine vinegar
1 tbsp water
2 tbsp lemon juice
1/4 tsp dry mustard
1/8 tsp Worcestershire sauce
2 cloves garlic, minced
3 anchovy fillets (or 1/2 tsp anchovy paste — or more, to taste)
1/2 cup extra-virgin olive oil
Salad:
1 head Romaine lettuce
2 cups croutons
1/2 cup freshly grated Parmesan cheese
I also added about a handful of cherry tomatoes from the garden
In your double boiler contraption, combine egg yolks, vinegar, water lemon juice, mustard and Worcestershire sauce.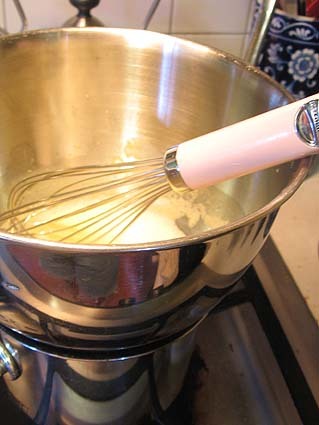 Cook over gentle heat, stirring constantly, until mixture thickens. remove from heat and allow to cool.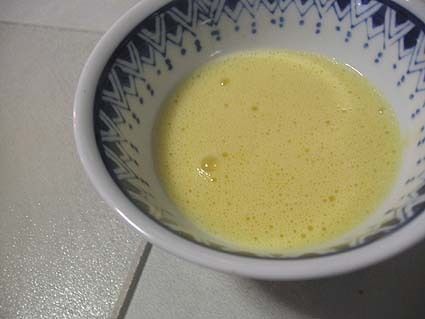 Tear or chop lettuce into bite-sized pieces and add to a salad bowl. Transfer cooled yolk mixture to a blender. Add garlic and anchovy paste. Blend until smooth. Pour in olive oil and continue to blend until emulsified.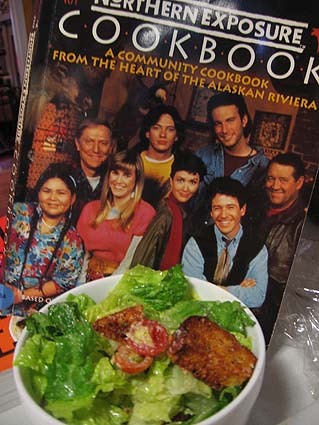 Pour dressing over lettuce and toss, making sure all lettuce is coated. Add croutons, Parmesan and cherry tomatoes and toss again. From Episode: Ill Wind.
Adam on Salad Dressing
It's called "dressing", all right? Not "swaddling," not "suffocating." You dress the ingredients the way you dress yourself: just enough but not too much. To flatter. Not to conceal or drown. You're not making an ice cream sundae. WHY do I have to say this? If you don't — never mind. Turn the tape off.
Part II: The pictures of Roslyn, WA — coming next!