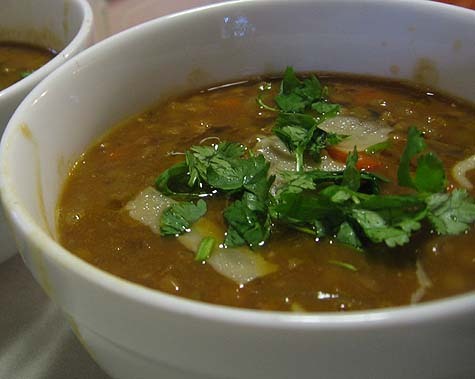 It was Fall here in Portland…for about a weekend. Really! It was cold and we had a high of only 60 degrees F and quite honestly I loved it. Now, we are back to the sunny and the 80's nonsense but when it was nice and Fall-like, I made this soup. It was delicious!
Instead of kielbasa, I used that age-old tradition of going through the freezer, seeing what was in there, and using that. It was sweet Italian sausage (2) and some chorizo (1) the uncooked kind, so I thawed it all and browned that up first. You can also use cooked kielbasa (what the original recipe called for) or even Spanish chorizo. I am thinking about giving that a try next time.
Let's see, I also added some harissa (because I had some) and I opted to add both some red wine and red wine vinegar. You could also just pick one and use two tablespoons of whichever one you choose.
Green Lentil & Sausage Soup
Adapted from a recipe by Ina Garten, in the cookbook, Barefoot in Paris
1 pound French green lentils (recommended: du Puy)
2 tbsp cup olive oil, plus extra for serving
4 cups diced yellow onions (3 large)
4 cups chopped leeks, white and light green parts only (2 leeks)
4 cloves garlic, minced
1 tbsp kosher salt
1 1/2 tsp freshly ground black pepper
1 tsp dried thyme leaves
1 tsp ground cumin
3 cups medium diced carrots (4 to 6 carrots)
3 quarts Chicken Stock, homemade or good quality store bought
1/4 cup tomato paste
1 tbsp harissa
1/2 pound kielbasa, cut in 1/2 lengthwise and sliced 1/3-inch thick, or 2-3 sausages (raw), removed from casings
2 tbsp dry red wine
Optional: 1 tbsp red wine vinegar
Freshly grated Parmesan, more olive oil and chopped cilantro leaves for garnish
In a large bowl, cover the lentils with boiling water and allow to sit for 15 minutes. Drain.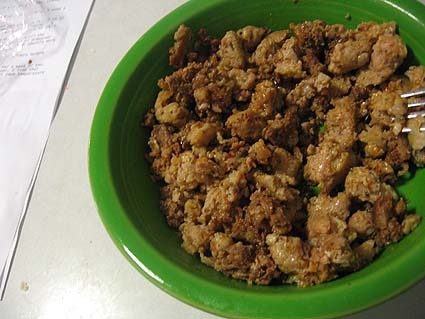 If you are using uncooked Italian sausage, brown it in a large stock pot in the olive oil. When it is done, remove with a slotted spoon to a bowl and set aside. Return pot to heat and add more olive oil if needed, then saute the onions, leeks, garlic, salt, pepper, thyme, and cumin for 20 minutes, or until the vegetables are translucent and tender.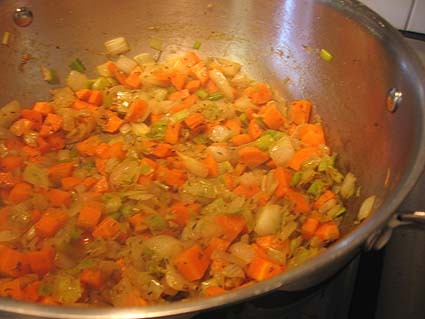 Add the carrots and saute for another 10 minutes. Add the drained lentils, tomato paste, harissa, chicken stock and cover, and bring to a boil.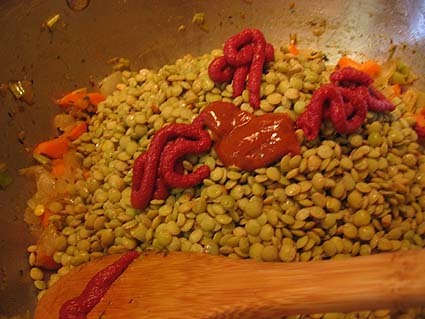 Reduce the heat and simmer uncovered for 1 – 1.5 hours, or until the lentils are cooked through and tender. Check the seasonings.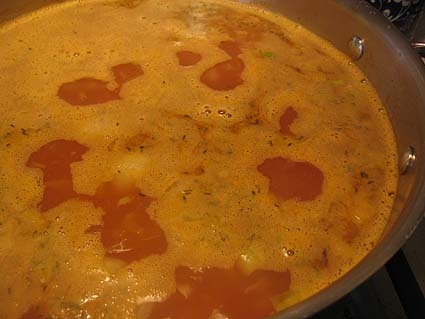 Add the cooked sausage or the kielbasa and red wine and simmer until the sausage is heated through. If using, add the vinegar before serving.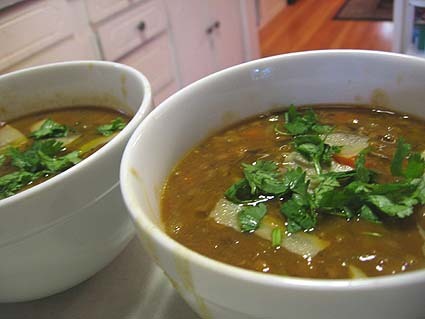 Serve drizzled with olive oil, some shaved Parmesan and cilantro leaves.