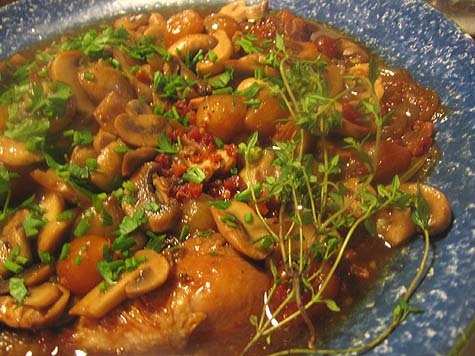 This makes a very good weekend meal. There are a lot of steps and ingredients but it is so worth it in the end (like a lot of long-cooking, multi-stepped recipes). It's very similar to coq au vin, but with beer (duh). Use a good dark beer, Belgian-style if you've got it. I used half belgian, half regular dark. Four cups is about 2.5 bottles of beer, so you'll have half a beer to drink while you start cooking. So, bonus points there.
Let's see, what else? We had this with crusty bread but you could also add polenta or noodles to serve it over. I added garlic to this and subbed pancetta for the bacon but that's about it. Oh yeah, I didn't have leek leaves. Skipped that and added some rosemary sprigs to my bouquet garni instead.
This recipe is from the awesome cookbook, "French Farmhouse Cookbook," and is the same cookbook with the walnut chicken recipe. That is pretty much my most favorite chicken recipe ever.
From the Aix-lea-Orchies villiage in France, right near the Belgian border. Hence the beer. Speaking of, a good dark beer works for well for drinking with this meal. We cracked open some Chimay Bleue.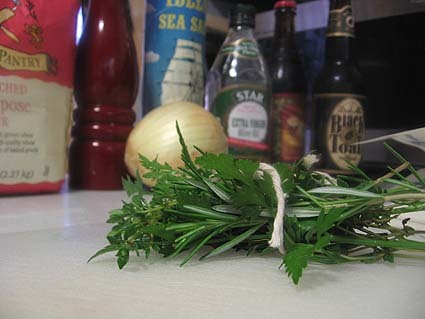 Chicken Braised in Beer (Coq à la Bière)
Ever-so-slightly adapted from the French Farm House Cookbook by Susan Herrmann Loomis
2 tbsp olive oil, more as needed
1 large chicken (3 1/2 to 4 pounds; 1 3/4 to 2 kg), cut into 8 pieces (or buy an already cut-up chicken — 2 breast pieces, 2 wings with portion of breast attached, 2 legs, 2 thighs), excess fat removed
Sea salt and freshly ground black pepper
1 large onion, cut in half, then in very thin crosswise slices
4 cloves garlic, roughly chopped
2 tbsp unbleached all-purpose flour
4 cups dark beer
1 bouquet garni (5 parsley stems, 3 imported bay leaves, 2 green leek leaves, 12 sprigs fresh thyme, tied together, in cheesecloth if desired) — I skipped the leek leaves, added rosemary
For the garnishes:
1 tbsp unsalted butter
40 pearl onions, peeled
Sea salt and freshly ground black pepper
1 cup (250 ml) chicken or roasted vegetable stock
1/2 lb bacon or pancetta
1 lb button mushrooms, brushed clean and cut into quarters
1/2 cup (loosely packed) curly parsley leaves, for garnish (optional)
Thyme sprigs for garnish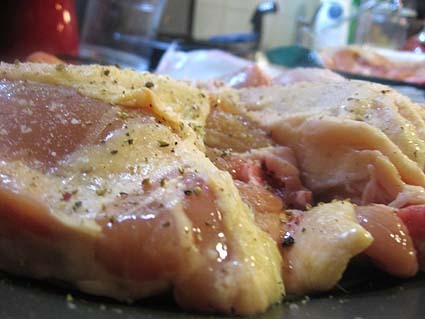 Heat the oil in a large heavy skillet over medium-high heat until it is hot but not smoking. Add the chicken pieces, season them with salt and pepper, and cook on one side until the skin turns an even golden brown, about 5 minutes. (Do not crowd the pan; brown the chicken in several batches if necessary.)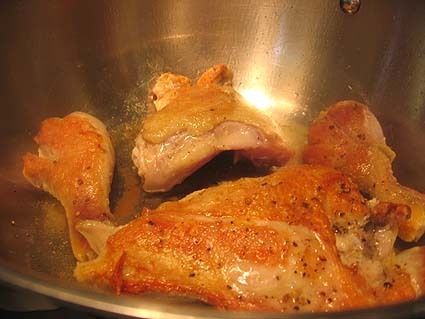 Carefully regulate the heat to avoid scorching the skin. Then turn the pieces, season again with salt and pepper, and brown on that side, 5 minutes.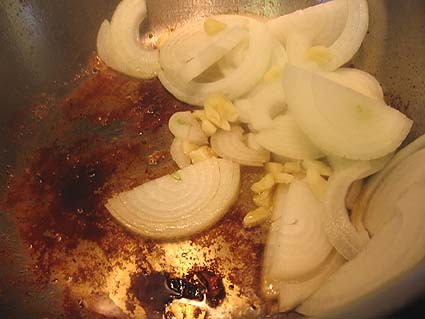 Remove the chicken pieces from the skillet, reduce the heat to medium, and add the sliced onions and garlic (adding more oil if needed to keep them from sticking). Cook, stirring frequently, until the onions are translucent, about 8 minutes.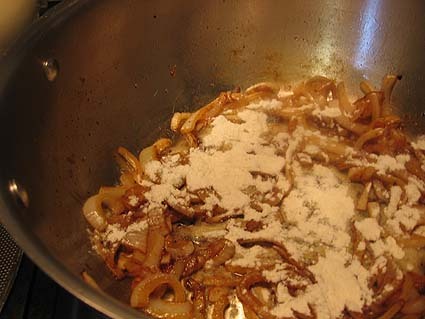 Sprinkle the flour over the onions and cook, stirring, until the flour has absorbed much of the cooking juices and has a chance to cook, at least 2 minutes.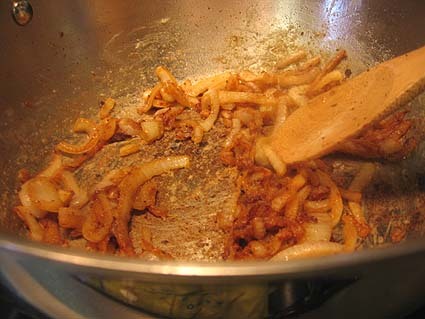 Then return the chicken to the skillet, add the beer and the bouquet garni, stir, and bring to a boil.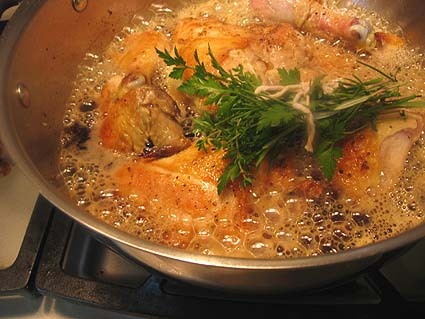 Reduce the heat and cook, partially covered, at a lively simmer until the chicken is cooked through, about 50 minutes. Remove the chicken from the sauce and return the sauce to a boil. Reduce it by half, until it has thickened to the consistency of thin gravy, 5 to 8 minutes.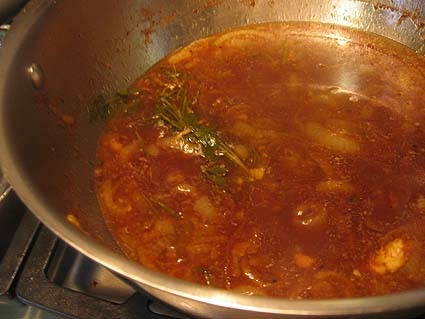 Return the chicken to the sauce, and remove the skillet from the heat; set it aside. (The chicken can be prepared up to this point a day ahead. Refrigerate it, covered. The following day, skim off any fat that has congealed on the surface, if desired. Reheat, covered, over medium-low heat.)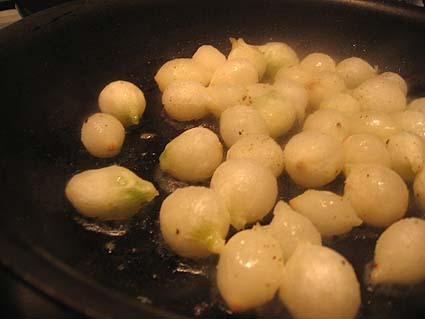 While the chicken is cooking, prepare the garnish: Melt the butter in a medium-size heavy skillet over medium-high heat. Add the pearl onions, season lightly with salt and pepper, and sauté until golden, about 10 minutes.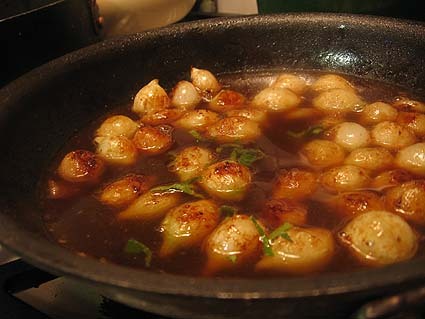 Add the chicken stock, reduce the heat to medium, and cook at a lively simmer, shaking the pan occasionally so the onions cook evenly, until they are tender through and the stock has neatly evaporated, about 20 minutes.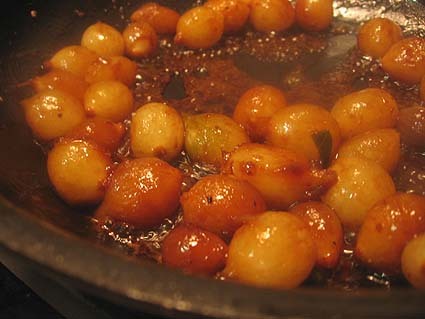 Remove from the heat and keep warm.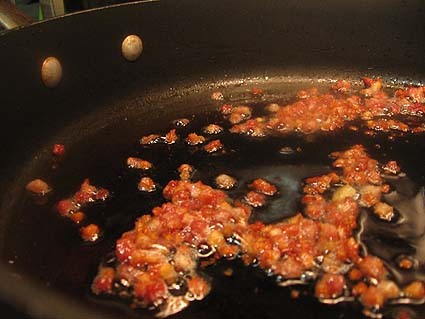 Cut the bacon or pancetta into small cubes. Brown it in a medium-size heavy saucepan over medium-high heat. Remove the bacon with a slotted spoon or spatula and set it aside on a plate.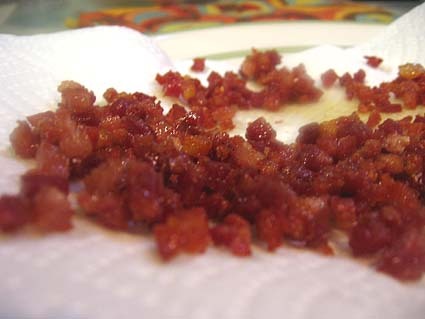 Drain off all but 1 tablespoon of the fat. Add the mushrooms to the pan and cook, stirring constantly, until they begin to give up their liquid, are slightly golden, and are nearly tender through, about 5 minutes. Season generously with pepper, and remove from the heat.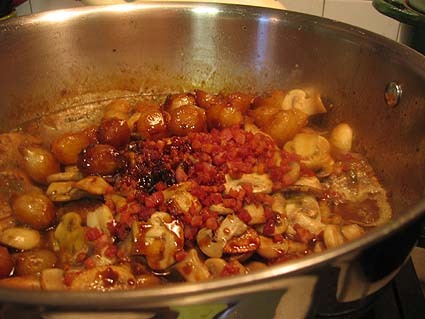 Add mushrooms, the bacon, and the pearl onions, along with any juices to the chicken, and gently mix them in. Either transfer to a large warmed serving platter (one with edges, so the juice won't run off) or serve directly from the cooking pot.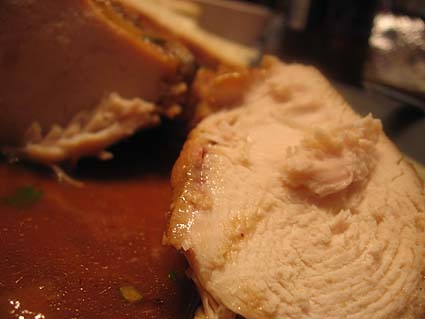 Garnish with the parsley, if desired, and serve immediately.