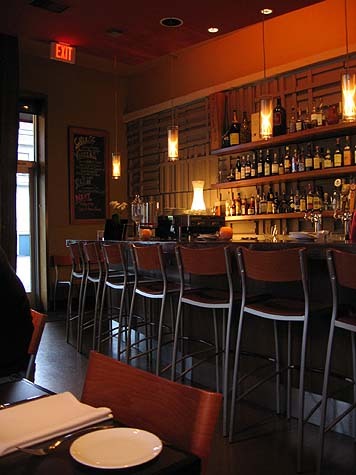 jwa and I went out for a nice Thursday night meal and FINALLY tried Tabla Mediterranean Bistro. So good! Excellent deal with the three courses for $24. We did the wine pairings for an extra $16.
I'm kind of sleepy so this post will be mostly pictures.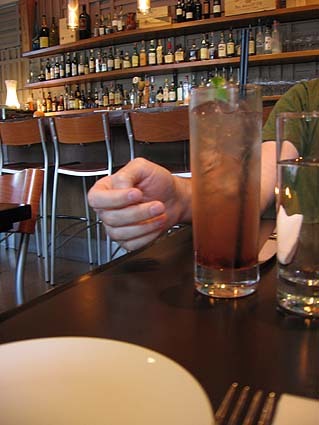 Just for fun, we both started the meal with a cocktail — the isadora duncan, housemade lemon-verbena vodka, cassis, tonic, rocks. Mmm!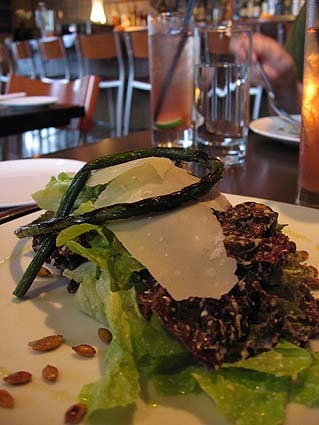 Okay, three courses (plus desert), let's go! For the first course, we both had the baby lettuce salad with deviled egg dressing, spiced pepitas, grilled garlic whips, shaved grana padano. It was paired with a 2006 domaine lafond, grenache blanc/rousanne/viognier, from Lirac, France. We both loved the pumpkin seeds (pepitas) here. Note to self: toast pumpkin seeds more often!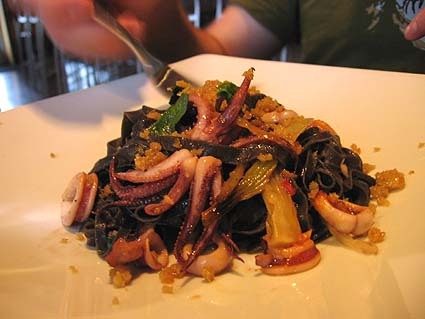 For the pasta course, jwa had the squid ink fettuccini with monteray monterey bay calamari, roasted fennel, lemon, pine nut bread crumbs, paired with a 2006 quinta dos roques, from Portugal. It was a little spicy and quite good.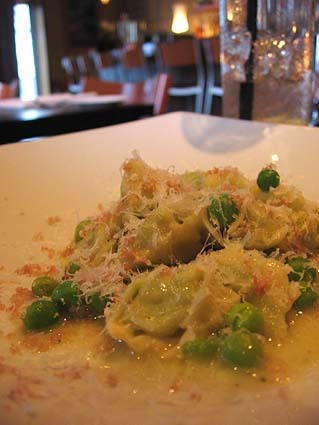 For my pasta course, I had the snap pea agnolotti with lemon, english peas, shaved proscuitto, parmesan reggiano with a 2008 françois chidane, sauvignon blanc, from the Loire Valley, France. This was buttery and lemony and pleasingly salty from the proscuitto.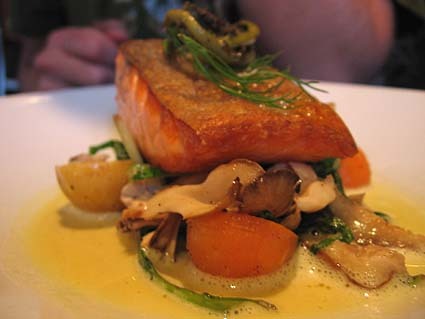 jwa's main course: the pan-seared chinook salmon with roasted mushrooms, salt roasted new potatoes, sautéed mustard greens, saffron fumet. He repeated the 2006 quinta dos roques wine pairing here.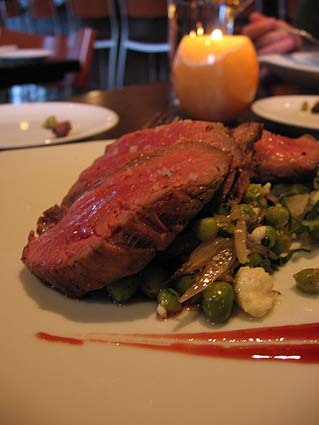 In a move that is quite unlike me, I opted for the rosemary marinated flank steak with grilled walla walla spring onion salad, english peas, mint, feta dressing. This came with a 2005 d'alessandro, syrah, from Tuscany, Italy. My first red wine of the evening, yum. The steak was all grrrrrrr! Red meaty! And the peas-mint-feta combination was really, really good — a nice compliment to the grrrr.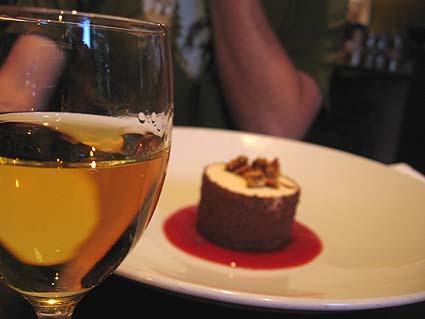 Dessert? Why not! jwa tried the lemon spongecake, which doesn't seem to be on their online menu, so you get no extra descriptions. Sorry.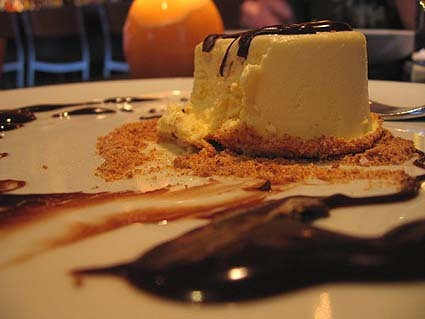 I had the marscapone honey semifreddo with chocolate sauce, crushed amaretto cookies with a Late Harvest Gewürztraminer, from Chehalem Mountains, Oregon.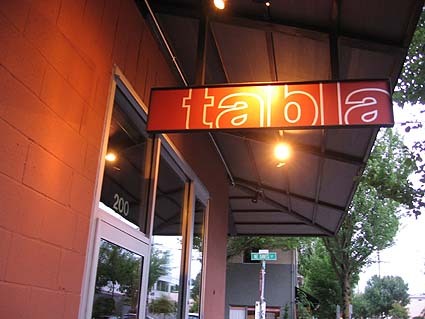 So, four actual courses, pre-meal cocktail and dessert wine pairings? Yeah, we kind of splurged with our meal here but it was mighty tasty! And sometimes it's nice to splurge on a memorably delicious weeknight meal!