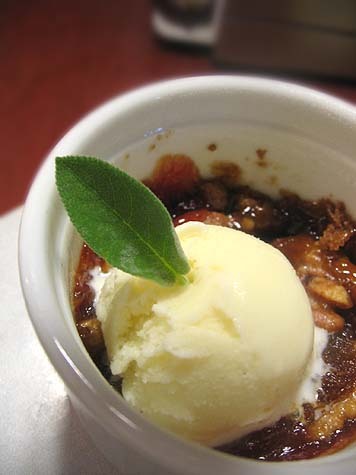 Oh my this was good. I messed around with the recipe a bit, mainly I made a 1/2 recipe of the rhubarb and a full recipe of the topping! Mahahahahaha — (that was an evil laugh).
I only had two rhubarb pieces which weighed 12 oz. That was my main reason for making a half recipe. But when I got it all mixed up, I found that I could just fill up 4 ramekins. So, I figured I would need almost all the crumbly topping of the original recipe. Right? Yes, exactly.
Recipe below is the full recipe, halve, double or quadruple as needed.
Rhubarb Crisp w/ Crunchy, Crumbly Walnut Topping
Adapted from Bon Appétit magazine
Rhubarb
24 ounces fresh rhubarb, trimmed, cut into 1/2-inch pieces (about 5 cups) — this is about 4 pieces
2/3 cup sugar
2 tbsp all purpose flour
1 tbsp unsalted butter, melted
1/2 tsp grated orange peel
1/2 tsp ground cinnamon
1/2 tsp vanilla extract
Crumbly, Crumbly Topping
2/3 cup (packed) golden brown sugar
1/3 cup chopped toasted walnuts
1/4 cup all purpose flour
1/2 tsp cinnamon
2 tbsp unsalted butter, melted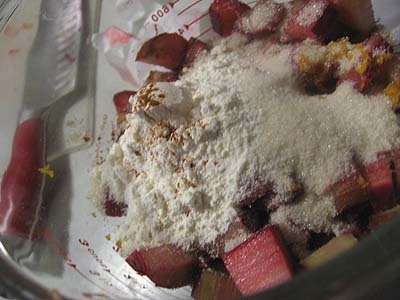 Preheat oven to 375 degrees F. Mix all rhubarb ingredients in large bowl to combine. Divide mixture among four to six 1-cup ramekins (depending on whether you are making a full or half recipe). Place ramekins on large baking sheet and bake rhubarb 10 minutes.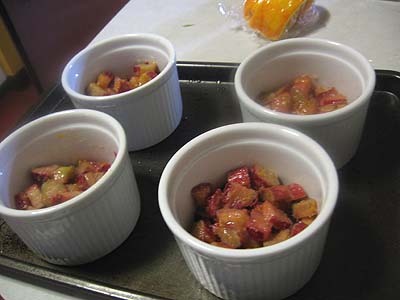 Take the rhubarb out of the oven after the ten minutes.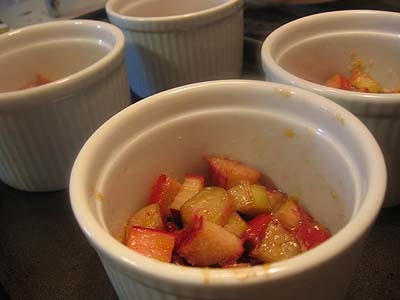 Meanwhile, prepare crumbly topping:
Mix brown sugar, chopped walnuts, flour, and butter in medium bowl. Crumble topping over rhubarb, dividing equally.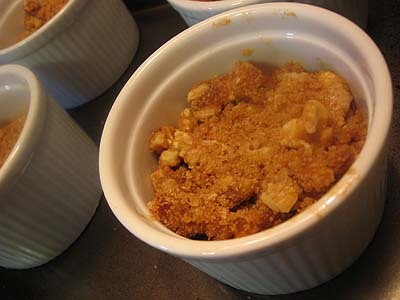 Bake until rhubarb mixture is bubbling and streusel is golden brown, about 20 minutes.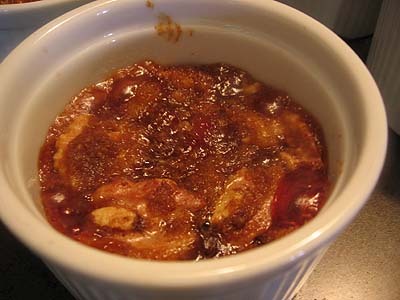 Serve crisps warm with a scoop of Sage, Rosemary & Thyme Ice Milk.
Okay, the ice milk. I changed a few things here. The original recipe used different herbs and also 4 and 2/3 cups of whole milk, which is kind of silly, since then I would have a lot of full fat milk leftover that I wouldn't use for anything else. Four cups is a quart, so I just bought a quart and used four cups and shaved a bit off the other ingredients. My adaptation is below.
I also used vanilla sugar for the sugar. Basically, a container I put a used vanilla bean pod with a bunch of sugar. The pod makes the sugar all vanilla-y. When I measured the sugar out here, it was all I had left so I threw the empty pod into my milk too.
I really liked the vanilla flavor here so either use vanilla sugar, add a vanilla bean or use some vanilla extract at the end!
Oh and I found this just as creamy as ice cream — but no cream! Also, not a lot of pictures — it's hard to whisk and take pictures at the same time.
Sage, Rosemary & Thyme Ice Milk
4 cups whole milk
3/4 cup + 2 tbsp sugar
1 3/4 tbsp cornstarch
pinch salt
4 sage sprigs
1 rosemary sprig
2 thyme sprigs
3 large egg yolks
1 tsp vanilla extract (or you can use vanilla sugar for the sugar above and add an empty vanilla bean pod or add 1 vanilla bean pod to the simmering milk)
Whisk together milk, sugar, cornstarch, and salt in a 2- to 3-quart heavy saucepan. Add herb sprigs (and empty vanilla pod if you have one) and bring to a boil, whisking constantly. Gently boil, whisking constantly, 1 minute.
Lightly beat yolks in a large bowl. Pour hot milk mixture through a sieve into a large bowl, pressing gently on sprigs before discarding.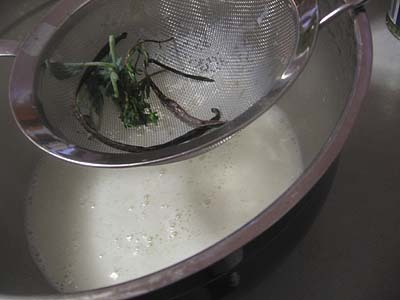 Then gradually add milk to the yolks, whisking quickly until combined. Do this slowly and whisking fast or you will scramble the yolks.
Return the milk/egg mixture to the saucepan and over moderately low heat, stirring constantly with a wooden spoon for 3-5 minutes. It should register about 175 degrees F on thermometer, for you science-y, Alton Brown types.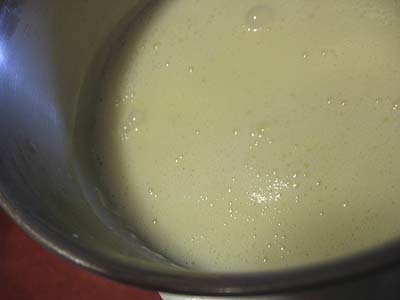 Pour custard through cleaned sieve into a clean bowl. If you are using vanilla extract add it here and mix it in. Cool custard completely and chill in the refrigerator until cold, at least 2 hours.
I cheated here and put the hot mixture in the freezer to cool down. After about 3 hours it was cool enough to go in the ice cream maker. The best scenario is to just make this and refrigerate it the day before.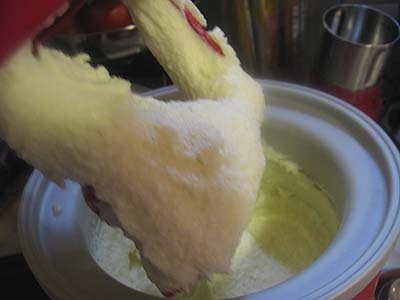 Freeze custard in ice cream maker. Transfer ice milk to an airtight container and put in freezer to harden.