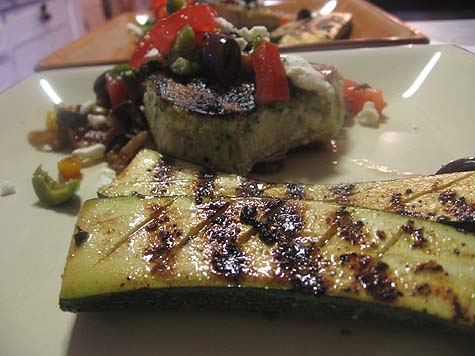 This was a side dish that worked really well with some grilled albacore tuna steaks. For the fish, I made a quick topping of kalamata olives, green olives, cherry tomatoes, red onion, olive oil, lemon juice and feta cheese. So, it was a Mediterranean kind of a thing (one of my favorite kinds of things).
The zucchini grilled while the fish rested. I think the scores in the zucchini are to let the buttery goodness soak in. This recipe is easily halved or even quartered. I did the later with 2 tbsp butter, 1/2 tbsp lemon, 1/4 tsp each of the spices and a pinch of curry. Oh and yes — there was cheese!
Grilled Zucchini with Garlic and Lemon Butter Baste
recipe adapted from Bon Appétit magazine
8 medium zucchini (about 2 1/2 pounds), trimmed, halved lengthwise
1/2 cup (1 stick) butter
2 tbsp fresh lemon juice
1 tsp lemon-pepper seasoning
1 tsp garlic powder
1 tsp dried oregano
1/4 tsp powder
grated Parmesan cheese (optional? no, not really…)
Preheat barbecue (medium heat). Alternately, heat up a grill pan over medium-high heat. Score cut side of zucchini halves diagonally about 1/4 inch deep at 1-inch intervals.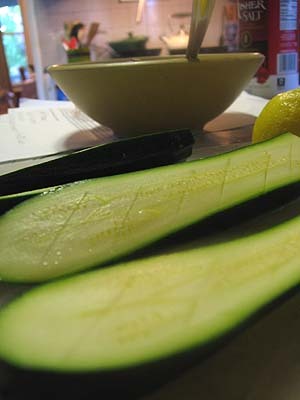 Melt butter with lemon juice, lemon-pepper seasoning, garlic powder, oregano, and curry powder. Do this either in a small pan or a microwave-safe bowl.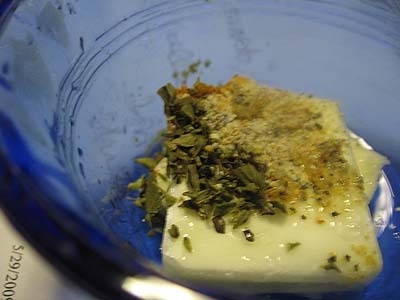 Brush seasoned butter on cut side of zucchini. Season with a little salt.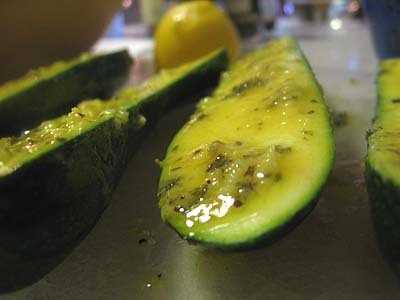 Place zucchini on grill and cook until charred on all sides and just beginning to soften, about 10-12 minutes.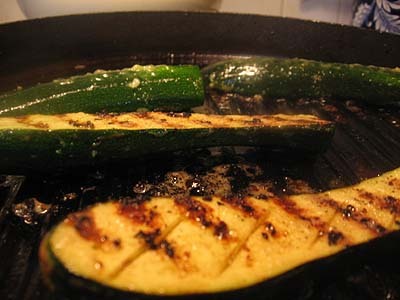 Transfer zucchini to platter and sprinkle with the cheese.
***
Last Weekend's Random food around Portland: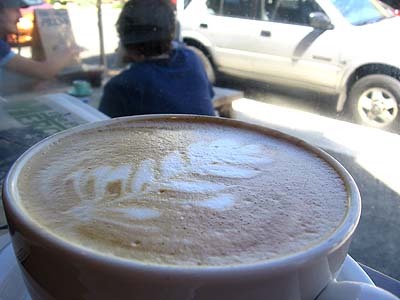 Latte at Albina Press on Hawthorne
Last weekend we saw Cinematic Titanic (most of the MST3k people) and it was so funny. Such as — Convoluted Man!!!
Okay, back to the food. Before hand, we hit Veritable Quandary for dinner. Excellent choice — we need to go there more often.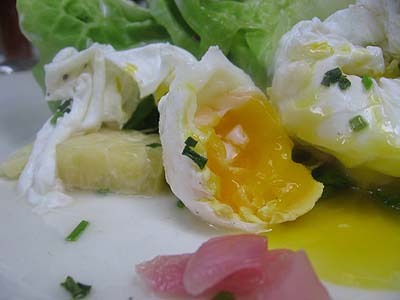 Awesome salad at Veritable Quandary. Specifically: Poached Egg, Smoked Bacon & Butter Lettuce on Crispy Cornbread, with Pickled Onions and Buttermilk, Chive & White Cheddar Dressing.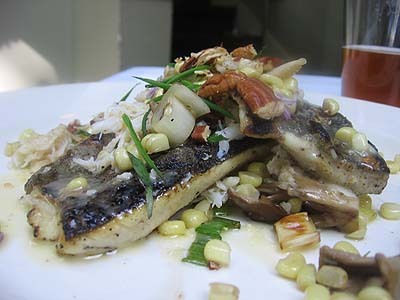 jwa's meal: Crispy Trout with Toasted Pecan Butter, Dungeness Crab, Sweet Corn, Spinach & Scallions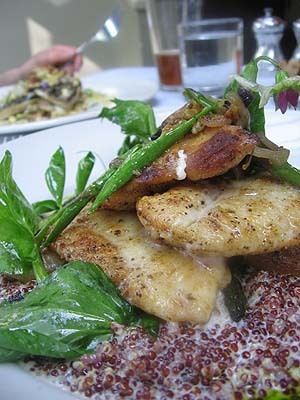 My meal: Alaskan Halibut Cheeks, Creamy Quinoa, Local Asparagus, Cipollini Onions & Pea Shoots