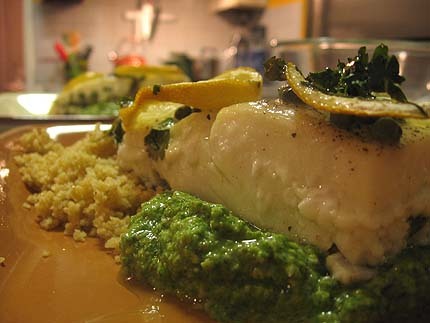 This was such a great meal. Plus, it's fish, olive oil and broccoli rabe so it's even healthy!
Honestly, I was a little skeptical about: 1. poaching in olive oil and 2. the broccoli rabe not being bitter. But both issues were non-issues, actually. The fish was flaky and wonderful and the pesto was just delicious. I've made two batches of pesto so far — jwa likes to eat it on crackers.
Olive Oil Poached Halibut
Adapted from Gourmet Magazine — this is a halved version of the original recipe
2 (6-8 ounce) Halibut fillets
3/4 tsp salt
1/4 tsp freshly ground black pepper
2 tbsp capers (preferably in salt), rinsed
1 lemon large lemons, thinly sliced crosswise
2 tbsp fresh flat-leaf parsley leaves or tarragon leaves (I used tarragon)
1 cup extra-virgin olive oil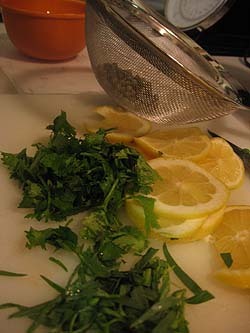 Preheat oven to 250 degrees F. Pat the fish dry. Sprinkle the fish with 1 1/2 teaspoons salt and 1/2 teaspoon pepper and let stand 10 minutes at room temperature.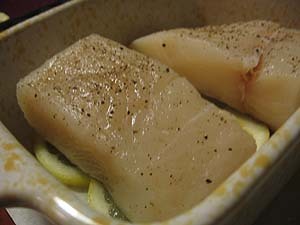 Arrange half of lemon slices in 1 layer in a small baking dish and arrange fish fillets in a single layer over the lemon slices. Top with the capers, remaining lemon slices, and half the parsley or tarragon, then pour oil over fish.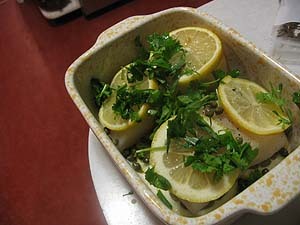 Bake in middle of oven, uncovered, until fish just flakes and is cooked through, about 1 to 1 1/4 hours.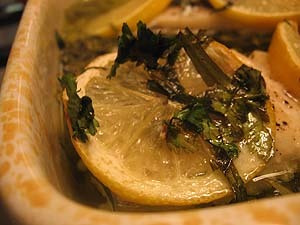 Broccoli Rabe Pesto
Adapted from Giada De Laurentiis
8 ounces broccoli rabe (about 1/2 a bunch)
2 cloves garlic
1 cup toasted pecans (you can also use walnuts)
1 -2 tbsp honey
1 tsp salt
1/2 tsp freshly ground black pepper
1/2 cup extra-virgin olive oil
1/4 cup grated Parmesan
Bring a small pot of salted water to a boil over high heat. Add the broccoli rabe and cook until tender, about 5 minutes.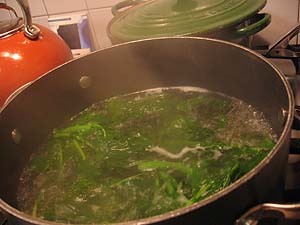 Transfer the cooked broccoli rabe to an ice bath and let cool, about 3 minutes. Shake off the excess water and transfer to a food processor.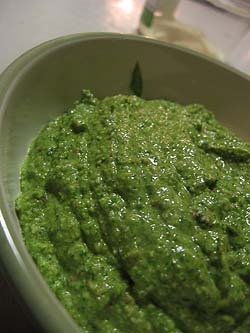 Add the garlic, walnuts, honey, salt, and pepper process until smooth. With the machine running gradually pour in the extra-virgin olive oil. Transfer the pesto to a small bowl and stir in the Parmesan. Cover and set aside.
Put It All Together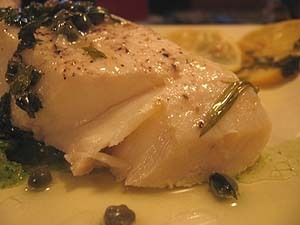 Place a scoop of pesto on each plate and top with a piece of fish, capers, lemons and a little of the olive oil. Sprinkle with a little parsley/tarragon. We had this with a little whole wheat couscous.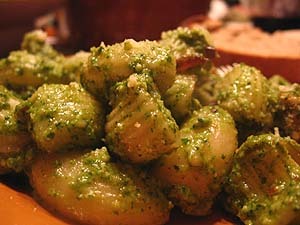 Save any leftovers of the pesto for pasta. You won't be sorry!