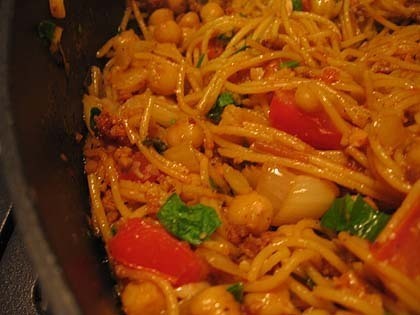 I have been getting into Spanish food lately, well, over the past couple of years. I really like the flavors and, although most that I have made have been served hot, they really seem to go great with Summer weather.
Now, this dish is pasta but it is also pretty much one pan pasta dish (okay, and a pot, but just for a few minutes). It's relatively quick and you can be out of the kitchen before it even gets too hot in there. Get yourself a glass of wine and you'll be eating in no time. Plus, damn, it's just so good.
Chorizo, Chorizo, Makes the World Go Round:
For the sausage, I used a mix of ground, uncased, hot & spicy chorizo and regular Italian ground pork sausage (removed from the casing). This is because when I first made the dish, I decided to use up some Italian sweet sausage that I had in the freezer. Tasty.
But, with the leftovers, I got some ground pork chorizo, cooked it up, and reheated all the pasta in the pan with the new sausage. Mmm! If you can find authentic, Spanish chorizo links where you are, I would go ahead and use that for all of your sausage needs. But, I liked the mix of half sweet sausage and half ground, really spicy, chorizo. Oh, I actually saw some Spanish-style chorizo links at the Hillsdale Farmers Market last Sunday and I'm planning to grab some the next time I'm there!
Anyway, I also added orange zest, manchego cheese and just a bit of fennel seed and chopped rosemary to the finished dish.
New: Printable recipe pdf!
Spaghetti with Chorizo and Almonds
Recipe from Gourmet Magazine, with tweaks by me!
1 1/2 cups reduced-sodium chicken broth
1 1/2 cups water
1/2 cup dry white wine
1/2 tsp crumbled saffron threads
2 tbsp extra-virgin olive oil plus additional for drizzlin'
6 garlic cloves, thinly sliced
4 ounces Spanish chorizo (cured spiced pork sausage; not hot), cut into 1/2-inch pieces (or a mix of ground chorizo and sweet pork sausage)
1 tbsp unsalted butter (oh, you're already eating a bunch of sausage, just use the butter)
1 medium onion, finely chopped
1/4 tsp fennel seeds
9 ounces fideos (dried coiled vermicelli noodles) or angel-hair pasta or thin spaghetti, broken into 2-inch lengths
1 tsp orange zest
1/4 tsp fresh, chopped rosemary
1 (14- to 19-ounce) can chickpeas, rinsed and drained
2 tomatoes, diced
1/2 cup chopped flat-leaf parsley
1/2 cup sliced almonds with skins, toasted (bonus points for marcona almonds)
1/2 cup Manchego (or other Spanish cheese), grated or shaved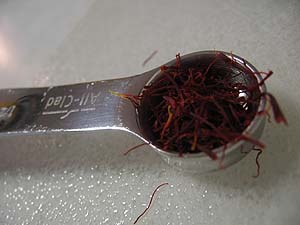 Bring broth, water, wine, saffron, and 1/2 teaspoon salt to a boil in a small saucepan, then reduce heat and keep at a bare simmer.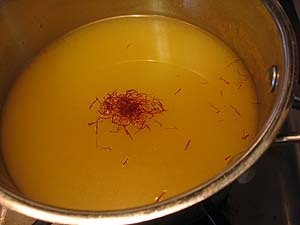 Heat oil in a 5- to 6-quart heavy pot over medium-high heat until it shimmers, then sauté garlic until pale golden, about 1 minute. Transfer with a slotted spoon to paper towels to drain. Add chorizo and sauté until golden brown, about 3 minutes. If using uncooked, ground sausage, cook until both browned and cooked through.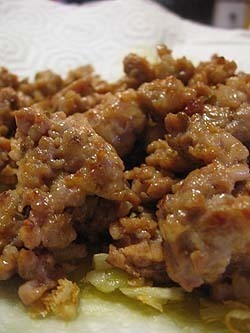 Transfer with slotted spoon to paper towels with garlic. Add butter to pot and sauté onion until golden, about 5 minutes, then add fennel seeds and pasta. Sauté, breaking up fideos with a wooden spoon, until golden, about 4 minutes. (Be careful here or you will have little pasta shards all over your stovetop. Use a high-walled pot, not a big skillet for this — I learned the hard way).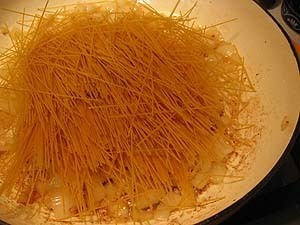 Add broth mixture and cook, covered, until all liquid is absorbed, about 6 minutes. Stir in chickpeas, tomatoes, orange zest, rosemary, cooked garlic and sausage, parsley, salt and pepper to taste.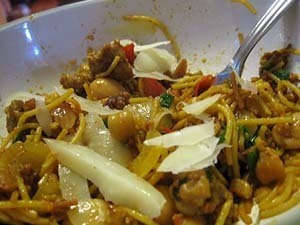 Serve pasta sprinkled with almonds, cheese and drizzled with oil.
Awww….Petrozza.