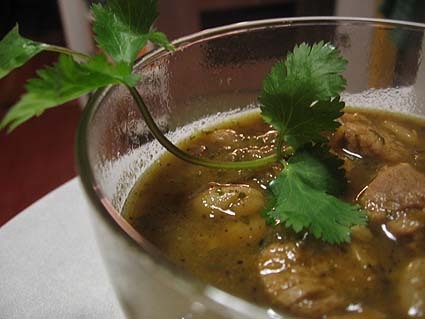 I recently came across Running with Tweezers call for chili recipes and I remembered that I had the most perfect cookbook for this — Chili Nation by Jane and Michael Stern. This is basically a collection of 50 chili recipes, one from every state. Now normally, when I make chili, it's veggie chili and I just throw a bunch of stuff in a pot. But, since I had an actual chili cookbook, I decided to follow (well, kind of) an actual recipe.
So, I went with Montana and the "Working Person's Green Chili Bowl". Supposedly, it is from a tiny place called El Burrito in Billings, MT. I wussed out on all the peppers, though. The original recipe calls for 6 New Mexico chiles. Intead, I used 2 pasilla chile peppers and 1 poblano chile pepper. Wimpy! I know, but I didn't want it to be too hot for my delicate lady mouth.
Let's see, I also added beans. I just really prefer beans in my chili. I used white kidney beans and they worked really well. But, if you don't like beans, the original recipe did not include them, so don't feel bad about leaving them out. I also doubled the broth and added the cilantro.
Anyway, this book is awesome. I seriously have, like twenty page corners folded down that I want to try. Why did I pick this one? Well, I was very intrigued by the sage and tarragon in a chili recipe. And, after trying it here, I have to say it works. I'm not sure this is my most favorite chili recipe of all time, but I liked it quite a bit! It was a little spicy but not overwhelming and makes a great meal on a cold night.
Working Person's Fancy Green Chili Bowl
Adapted from a recipe in Chili Nation (Montana), by the Sterns
1 poblano pepper
2 pasilla peppers
1 big handful of cilantro
2 cups chicken broth (original called for 1 cup chicken stock)
2 tbsp vegetable oil
3 garlic cloves, minced
1 small onion, chopped
2 lb pork tenderloin, trimmed and cut into cubes
1 tsp dried tarragon
1 tsp dried sage
1 tsp ground cumin
1 can white beans, drained
1 tsp salt
Some crumbled goat cheese for the top
Optional: 1 tsp jalapeno powder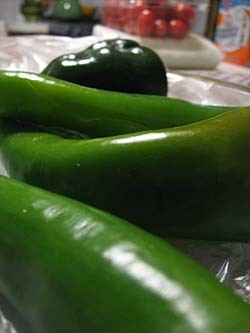 Prepare the chiles by placing them under a preheated broiler. Turn when the first side is charred and then blacken the other side.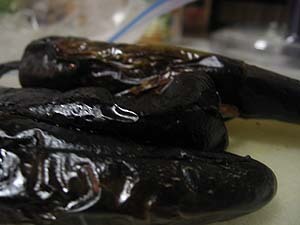 Place in a plastic bag to steam. You can also wrap them in wet paper towels. When cool enough to handle, peel away the blackened skin and seed. Place the chiles in a blender with broth and cilantro. Puree and set aside.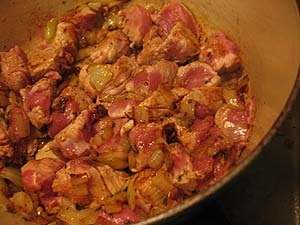 Heat oil in a large, heavy skillet. Add garlic and onion and saute until soft. Here, I added about half the sage, tarragon and all of the cilantro. Next, add the pork; cook and stir until well browned.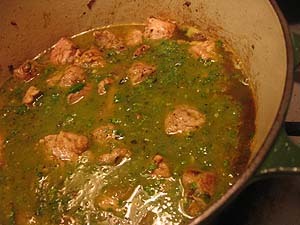 Add chile puree and remaining ingredients (the beans and the remaining spices and the salt) . Stir well. Bring to a simmer over low heat and cook 10-15 minutes. Taste and adjust seasonings.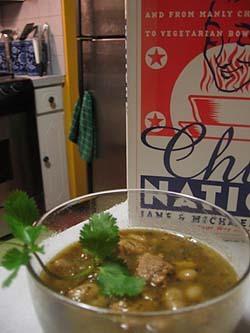 Serve alone or over cooked brown rice. Also, this would be great with tortillas for dipping and, if you want to be a fancy working person, I think some crumbled goat cheese would be awesome on the top. Hmmm, I think I will bring it that way to work tomorrow. Because, yes, I am fancy.
Hope this is a good addition to the chili cook-off!